Hoop dreams
Northwest students share their experience with one of the latest fads in sports: recreational leagues.
High school basketball has become a thing of the past for the less talented. While in the past, individuals looking to play basketball simply for fun might have opted to join Northwest's  C-Team, nowadays the hype for less competitive basketball can be found in Blue Valley's recreational league. 
Though the rec league is not a new aspect in the community, there has been a new wave of girls across Blue Valley schools joining instead of trying out for the regular basketball season. For senior Abby Allen, involvement started because of talk from other schools
"It only really took one group of girls from another school. [They were] like, 'Hey, let's do this.' And then other groups were inspired like, 'Oh, yeah, let's do it too,'" Allen said. "We have friends from other schools that we want to play against and mess around with, so I think that's why everyone joined rec basketball here."
The Brick Laying Ballers, made up of Northwest seniors, is not the only female team participating in the league this year. A group of juniors have also conjured up a team known as the Reboundz. Junior Amelia Freimanis said her entry into the world of rec basketball started in her psychology class. 
"Alivia Ozbun brought it up to me, and at first it was kind of like a joke. She mentioned joining and I was like 'No, I would actually really like to do that,'" Freimanis said.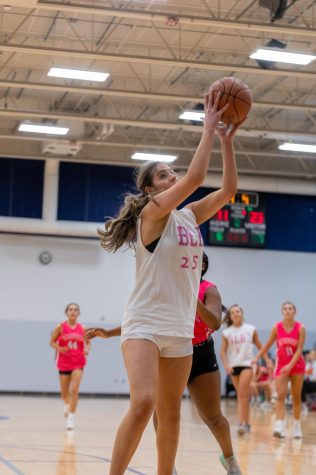 What started as a joke eventually turned into the formation of the Reboundz. 
"After talking to others in our [friend] group, we just created a group chat and kept spreading the information around," Freimanis said. 
The reason for this spark of involvement was not just due to new interest, but also because of the lack of COVID-19 regulations for the 2023 season.
"I think it wasn't as serious for girls, and it was kind of a hassle to get around the COVID-19 rules [in the past]," Allen said. "But now since we don't really have any regulations, I think people are like, 'Oh, this is pretty easy to do, so let's just start a team and have fun.'"
Not only that, but Allen said she felt that since COVID-19 caused the end of multiple sports seasons, a lot of girls would like the ability to get more involved in sports again.
"There are so many girls that aren't in sports anymore, especially in my grade. Almost the majority of people aren't in a competitive sport or don't play school sports, so I think this is a good thing to bring everyone together," Allen said.
Despite facing complications last year, the rise in the girls league this year has led to many upperclassmen creating their own teams. Allen said she chose to join her team, the Brick Laying Ballers, because she wanted to spend more time with her friends, but also realized that she met more of the qualifications for a rec level player. 
"All my sports are really competitive, and I just thought that this would be a good sport that I can just purely have fun with," Allen said. "I'm just not very good at basketball at all – I haven't played actual basketball since seventh grade. A lot of the people that we play against haven't played basketball since seventh grade just like me."
Similar to Allen, Freimanis said she liked the idea of playing the sport with her friends. However, she said this was not her only motive for joining the league this season. 
"I saw a lot of the boys around our area and some of my guy friends having their own rec basketball teams, and it just seemed really fun and lighthearted," Freimanis said. "Although I've never played basketball before, I just figured it would be a fun way to have something to do during the winter time. It was a way to get myself involved in doing something I haven't before."
Allen felt similarly, saying that seeing boys being able to play added to her aspiration for starting a senior girls team.  
"My older brother had played rec basketball since his sophomore year. I was always kind of jealous of him just because he would always have so much fun with his friends and he always got to talk smack with the other teams and stuff," Allen said. "So when a lot of other teams started playing basketball this year, I knew that people from my school [would] definitely want to get in on that."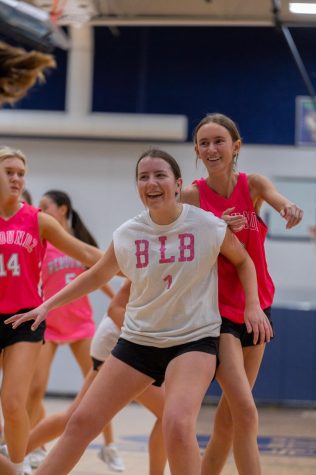 Junior Logan Holthaus plays in the rec league as a shooting guard for the Chabs, one of multiple teams made up of junior boys from BVNW. He expressed similar sentiment for playing as Allen and Freimanis, saying the league allows him to play in a less cutthroat manner.
"We played our freshman year together and we enjoyed being able to have that connection. But Blue Valley Northwest boys are really good and so instead of continuing and struggling under the pressure we decided to make our own league," Holthaus said. "The casualty of it all is better than if we played varsity."
Given the popularity of the boys' rec league due to the lack of competitiveness, junior Reboundz player Sydney Skelton said she felt confident that the girls will have a similar situation, as more people leave high school sports upon reaching later grades.
"I know the sophomores next year are planning on doing a team because a majority of them probably aren't trying out next year, and the freshmen this year [also] will join in. So I have a feeling that the girls will probably do it next year," Skelton said. 
Allen had a similar reasoning as she believes the league would be a great tradition, since it can live up to the expectation of not having to play in a competitive environment. 
"For girls rec basketball so far, we all know that we're just there for fun and that this is not our actual sport, so we don't need to be too serious about anything," Allen said. "I think that the boys care more about rec basketball, just because they've put countless years into rec basketball. And for a lot of us [girls], this is our first year playing [rec] basketball."
Holthaus, however, disagreed with the statement, saying he thinks both genders of rec teams have about the same level of casualty while playing. 
"Girls and boys varsity is more competitive than rec, because people just don't care as much in rec. It's much more casual because no one can really play at the level of varsity, whether you're a girl or a guy. No one tries hard enough to meet those expectations," Holthaus said. 
Though this may be the case for many teams playing rec, the Reboundz games are a different scene. Freimanis said there is much more feisty behavior coming from the girls they have played thus far.
"Some of the girls on [opposing] teams do take it a little bit too seriously. The game on [Jan. 15], we had one player cursing us out and pushing [us]; Ava Nichols broke her finger. I think our team is there to have fun and also play well, but some other teams take it way too seriously," Freimanis said.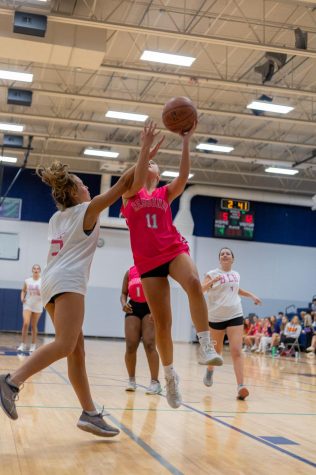 With similar intensity levels shared across both leagues, many of the teams are able to have varsity basketball help with coaching. According to Allen, senior varsity player Will Rauter has been a great coaching addition to her team.
"Will Rauter is a great coach. He kind of just sits on the bench and he likes to criticize us, but he's really supportive," Allen said. "I can kind of see the frustration in his eyes, because obviously he's pretty good at basketball since he's on the varsity team. So I think he was kind of just amazed about how bad we are."
Serving as head coach for the Brick Laying Ballers, Rauter, however, had a different perspective on the team than Allen inferred. 
"The coaching experience has been so enjoyable. I'm happy to coach my girlfriend and her friends, because it allows me to help them as much as possible and gives me way less of a commitment, since the main focus is games instead of actual practices," Rauter said.
Not only that, but Rauter said he himself would want to join a rec team had he not already tried out for school basketball.
"I see the reason for playing rec, because of the risk of being cut during the high school season. If I was given the opportunity to play, I would, because I would be with more of my friends and I would also have more time for extracurriculars and activities while still being able to play basketball," Rauter said. 
Junior varsity basketball player and Reboudz head coach, Ava Smith, agreed with Rauter about the relaxed enjoyment of the league. She said she likes being able to not have to worry when it comes to rec, and uses her coaching experience as a way to unwind while also still being able to be a part of basketball. 
"On varsity, there's a lot expected of you. With rec, even though I can't play, it's still such a great stress reliever because I don't have to try, I just get to have a good laugh," Smith said. "It's the best of worlds – not worrying about an injury, but also getting to have the full experience of rec."
The other main difference for Smith in coaching rec basketball and playing varsity, is the vibes from the student section, specifically during the  game on Feb. 12 between the Reboundz and the Brick Laying Ballers."The energy was insane. Honestly, I wish it could be like that for our varsity games, because it definitely helped with the overall spirit of the team as well as just created more entertainment in an already entertaining game," Smith said. 
Just like in high school basketball, Skelton agreed with Smith's point that a student section is necessary for improving performance during rec games.
"If we get a student section, it'll boost the morale of the team and make the team much more hyped. It'll also build a better community between the grades because it probably won't be just one grade coming to cheer on their team, it'll be multiple," Skelton said.
With such a positive start to this first season for girls rec basketball, Freimanis has faith that it has a shot continuing next year as well.
"The guys have had it for so many years that it's picked up some traction, at least for us this year, and I know some friends at other schools who are doing this too," Freimanis said. "So I'm hoping that next year, as seniors, we can continue this, especially if we do well this season. Then, maybe the junior girls next year will decide to have their own team and it can kind of be a tradition, like powderpuff."
Leave a Comment
About the Contributors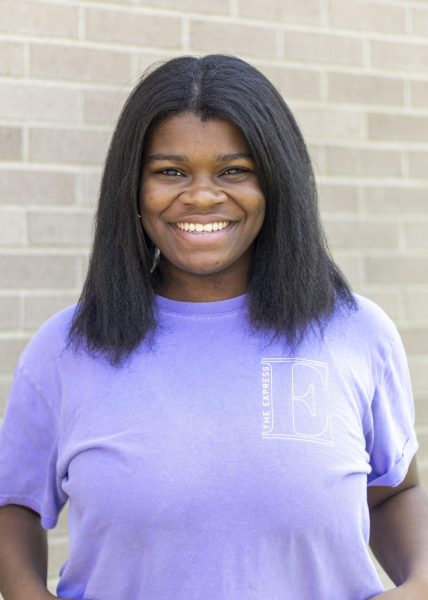 Harper Latta, Writer
Harper is a senior and a writer for the "The Express." This is her second year on staff. Outside of newspaper, Harper runs track, plays high school soccer, and manages the football and basketball teams. In her free time, Harper enjoys watching horror movies, going to Quiktrip, and late-night car rides. Harper is excited to spend her final year writing for "The  Express" along with her best friends.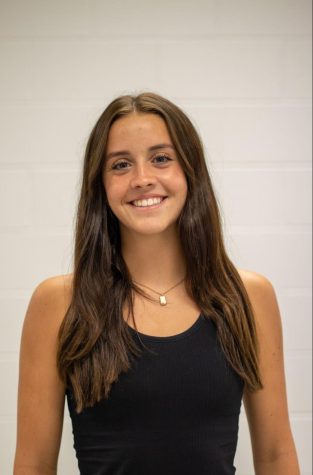 Bailey Thompson, Chief Photographer
Bailey Thompson is a senior and Chief Photographer for "The Express." Outside of staff, Bailey is in NHS, NAHS and a part of the girls soccer team. She also enjoys spending time with her friends and family, as well as binge-watching TV shows and movies on Netflix. Bailey is excited for what the future has in store for her and is ready for the next step.