Creatures in the classroom
Hang on for a minute...we're trying to find some more stories you might like.
A typical classroom at Northwest might consist of books, boards and backpacks; but science teachers Kim Gibney and Jeremy Mohn both incorporate live animals into everyday learning. Gibney keeps chinchillas in her room, and Mohn keeps snakes.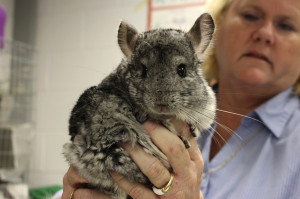 "I have had my chinchillas since 1997," Gibney said. "The reason I decided to get chinchillas was because there was a student years ago that brought in a chinchilla, and I saw it roll around in the dust bath. After that, I just fell in love with them."
Chinchillas are slightly larger than ground squirrels and come from South America. The animal also requires extensive exercise and care. Gibney said she has gone through many litters of chinchillas, and started selling them shortly after her first set gave birth.
"At first, I didn't even know that my female chinchilla was pregnant because my female and male had been together for five years and never had any babies," Gibney said. "I came into school one day and there was something black on the floor, and it turned out that there were two little babies."
"
I saw [the chinchilla] roll around in the dust bath. After that, I just fell in love with them."
— Science teacher Kim Gibney
An average chinchilla litter can have anywhere from 1-7 babies. Gibney said that she normally keeps a few chinchillas to breed, and then sells the rest. Junior Claire Campbell is one of Gibney's customers.
"I've always had a fascination with different animals," Campbell said. "When I noticed [Gibney] was selling chinchillas, I was very interested because I really wanted another pet. Chinchillas are very hyper little critters. My chinchilla gets exercise by running around in the little room I have set up for it."
Mohn has had his snakes for 13 years, and originally got them from science teacher Michaelyn Podany. Mohn said that his snakes would not live as long as they would in the wild because of the way a snake's body functions. The more a snake is fed, the faster it will age.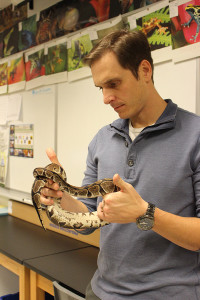 "I don't have a problem with snakes, but it's not that I necessarily like them," Mohn said. "I guess by now, I'm just used to having them. One time, a snake bit me while I was feeding it during class. That was probably a little bit traumatic for some of my students."
Mohn's snakes almost always stay at the school, even over breaks. During summer break, the snakes are sent to a science camp where kids are allowed to interact with and feed them. They are not a lot of work to maintain, Mohn said. Mohn's snakes are known for getting out of their cages, which is something they have done multiple times.
"It hasn't happened for several years, but my big snake Ricky crawled up under a space in between the cabinet and the brick wall of my classroom," Mohn said. "I set up a camera behind the cabinet where we could watch him crawl back and forth. Eventually, a custodian came in one night and saw him trying to get into the ceiling tiles, he was able to grab Ricky and put him back in his cage."
Both teachers agree that having animals in the classroom benefits the students' learning. Mohn and Gibney's students are able to get a hands on approach to science and get to interact with some of the animals they are learning about.
The creatures up close:

Print Friendly