Northwest teacher meets Keith Urban at concert
Family and Consumer Sciences teacher Elizabeth Warren was invited on stage during Keith Urban's concert at Dickies Arena on Oct. 1.
Family and Consumer Sciences teacher Elizabeth Warren was selected to go onstage and meet Keith Urban during his concert at Dickies Arena in Fort Worth, TX on Oct. 1. This was far from Warren's first Keith Urban concert, as she has been attending them since she was 13 years old.
"That was my tenth overall Keith Urban concert since I was in seventh grade," Warren said. "I always go and see him, and he has not had a concert since 2019. So this was the first concert I've been to in a long time."
Urban has a tradition at his concerts, Warren said, in which he selects an audience member's sign and that fan gets to join him on the stage.
"He will always pick a member from the audience that made a sign, and so ever since my mom let me go to my first concert, I always made a sign," Warren said. "I have made nine signs – none of them got picked until this time."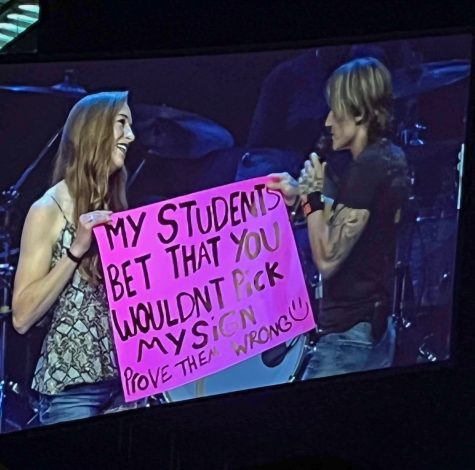 Warren said her sign was based on conversations she had last year with the students in her fifth hour Baking and Pastry class, as well as with students who ate lunch in her room. She said multiple of these students reached out to her after seeing her post on Instagram to congratulate her on having her sign chosen. During the concert, Warren's sign was blocked by many others in front of her because her seat was in the eighteenth row from the stage. She said this prompted a security guard to move her into the aisle and have her walk toward the stage.
"All of a sudden, here I am with my sign, walking down the aisle. As soon as I do that, Keith Urban starts reading my sign and now I'm shaking and trying not to cry," Warren said. "He read the whole thing. It said, 'My students bet you wouldn't pick my sign, prove them wrong,' and he said, 'All right come up here.'"
When on stage, Warren said Urban asked her about what brought her to the concert, what she teaches and what the bet entailed. She said she explained that her students did not believe that she would get chosen. She said she was nervous while talking to him but was able to explain her story while onstage.
"He asked about the bet, so that's when I went into my whole long story about how [I had been to concerts] my whole life," Warren said. "Then [I said] my students have heard my stories and never thought you'd actually pick my sign."