Boys varsity soccer moves forward in Fat Cat tournament
In the first round of the Fat Cat tournament, Huskies defeat the Shawnee Mission South Raiders 6-5 in a penalty kick shootout.
In the first round of the Fat Cat tournament, the boys varsity soccer team defeated Shawnee Mission South 6-5 after going into a penalty kick shootout.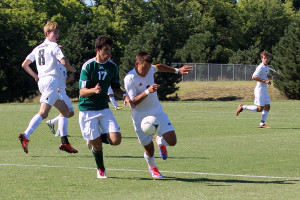 Four minutes into the game, BVNW junior Jake DeJulio scored the first Husky goal. After a red card was called on BVNW sophomore Harris Dewoskin, SMS senior Marcelo Regis scored a penalty kick with 20:38 remaining in the first half. The teams stayed tied 1-1 until the very end of the second half.
With 1:13 left in the game, DeJulio scored his second goal of the night, pulling the Huskies into a lead of 2-1. The Raiders soon retaliated with 26 seconds left in the game, tying the game at 2-2.
In the penalty kick shootout to determine the winner, senior Ian Arch, DeJulio, sophomore Brody Southwell and junior Trevor Kerns scored four out of BVNW's five attempted penalty kicks. SMS made three of the five attempts, finishing the game with a final score of 6-5.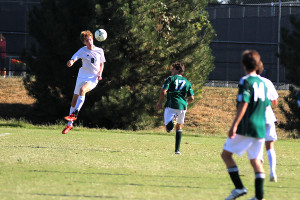 "I thought we played well for the most part, but I think we can definitely come out and play better," DeJulio said. "It was nice to put a couple in the back of the net, but I've got to give credit to my teammates for putting me the spots I'm in."
BVNW head coach Rick Pribyl agreed that the team could have done better. He said the game did not go smoothly, and that the team thought it would be an easier game. With only three returning varsity players, Pribyl said tonight's game showed the youth of the team.
"I told everybody it's going to take a while, maybe 10 games, for us to figure out who we are," Pribyl said. "We've got a lot of work to do. Tomorrow we have to put together passing combinations much better, and work on the outside much better, and take the ball to the baseline much better."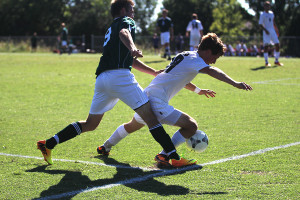 DeJulio said the team also needs to aim to make crisp passes and distribute the ball well tomorrow. Overall, DeJulio said he thinks the team just needs to build on tonight's win.
"We gave it to them at the end," Pribyl said. "None of the players or coaches are happy with the way we played. The positive note is that we walk away smiling."
The Huskies will play in the semifinals of the Fat Cat tournament against St. James Academy, tomorrow at 5pm at Blue Valley West's main stadium. 
Leave a Comment