A Picture With A Thousand Words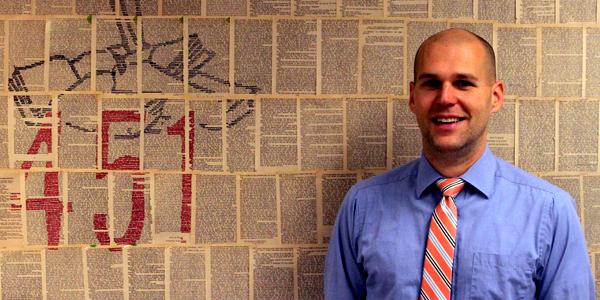 At BVNW murals cover the walls of the hallways, but Communication Arts teacher Kyle Farrington has brought artwork into his classroom.
With lines of text crossed out to make pictures a mural is made up of pages torn from the novel "1984." The back wall of the classroom showcases an array of sophomore reading, including illustrations of author Kurt Vonnegut and the covers of "Fahrenheit 451" and "1984".
"It was kind of cool and symbolic to cross out words in 1984 and censor them to make the pictures," Farrington said.  "I chose [the pictures I did] because they all fit with the symbolism."
Farrington created the whole mural himself and he said it didn't take long for him to finish, but he has had some practice. When he taught at Prairie Star middle school, Farrington painted several murals that remain there.
"I thought about doing something like what Mr. Smithyman did, which was to put a bunch of pages of a book and spell something," Farrington said. "[At Prairie Star] I had done a bunch of pictures on my walls so I kind of melded the two."
Once Farrington had decided on a plan for the back wall he said it took about a day to staple all the pages to the wall. From there, he photocopied the pictures that he wanted to use and drew transparencies so that he could project the pictures onto the wall.
"I think people are pretty impressed that I did it until they find out that I completely cheated, traced it essentially," Farrington said.
Teachers and students have come to see the artwork and Farrington said most people enjoy it. Sophomore Emma Muscari said that she was impressed when she first saw it.
"It's a cool idea to see all the books we're going to read this year," Muscari said.
Farrington said he thought it was a much better use of the wall and made his room more interesting, he was most nervous about Principal Amy Murphy's opinion.
"Other teachers had been talking about [the project] and Mr. Smithyman told [Dr. Murphy] that she needed to come up and look at it," Farrington said.  "When she came in I froze because I was worried I was going to get yelled at for having stapled the snot out of my back wall, but she said she really liked it."
In fact, Murphy was the one whom suggested that Farrington seal the pages to the back wall. Farrington said he wished he would have talked to her earlier because he could have used mod podge to attach the pages instead of staples. Although the wall is not permanently held in place Farrington said it greatly improves his room and hopes it is there to stay.
"I think it makes the classroom a little bit more warm and it's neat to have books represented that we read [in class]," Farrington said.