Frank Ocean, Channel Orange: Best Album of the Year
Hang on for a minute...we're trying to find some more stories you might like.
Frank Ocean, Channel Orange. Needless to say, I'm obsessed.
This R&B lyrical mastermind has created an album from a variety of inspirations—funk, slow-tempo hip-hop, electro, and dubstep-inspired beats are all found within the compilation. You can't help but tap your fingers or bob your head to the upbeat grooves in "Lost" and "Pilot Jones," (If you can help yourself, we can't be friends…sorry) but then Ocean changes up other songs' tempos to control the mood of his compositions. Unhurried, more emotional tones appear in many tracks, most noticeably in "Pink Matter," "Bad Religion," and "Thinkin' Bout You" (Please join me in singing my favorite part, a.k.a. the most catchy line of the album: Or do you not think so far, aheeaaaaadd?). These euphonic, soothing legatos catch your breath and captivate your heart. Featured guest artists, such as Andre 3000 and Earl Sweatshirt, comprise vocals that add to the overall smooth vibe of the album. But whether there are the enthralling pulses or the wash of slow drums and keyboards, all tracks thrive primarily off of Ocean's enchanting, velvety voice. His incredible vocal range, everywhere from his soothing baritone to his mind-blowing falsetto, is more sweet-sounding than anything you've ever heard. Perfect.
Perfection is not only in the sounds, but in the words. Ocean raises questions in powerful verses, like in "Pink Matter": "What do you think my brain is made for?/Is it just a container for the mind?/This great grey matter." Then in "Pyramids," he asks: "What good is a jewel that ain't still precious?"  His perception entrances listeners, intriguing them to hear more. Ocean dreamily explores the bewilderment of emotion in the human psyche. His lyrics aren't superficial and repetitive like so much modern music; they're genuine and thoughtful.
Channel Orange is more than a music album—it's a storyteller. Ocean sings of tales placed in L.A., tropical and covered in "star-shine." Mellifluous stanzas paint the characters: overly wealthy teenagers, an unfortunate cab driver with open ears, Egyptian-like exotic dancers, and both women and men of interest (Yes, Ocean's questioned sexuality has been all over the media. But what matters is how he sings, not how he loves.). Short interludes interrupt the tracks—sounds of flipping TV channels, conversations between a mother and son, static, arguments—to narrate the flow of the album. Ocean's reminiscences of first romances, proclamations that money can't buy everything, and memoirs of drug dependencies all bring affection, confusion, addiction, and self-reflection into clarity. The characters and plots convey his passionate morals through first-class poetry.
Ocean's jaw-dropping voice, catchy rhythms and impressive lyrics are enough for me to declare Channel Orange the best album of 2012. In a world where most of us download singles off the Internet, whether for free from a website infused with pop-up ads or for $1.29 on iTunes, I encourage all of you to actually go out and purchase this entire record. Like Ocean says in "Sweet Life," the "best song wasn't the single." The greatest songs are worth so much more when listened to with each piece of a musician's hard work.

Print Friendly
About the Writer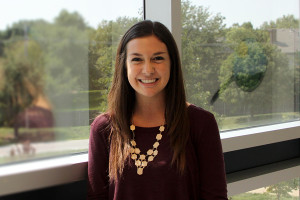 Cara Brashears, The Express Copy Editor
Cara's blog: Finding Endorphins