Bingbox brings a Korean favorite to Kansas in a great way
The shop features a selection of delicious East Asian desserts like boba tea and their flagship "Snow Cream."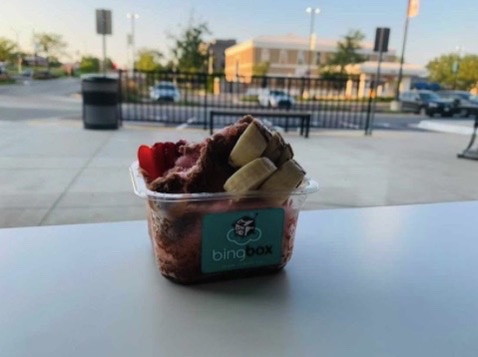 Bingbox is a monochrome, modern looking dessert shop, located at 4937 W 119th St in Leawood. The shop primarily features a variety of desserts, including boba tea and other sweet treats like milkshakes with interesting and tasty ingredients, such as pretzel and salted caramel. However, the main attraction in the restaurant is "Snow Cream," or Korean shaved ice, which has a very unique texture. I ordered a boba iced coffee and two different flavors of Snow Cream to try.
The first thing I tasted was the "Vietnamese Iced Coffee" which came with boba. Boba  is an increasingly popular drink from Taiwan, which usually consists of sweetened iced tea filled with tapioca orbs. 
However, this drink was coffee rather than tea, which gets points from me for being a unique take on the traditional boba tea. I found that the actual beverage was relatively hard to drink; normally boba drinks will come with a wider straw to accommodate for the size of the tapioca, but the straws that came with these drinks were far too narrow, and I found myself having to take off the lid to drink it normally. 
Even so, the drink itself tasted very good. It was sweetened, but the balance between the sweet taste and coffee taste was nearly perfect, like a good mocha. The actual drink was definitely a nine out of ten, but the fact it was relatively difficult to drink leaves it with a seven and a half out of ten. Still, a decent score for the drink.
The second item I tried was the "Chocolate Snow Cream" dish, which was elaborately prepared and presented. I ordered the toppings that it came with by default, which included chocolate chips, part of a Pizzelle cookie, and Trix cereal. 
The consistency and texture of the Snow Cream, and all of their varieties of snow cream in general, was amazing. It was not overly sweet, it melted in my mouth and felt incredibly light on the spoon. 
The issue with this particular flavor, however, was its sweetness. It was too unsweet; the dish tasted a bit less like chocolate and more like ice. The toppings helped with this, but I did not really get many of them, so the balance between toppings and the actual ice cream felt a little off. Still, the consistency was mind-blowing, and despite its shortcomings it was quite good. I would say it earns 7/10. 
Finally I had the "Strawberry Snow Cream," with the default set of toppings, which consisted of bananas and strawberries. After having the chocolate, I expected this dish to also be unsweet, but I was pleasantly surprised. The strawberry flavor was powerful, and it tasted delicious. The toppings were well chosen to correspond with the flavor, and everything mixed together well. The amazing texture was still there, and this dish easily netted a 10/10. 
All in all, Bingbox is a great place to get some interesting and intriguing desserts, with enough options for a variety of tastes and preferences.
Leave a Comment