If you see something, say something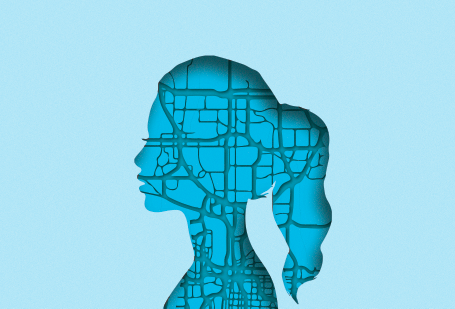 To many of us, stories of human trafficking are horrible tragedies that seem far, far away from our everyday lives. Unfortunately, that is simply not true. Human trafficking has become a global issue, with Kansas City at the forefront.  In this issue, we cover a subset of human trafficking: sex trafficking. To read more about how this affects our community, turn to pages 12-15. 
Due to Kansas City's geographic location at the intersection of two major interstate highways, our city is considered a rest stop for traffickers. The National Human Trafficking Hotline reported an increase in trafficking cases in the past few years, with the number of reported cases in Kansas growing from 68 in 2017 to 94 in 2019.
Human trafficking is the use of force, coercion or fraud to obtain labor, whether it be sexual or physical labor. Traffickers do not discriminate by age, gender or race but the ACLU reported an estimated 80 percent of global trafficking victims are women and children. They also reported the average age of victims in the U.S. to be 20 years old. 
Vulnerability is what traffickers look for in potential victims, with LGBTQ+ individuals and people of color being targeted more often, according to the National Human Trafficking Hotline. This can be due to generational trauma, a history of oppression or other societal factors that put these groups at a higher likelihood for homelessness, addiction or other high-risk lifestyles. 
With the rise in popularity of social media, traffickers have adapted to use these platforms for recruitment. Statistics from a nonprofit organization called Polaris show a 20 percent increase in online recruitment since the beginning of the pandemic.
We all need to stay vigilant. We cannot let this issue become removed from our everyday lives. Being able to recognize potential trafficking signs is the best way to prevent this crime from happening to you and those around you. A lot of traffickers will form a relationship with their victims, promising high wages for easy work or other assurances that seem too good to be true. Potential traffickers will isolate you from your friends, family and money. They will take away your independence. 
General safety tips to stop this from happening include keeping important phone numbers on you at all times, making sure you have a means of communication to call your bank or a trusted friend/relative and, most importantly, trusting your judgment. 
Stay aware of your surroundings and look for warning signs of potential victims and suspicious individuals. The U.S. Department of State reported common signs of human trafficking include potential victims living with employers, an inability to speak to people alone, signs of physical abuse or an employer holding identification documents from the potential victim. 
When you spot red flags resembling a trafficking situation, there are two different options. In the case of emergencies, alert local authorities or call 911. You can also call the National Human Trafficking Hotline. This hotline is a call and text line that can provide help and emotional support to victims. It also can take tips, so if you see something, say something.
 This issue involves all of us, no matter your circumstances, and it is our responsibility to do our part in preventing the spread of human trafficking.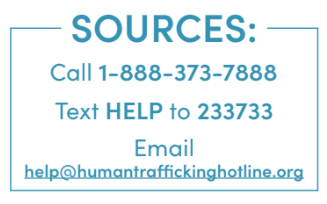 Leave a Comment
About the Photographers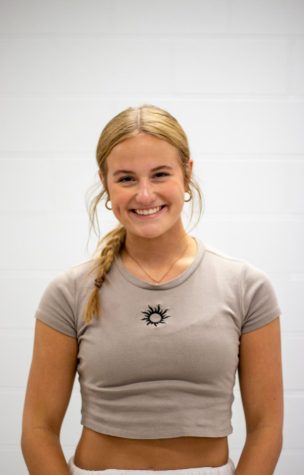 Julia Moser, Editor-In-Chief
Julia Moser is a senior and the Editor-in-Chief of "The Express" and BVNWnews. This is her third year on staff, previously serving as Managing Editor. Julia is a member of the BVNW varsity cheerleading squad, in addition to being involved in NHS and Quill & Scroll. Outside of room 902, she enjoys spending time with her friends and family as well as binging her favorite shows, including "Stranger Things" and "Friends." Julia is eager to serve as EIC and is hopeful for her staff's sucess this year. She can not wait to see what this year holds and is excited to grow as a leader.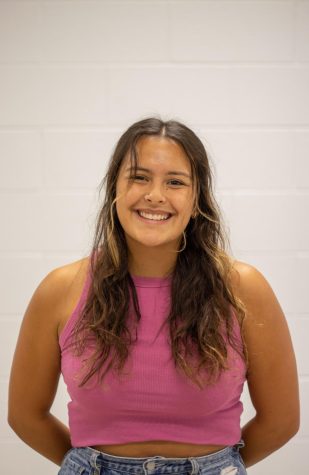 Sabrina San Agustin, Design Editor
Sabrina San Agustin is a senior and the Design Editor for "The Express." This will be her second year as Design Editor and third year on staff. Outside of newspaper, Sabrina is part of NHS, NSHS, NEHS, Quill & Scroll, and she is a board member for NAHS. Sabrina also owns her own business where she sells her art online. In her free time she enjoys spending time with family, reading new books and watching her favorite movies. Sabrina is very excited to return to the role of Design Editor and can't wait to help tell stories through art and design.