SnapChat video at the heart of school threat
There was an increased police presence Monday at BVNW following a threat against the school. The suspect is in custody and the additional protection will be extended into Tuesday.
Due to a threat made against Blue Valley Northwest Sunday night, there was an increased police presence on campus Monday morning. School Resource Officer Anthony Garcia said although not explicitly visible throughout the day, it doesn't mean that there was no added protection on school grounds. Garcia also confirmed that the additional police presence will be extended to Tuesday.
"We had officers inside the building at the main entry points throughout the building (during the morning), and we also had even some officers out in the parking lot that were in unmarked vehicles," Garcia said. "I know sometimes the perception is that there isn't a police presence, or maybe that we're not here, but, we absolutely are. We take safety and security very seriously." 
In addition to the extra police presence at Northwest, the suspect who issued the threat has been in custody since Sunday night, according to an email sent to the student body by Principal Amy Pressly, who is currently out of town with family for the Thanksgiving break.
Associate Principal Tyler Alexander refused to comment about the threat against the school.
The threat was made via a SnapChat video of a student rapping about shootings and violence, and although the rapper didn't mention any specific names or schools, the student who shared the video mentioned Blue Valley Northwest. The suspect in custody is the student who shared the video, not the student rapping in the video, according to knowledgable sources. Both are listed in school records as BVNW students.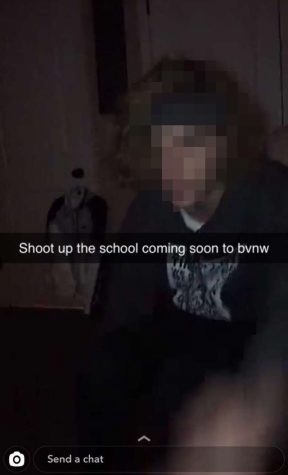 Partial lyrics to the rap, which are allegedly not considered a specific threat, are:
"Shoot them in the head; ya, I shot them in the gut
You a f**king piece; ya, i get it 
See you making noise saying, 'oh my god,' shush 
What the f**k, you need to shut the f**k up
Oh sh*t; ya, I'm coming in with a Glock
Popping all these shots; ya, I'm popping while they talk."
We will update the story as we gather more information.