Men's mentality
Students and staff advocate against the stigma surrounding men's mental health issues in light of National Men's Health Awareness Month.
November is National Men's Health Awareness month, meaning it is dedicated to spreading awareness of the physical and mental problems men endure. As a society, we all understand the importance of having good physical health, but there seems to be a stigma around the importance of mental health, specifically in men, according to Blue Valley Northwest's psychology instructor, Heidi Gipple. 
Gipple explained that in order to have good physical health, good mental health is required, and vice versa. She said how reaching out for help is completely normal and should not be viewed negatively. However, Gipple said she believes this is an underrated concept, as many people, especially men, are still wary of asking for help.
"If we're so willing to talk openly about being physically healthy, we should also be willing to do the same about staying mentally healthy," Gipple said. "I think mental illness has been seen as, to a certain extent, taboo to talk about. I think that it's getting better in terms of people being more willing to talk about it, but I'm definitely wanting more advocacy for speaking out and making it more normalized."
"
I find it difficult, because I'll bottle [my feelings] up and then when I get too overly stressed out or something, it will come out in, like, a very negative way. Sometimes my physical well-being will become ill and I might become sick if I bottle it up for too long.
— Garrett Griffiths
Junior Liam Shetterly has dealt with struggles involving mental health throughout his life. Often, Shetterly finds it difficult to express these struggles and said he believes it is only beneficial for people around him to be informed about the good emotions he feels, instead of complaining about the bad ones.
"Honestly, I feel like it's natural to not talk about my feelings unless I'm really happy or excited or something, but I rarely ever talk about how I feel on a deeper level," Shetterly said.
Shetterly believes it is hard for men to open up to people they do not trust immensely, and even finds it difficult to share his feelings with some of his loved ones. When men do talk about how they feel, he said it has to be to someone who they know will not be judgemental nor use any of the information against them.
"It's really hard to even talk to your family about it, too. It's gonna be someone who you're really close to if you do talk to anyone about your mental health," Shetterly said. Similarly to Shetterly, junior Garrett Griffiths is familiar with issues involving mental health. He agreed that most men do not express their mental struggles and analyzed the societal pressure many men feel when regarding their emotions.
"I think there is a little bit [of a stigma] around men's mental health. I mean, I always feel comfortable around my certain group of people, and to them, I can open up and talk to them about what I feel. But opening up to other people that you don't really talk to much is difficult," Griffiths said.
Northwest's social worker Anyssa Wells also understands the stigma surrounding men's mental health. She believes toxic masculinity, the idea that men need to act tough and avoid showing all emotions, is particularly harmful. 
"[Toxic masculinity] is dangerous because it makes people who are struggling feel like they can't ask for help, that they will be shamed or that there isn't community support out there," Wells said. "It becomes a real problem [when] people don't talk about it, and then it can become worse [and] not get any better."
Griffiths offered some insight into why men feel the need to suppress their feelings, whereas women may not fear this as much. He added that men might exclude family members from conversations about mental health due to fear of losing respect.
"I think girls have an easier time sometimes because they can feel more comfortable in situations, for instance with their parents and stuff," Griffiths said. "But with males, sometimes I feel like they even feel uncomfortable talking to their dad about how they feel. Especially when you're in a situation where you have to be the man of the house, it can be hard."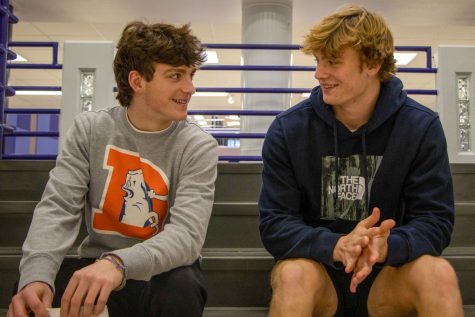 A reason Gipple proposed as to why women may have an easier time speaking up is that they have seen more public figures be open about mental health, allowing for open discussion on the topic. 
"I have seen more women speak up about their struggles, and traditionally women have just been kind of put more on the national stage for it versus men," Gipple said. "It just happens to be that women are diagnosed with more psychological disorders than men are. Now that could be because more women have sought out help, we don't really know, but that's just what the statistics say."
However, Gipple thinks this trend is starting to change, saying she has personally seen more and more popular men share their struggles with mental health as time goes on.
 "I think it's gotten better. We see a lot more celebrities or people that we admire who are men that are speaking out about their struggles with anxiety," Gipple said.
Griffiths believes men will often think of how others might perceive them as "weak" if they decide to open up and be vulnerable. He thinks this could make a man feel belittled and that is why they try to avoid these altercations. 
"Especially in high school where everyone's looking at you, you want to be the person that doesn't show their emotions like that. You want to be the strong guy. You want to be cool. I think that's why it's very easy to not show the weaker side of you," Griffiths said.
Shetterly said he fears that demonstrating vulnerability and discussing one's issues with mental health could potentially damage a man's reputation. He fears other men might perceive him as less of a leader since having vulnerability means putting one's guard down, thus opening themself up to a possible attack and essentially making one defenseless to others' judgments.
"People's points of view [can be powerful]. If you don't seem like a strong leader, you might not get a captain position on a team or you might not be seen as someone who is able to lead in general," Shetterly said.
Wells disagreed with this, describing the importance of staying attune to your mental health and working through struggles when it comes to different activities. She said not opening up or striving to improve their situation can lead to a decline in an individual's presence in activities and academic performance. 
"Being a member of your family or a sports team, you could experience challenges if you're not at your best," Wells said. "Your mental health is a big part of who you are and if you are not taking care of it there will be consequences."
"
Especially in high school where everyone's looking at you, you want to be the person that doesn't show their emotions like that. You want to be the strong guy. You want to be cool. I think that's why it's very easy to not show the weaker side of you.
— Garrett Griffiths
Gipple said no one should feel ashamed of feeling down some days because it is completely normal. She wishes more people would find comfort in the fact that there are many professionals waiting to help people, along with the fact that most people struggle with mental health during their lifetime.
"I think we have to remember we all have physical health, we all have mental health – every person, no matter what their gender is or what they identify as," Gipple said.  "It is important that everybody owns that, because if you aren't taking care of yourself mentally or physically, you will see those consequences; it doesn't matter who you are."
Wells said teenagers especially can experience struggles with their mental health because they are in very formative years of their lives and are trying to figure out who they are. 
"I think it is more common for teenagers to have experiences that they are maybe going to struggle with or are introduced to things that may bring up mental health [risks] and cause stress, because high school in itself can be very stressful," Wells said. 
Gipple also said she understands how teenagers specifically are reluctant to open up to anyone if they feel mentally unwell. She believes this is due to the fact that teenagers have not fully formed their identity and also do not fully understand what they are feeling.
"I think teenagers can be a little bit hesitant about talking about [mental health] because they're like, 'I barely know who I am' and 'I don't even know how I feel.' A lot of people just don't know, and they're afraid to ask questions because they don't want to be judged," Gipple said.
When trying to conceal his mental health problems, Griffiths often finds it damages his physical health as well. 
"I find it difficult, because I'll bottle [my feelings] up and then when I get too overly stressed out or something, it will come out in, like, a very negative way. Sometimes my physical well-being will become ill and I might become sick if I bottle it up for too long," Griffiths said.
 Wells relayed this, describing how necessary it is for people to have a good understanding of their mental health in order to have a successful physical health.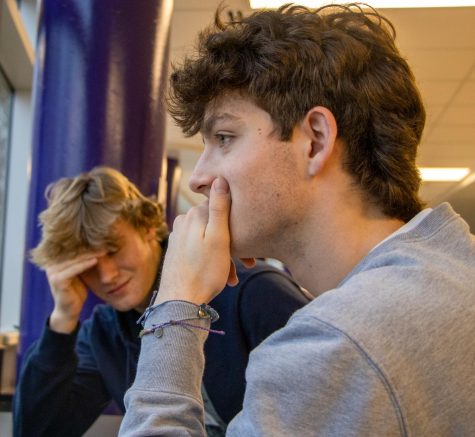 "Just like physical health, you've got to take care of [your mental health] and [make] sure that you understand who you are as a person and what you need day to day," Wells said. 
In order to combat this, Wells said that as a community, it is important for people to be open to conversation. She noted that even though the entire student services team at Northwest is female, it is essential for people struggling to know they have support. 
"I think [for] any staff member or student [and] every member of our community it's just important to be open. If you notice something, [say] something," Wells said. "Whether [they are] male or female, just [keep] an eye on what you notice, [try] to have an open mind and be encouraging for people to seek help if they need it."
Gipple also shared her advice for anyone who still has doubts about coming to terms with their mental health and anyone who judges others for struggling with this issue. 
 "Everybody has mental health, it doesn't mean anybody's crazy. I would advise people to take a moment to [realize that] we all [have struggles] sometimes, and that is okay," Gipple said. "There's lots of resources now and I think that we're starting to be better about that, which is really encouraging to see."
Gipple proposed a valuable plan for anyone who does not know the first steps to take to try and improve their mental health and reassured that at Northwest, many adults are here for you.
"I would first go see a trusted adult – that can be a teacher, a counselor, a para, an administrator, you know, somebody that you trust. Then from there, just kind of make a plan of what you think is best for you, whether that's going to ask for help from a professional, a parent or guardian and maybe trying to identify some of these troubles," Gipple said. "Be very wary of any sort of self-diagnosis, because that could lead to more spiraling. In this building, we're all here for the students and so we want to see the best outcome possible." 
Leave a Comment