A wild-western work
As a form of entertainment, senior George LaHood and a few of his peers created a Western short film over quarantine.
During quarantine, senior George LaHood wrote, directed and filmed a Western short film titled "The Man Who Missed." The film takes place in 1889 and is about a cowboy seeking revenge on the people residing in a western town.
LaHood said he has always loved movies and that relaying deeper meanings and narratives through video was an interesting way of connecting with people. After working on a project for sophomore ELA involving filmmaking, LaHood said the project sparked his interest in film making.
"I have learned that I really like making [movies]," LaHood said. "I did a project where you had to make a video about an unsung hero. I really enjoyed the process of making a documentary and telling a story through video. My teacher talked about 'how can we tell stories best?' and I just ran with [that question]."
Prior to the writing of "The Man Who Missed," LaHood said he had created two other short films, "Messages" and "Power Craze." During a road trip in May 2020, LaHood said he created the entire outline in the car and he wrote the story when he got home afterward.
"[Originally, I was] writing a script for the Western that would be two scenes. One of my friends told me 'Why does it have to be this short? Why can't it be longer?' So, I crafted a story from the two scenes and then I extended the story," LaHood said. When I got back home, I wrote the story. It took me two weeks to write."
After acting in LaHood's film "Messages" last winter, senior Declan Franey was asked to act in LaHood's new project.
"I don't know how he really chose people [to be in the film], he just texted me one day and asked me to be in it," Franey said. "He knew I was a good actor from seeing me in shows since he works on lighting for Northwest, and since I had worked with him on his previous movie."
Acting as the role of Bill, a mysterious man who becomes the sidekick of the lead character, Franey said that shooting days were long.
"We had around eight days of filming at four different locations, and we were at each for four to eight hours at a time," Franey said. "We would rehearse and then film the scenes a couple times to get different angles."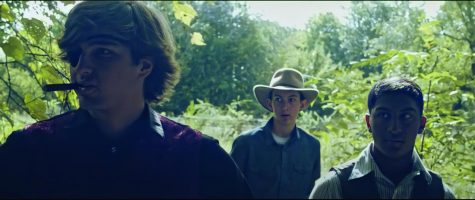 After being asked to score the movie, senior Caleb Johnson said he created the soundtrack and that this was a collaborative process with his peers.
"I would have my music writing application up on my computer and then my friends would be playing their guitar on the other side. And we'd have to basically use our ears and just listen to what they were playing and then just write down a piece of music, and then send it to other people to play."
All of the filming took around a month to complete, LaHood said. The cast involved in the making of "The Man Who Missed" filmed in different locations all over the Kansas City area, LaHood said.
"We filmed in some open fields that were open space and didn't really have a lot of noise. [Fields that] had a clear background that would look like it was from 1889," LaHood said. "We filmed at this park in Lee's Summit called Missouri Town 1855, which is a park that took buildings from the 1800s."
During the filmmaking process, Christy LaHood, George's mother, said she supported LaHood as much as she could.
"We give him the time to [create the movie]. George actually never shows us his work until it's finished, so it's always fun to watch him go through the process," Christy said. "For this particular movie, George did have a budget and his dad and I agreed to finance a portion of it for him."
Though not the purpose of making the films, LaHood said he plans to submit all the films he has made to colleges he hopes to attend next year.
"As far as a portfolio goes, I am applying [to schools that] require a portfolio and a list of works if you have any. So, I'll definitely put that in the application," LaHood said. "But I wouldn't say that I [make movies for college] specifically. I will submit [movies] to colleges, but that's not the reason why I did it."
With all the accomplishments she has noticed LaHood achieve, Christy said LaHood inspires her so much, as he has been mature about making his own choices for his future.
"I would say George has always been really good at charting his own path," Christy said. "Seeing George find things that he cares about and [taking] leadership roles in those areas, that [inspired] me."
Throughout this pre-professional film experience, LaHood said the most important thing he has learned was how to humble himself as the person in charge of the film.
"When you're making a movie like professionals do, you have so many people and you have to collaborate with them. If you don't, you're just going to get in your own head and you're going to get bogged down with the same ideas that you have," LaHood said. "The ideas that you're attached to maybe aren't the best ideas. I have learned to be such a humble person and allowing other people to give their ideas."