What's on my tray?
Changes of lunch requirements have brought variations in the school cafeteria's menu.
Walking into the lunchroom, students may have noticed certain changes in the school's food selection. Based on Blue Valley School District's goal to better students' health through school lunches, BVNW has altered lunchroom items to fit the district-wide requirements.
Charles Rathbun, Director of Food and Nutrition Services for the Blue Valley School District, said that changes to the school lunch were made due to the new guidelines set by the United States Department of Agriculture (USDA). With loosened requirements of grain and protein, menu items now include calzones, new á la carte items, new potato products and other items.
"[The school district] is under the National School Lunch Program, so we get schedules and funding for the meals we serve for students," Rathbun said. "The USDA will look at our meal guidelines and they will update them based on current science to make sure the meals that we are serving to students meet national standards."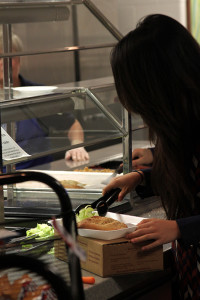 Not only did the nutritional value change, but also the price. According to Rathbun, while last year the price for student lunch was $2.35, this year it is $2.50. The price for student breakfast was $1.20 last year and is $1.30 this year. The changes also include what is required to make a full meal.
Students must get at least ½ cup serving of fruit and/or vegetable, as well as two other food groups to make a full meal. The food groups include fruit, vegetables, grain, proteins and dairy. All entrée choices include two food groups.
While looking at the new menu options, senior Matthew Krogull said there is a wider selection.
"There are more options," Krogull said. "Last year there were days where there would be nothing. This year there's at least one thing every day that I like. The food definitely tastes better than last year too."
However, some students said they do not like the changes that were brought about this school year, such as sophomore Piper Wiley.
"There's less (of a selection)," Wiley said. "[Students] eat less, definitely. It makes it harder to eat lunch, because I don't like a lot of the stuff in there. I like that there are healthier options, but I don't like that my favorite foods are gone."