"The Princess switch: Switched Again" is the perfect lighthearted holiday movie
"The Princess Switch: Switched Again," released November 19, brings back the cheery Christmas spirit in this family friendly sequel, creating the perfect movie to watch this holiday season.
Two years ago actress Vanessa Hudgens hit the screen in her Netflix Christmas movie, "The Princess Switch," a classic fairytale holiday movie that told the tale of an overworked princess-to-be and a baker from the states both looking for their true love, who happened to look identical, but of course only loosely related. To escape her busy life, Princess Margaret switches places with her look-alike Stacy, where both ladies end up falling in love with the other's loved one. This year, Hudgens brings viewers the second film of this Christmas rom-com series to ease the stress of this holiday season. Hudgens returns as Stacy and Margaret and this time adds another doppelganger to the mix: Fiona, Margaret's evil and snotty cousin. Margaret.
By no means is this an extremely meaningful Christmas movie, yet this simple and funny movie is the relaxing break that the world needs during these challenging times.
The film opens with a recap of the last year. Margaret and Kevin, Stacy's friend, have broken up, but no explanation is provided for this devastating news. Stacy also notes her duties as a princess have been overwhelming, pulling her and her husband Edward, played by Sam Palladio, further apart in the early years of their marriage.
It should be mentioned, the most unrealistic idea of these movies is the lack of questioning to there being three women who look exactly alike, with no better explanation than "they might be loosely related." Once you get past these extreme plot holes, the endearing charm of the characters makes for a silly holiday experience.
This movie is so spectacular due to the incredibly romantic love stories for both Stacy and Margret. Fiona is left without a partner due to her hateful ways, making her the antagonist of the movie.
The acting in the movie, notably Hudgens', is far from award-winning, but that is not the focal point of this film. Hudgens does an exceptional job at playing into the typical, cheesy holiday plot.
In this somewhat anticipated sequel, Margret is to inherit the throne of her country on Christmas day, but this is far from what the film is really about. Hoping to reunite Margaret and Kevin, Stacy plans for another switch between the two princesses so Margaret can reconnect with Kevin, and quickly realize she still loves him.
Fiona is jealous of the wealth Lady Margaret is about to inherit, so she plans a switch of her own. Her plan ends up being about as well developed as the film itself, crashing and burning as soon as the others find out what she has done.
Of course, she does not get away with it, and the film ends with a happily ever after plot, just as the first. The pacing and plot of this sequel are perfect, keeping its audience engaged in a storyline easy enough for any age group to follow. Clocking in at one hour and 37 minutes, the film is just long enough for a relaxing movie night at home.
Without a doubt, this sweet Netflix original lived up to every ounce of pleasure that captivated the audience in the original. Best of all, Netflix has already announced its plans for a third movie to this guilty pleasure saga.
Leave a Comment
About the Contributor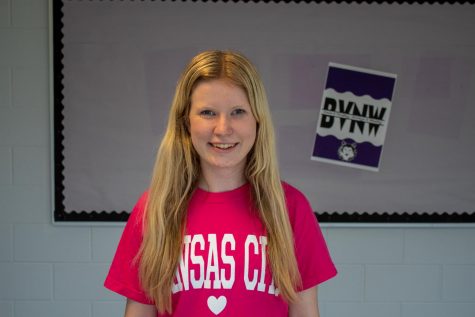 Tessa Regan, Print Editor
Tessa Regan is a senior and the Print Editor for "The Express." She enjoys writing for the publication. Outside of newspaper she is part of KAY Club as well as a member of the Mental Health Board. She loves hanging out with friends and watching movies. Other notable things about Tessa include her Starbucks addiction and profound love for shopping. This year she hopes to build excellent leadership skills while still working on her writing.