The bus issue
A side-by-side look at the ongoing missing bus problem and how the situation has progressed into 2022.
March 3, 2022
School bus adjust
School bus scheduling and services are apt to flighty changes. Head cross country coach Elizabeth Warren said the situation with transportation has been unique this semester. 
"We've had a bus cancel, we've had them not show up on time, or need to change times, or only show up with one bus when we needed two," Warren said. 
Junior cross country runner Taylor Steenson said the situation affected her performance in one of her races.
"We were going to our meet, and we went to the wrong school. We were sitting there for like 20 minutes, and then we found the right place," Steenson said. "We sprinted out of the bus; we had like 20 minutes to warm up." 
Warren said the lost warm-up time caused problems, including anxiety for the runners and herself. 
"In cross country, you have to warm up in order to prevent injury and also to allow your body to get in the right zone to race, and have a good race, good time, all of the above," Warren said. "So we got there with maybe 20 minutes to spare when they needed 45. They had to cut their warm-up in half, which could risk them getting injured."
Steenson was running in the first race and said her legs felt very tired. She said she was not fully prepared for the race. 
Another time, Warren said the buses had to cancel the day before a meet. Warren said she had to send frantic emails to all of the parents of the athletes. 
"When the bus canceled on us, I had to get a ride for every athlete last minute the night before," Warren said. "It causes unnecessary stress." 
Warren attributed the problem to a lack of bus drivers. 
"I think this is a problem because they are short-staffed; they just can't hire people," Warren said. 
Blue Valley Director of Business Operations Jason Gillam said in a normal year, Blue Valley can find just enough people to keep all the bus routes running. This year, however, has been more difficult. 
"There is a national bus driver shortage- it is not just a Blue Valley challenge," Gillam said. 
Gillam accredited part of the problem to the economics of the Blue Valley area. 
"I will say that historically, it has been a little more challenging in BV to attract and retain bus drivers," Gillam said. "Mainly because very few of them actually live in our community and come from our community. I want to say five percent or less." 
With an estimated 95 percent of bus drivers coming from outside the area, Gillam said the drivers are passing up other jobs, which can be a hard sell.
"We usually have to pull [drivers] from neighboring communities to come work here, so we have a lot of folks that will come from really all four directions of us, but they're driving a good distance to get here."
Gillam said there are many incentives in place to attract new drivers. 
"Durham is our partner for providing bus service for the school district, and they have recruiters that work to attract bus drivers. They do a lot of different types of events, they even go door to door trying to solicit bus drivers from areas and communities we've had success getting bus drivers before," Gillam said. 
According to Gillam, Durham is offering a $1000 bonus to drivers who refer someone to become a bus driver and stay with the BV District. He also said this would be a great fundraiser for a civic group or church because Durham can write the referral check to the church, fundraiser or individual. 
Gillam said Durham is also offering a bus driver a sign-on bonus. He said Durham will pay out the sum in a couple of payments to make sure the driver will stay with Blue Valley. 
"If they already have a CDL and they're coming from somewhere else, and they want to drive for us, they get a $3000 sign-on bonus. They get a little bit more because we don't have to pay to put them through the training and testing," Gillam said. 
If the prospective driver has no experience driving a bus, Durham will also pay for the training required to obtain a CDL (commercial driver's license). This license endorses the holder's ability to transport people. Gillam said the classwork costs about $2500 and takes between six and eight weeks to complete. 
"They pay the driver $1500 as a thank you for making it all the way through the course," Gillam said. 
Blue Valley is hiring or graduating two or three new bus drivers every week, which he said was good. However, he also said the challenge is the problem of losing drivers. 
"We lost some [driver's] earlier this semester because they got burnt out. They got burnt out because not only were they doing their route, they were maybe helping cover someone else's route. That can be stressful when that's not a route they've practiced," Gillam said. 
On top of covering other drivers' routes, Gillam said the drivers would sometimes encounter parents or families that were upset at the tardiness of the buses, not realizing the driver was already going out of their way to solve the problem as best they could. Despite this, Gillam said the District is doing its best to retain as many drivers as possible. 
"We try to do everything we can to protect them and show them that they are supported and help them with their job," Gillam said.
While buses may be later than usual, Gillam said there will always be a bus if students are expecting one. 
"If we have a bus route that doesn't have a driver that day. It doesn't mean that those kids aren't going to get a ride, it likely means that they'll be late. We'll always send a bus back if there's no bus driver for that route to get those kids home," Gillam said.
About the Contributors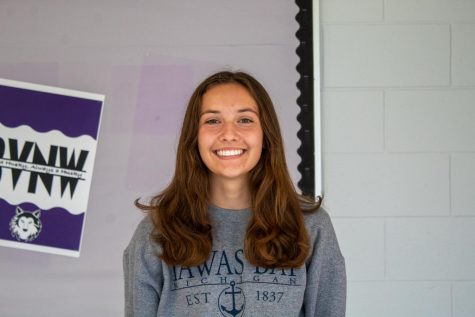 Rachel Hostetler, Online Chief Writer
Rachel Hostetler is a junior at Northwest and Online Chief Writer for "The Express." This is Rachel's second year on staff, and she is excited to become a better writer and leader. Outside of newspaper, you can find Rachel running for BVNW's cross country and track programs. Rachel also enjoys getting coffee with her friends and biking. Her favorite movie is "Stand by Me" and she loves music from the 70s to 90s. She plans on attending college and eventually pursuing a career in medicine.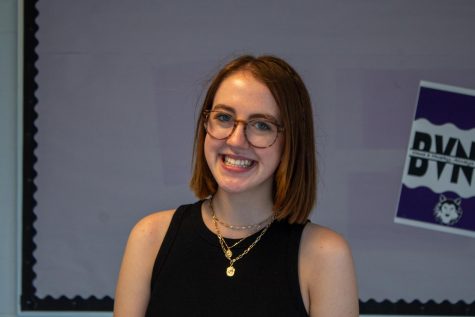 Laura Benteman, Photographer
Laura Benteman is a senior and a photographer for "The Express." Outside of newspaper she is also a photographer for the yearbook, "BVNW Horizon," the communications manager and photographer for BVNW Theatre and is a part of NHS and Rise. She works as a nanny and loves to volunteer with her church. In her free time she can be seen hanging out with friends, listening to music, babysitting, thrifting, caring for her numerous plants and of course taking photos. This year Laura hopes to improve her photography skills and further develop her photography style.
View 1 Comment
Update on the bus dilemma
Throughout the 2021-22 school year, many bus riders at Blue Valley Northwest have not had the pleasure of a consistent bus schedule.
"The bus has been late at least 10 or 11 times [this year]. It's usually for an entire week at a time because they don't have a driver," freshman Anahi Hermreck said.
Hermrick is a bus rider on bus 16, and relies on the bus to get home due to her parents working during school dismissal time. If the bus is arriving late, however, she is forced to walk home, or else she will miss out on her after-school extracurricular activities.  
"I can't wait until the bus comes to pick us up at four o'clock because I'm the last stop. I have stuff after school to get to and if I wait, I won't make it on time," Hermreck said. "I [have to] walk home if the bus is late, but sometimes it's really cold so it's a struggle."
According to the Blue Valley Director of Business Operations, Jason Gillam, the bus company, Durham School Services, has addressed the problem and is doing everything they can to fix it. He said they are currently trying to hire new bus drivers to eliminate the problem.
"Durham School Services, who provide bussing for us, only [has] about 113 drivers and we need 126," Gilliam said.  "Durham has brought in national recruiters [that have] been here for weeks helping strategize and recruit [more bus drivers]," Gillam said. 
According to Gillam, they have been finding that they are more successful in finding new bus driver candidates when they communicate person to person rather than mass communications. 
"[Durham has] had some success in setting up at some hiring fairs, but they've also been out in neighborhoods, where they have some bus drivers that already live there, and going door to door handing out flyers and trying to talk to others that live in those neighborhoods," Gillam said.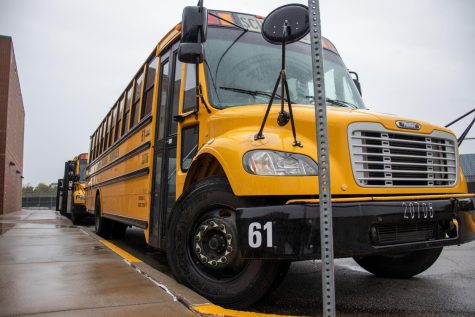 Although Durham has been working hard to hire more bus drivers and devise new plans, Gillam still wishes more people would apply for the part-time bus driver job.
"I wish there were more folks that took an early retirement or have grandkids in the school district and just want something to do to get out of the house for a part-time job," Gillam said. "Those are awesome candidates to come drive the bus for us, we're just not seeing as many of them as we have seen in the past which is making us have to find drivers from other places."
Despite Durham's efforts to hire more bus drivers, the shortage of bus drivers still exists, one way Durham is trying to help students is through the Durham Bus App. The app alerts students if their bus is going to be late ahead of time.
"I have the Durham Bus App. I usually receive texts around noon letting us know the bus is delayed. It's good so I'm not calling my mom as school is getting out trying to make plans on how I'm getting home, I can do it in advance," Hermreck said.
Gillam said that as the school year continues, he and everyone working for Durham will continue working hard until this dilemma is resolved.
"The folks that we have here from Durham… are working immensely hard," Gillam said. "If we can't deliver on the system that we have in place, we probably need to change it to provide a better quality experience for everyone."
About the Writer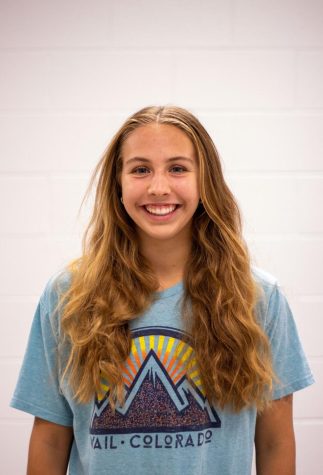 Alyssa Gagnon, Sports Editor
Alyssa Gagnon is a junior and the Sports Editor of "The Express." This is her second year on staff, and first year as an editor. Outside of staff, Alyssa is a part of the BVNW girls soccer team, NEHS, Quill & Scroll and NHS.When not in school, she enjoys playing soccer, listening to music, going to the gym and spending time with her friends. Alyssa is very excited for what this year will bring, and what she will be able to contribute to "The Express."
Leave a Comment