Choir program adapts to sudden changes
After multiple changes in leadership and the challenges of COVID-19, students in the choir program reflect on the year and their hopes for the future
COVID-19 presented many challenges for organizations across the school, but one that hit particularly hard was the BVNW Choir program. As a group that relies on singing in masses, they had to rethink and rebuild their program, amidst times of social distancing, masking and online education.
The 2021 school year started entirely virtual, which proved to be a challenge, senior choir member Gabby Beilfuss said.
"Trying to do choir through a screen is just the worst possible thing you could ever subject yourself to," Beilfuss said. "It was terrible." 
New challenges were presented to the choir program on Sept. 18, when choir teacher Beth Richey-Sullivan said in an email that she will be taking a leave of absence from teaching beginning Oct. 2 that would last the entirety of the school year.
"This decision does not come lightly, however, my family needs me," Richey said in her email. "There are many personal situations at home which are requiring more of my attention than I can give while maintaining and growing the BVNW Choir Community."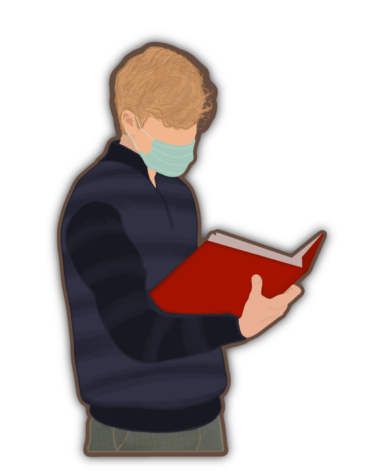 After Richey left she was replaced by long-term substitute Joshua Donaldson, who has music and choral conducting degrees from the University of Kansas and Pittsburg State University. However, Donaldson received a job as Interim Director of Choral Activities at Emporia State University at the end of third quarter and had to leave the BVNW choir program abruptly.
Currently, the choir program has a new substitute, but this substitute does not have a degree in music. Senior choir member Declan Franey said this allowed for students to run the program with accompanist Dr. Kurt Knecht. With Richey returning next year, Declan said he's hoping the aspects of the student led approach to choir can continue.
"Having a lot of student led stuff has been challenging, but it's also been a lot of fun," Franey said. "We'll probably talk to Mrs. Richey about trying to develop student led concerts and different things, or just having more responsibility there, because she always has a lot of pressure on her."
Beilfuss said the constant changes and COVID-19 have led to a decrease in enrollment for choir and a struggle to get new members to audition, but despite this, she said it was important for her to stay. As the choir aid, Gabby said she knew if she didn't put together their end of year events, her classmates would never get to experience them.
Choir member and junior Maggie Bunch said there were times this year when she was tempted to drop choir, but she knew it was important to stay because of the role music plays in her life.
"I knew if I left it I would definitely miss it, and it would definitely be like leaving a part of myself," Bunch said. "It's more rewarding going through this year and going into next year knowing that we were still able to create music and create this joint community even given the horrible circumstances."
Franey shared similar feelings about why his involvement in choir was important to him this year.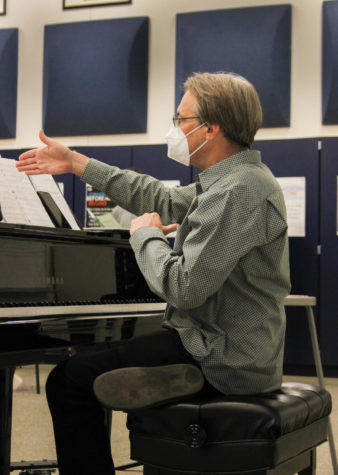 "Even this year when it was a struggle at some points or less fun and almost like saddening to see everything changed so much, it felt important to me to kind of try to give back as much as I can," Franey said. "I felt like it has made me more fulfilled and feeling like I can give back to the music that's really given me so much over the past four years."
So far this year the choir has only been able to perform virtual concerts, so Franey, Bunch and Beilfuss all said they are excited for their end of the year pop concert, Husky Showcase, which will be their first live audience of the year. The choir is also currently preparing for a virtual spring concert where they will perform traditional choir music.
Bunch said she's learned a lot from performing virtually because she was responsible for giving energy to the performance, rather than the audience, but is excited to perform for an audience again.
"With live performing you want to have people there because the audience is a part of the performance," Bunch said. "Their energy bounces off your energy and it just, that's the beauty of live music, the audience is such a vital part of the performance feeding into the performer's energy."
"
It's more rewarding going through this year and going into next year knowing that we were still able to create music and create this joint community even given the horrible circumstances"
— Maggie Bunch
Husky Showcase will take place May 13 and 14 in the Performing Arts Center at BVNW and seating will be limited. Each choir will perform a pop song and there will be 16 soloists each night.
Bunch said she hopes next year the program can have a renaissance and that they can become closer from the obstacles they've faced this year.
"What's really essential to creating music and performing is feeling comfortable with who you're performing with, especially in choral performance," Bunch said. "So I really hope that we bring that connection, and family aspect into next year, into our performances because when you have that connection, it reads to the audience and it makes just the performance more personal."
Beilfuss said after she leaves the choir program she hopes the choirs continue to produce music like in years past and the program can be a safe place for students. 
"I just hope that that program remains a place where people can go to find some sort of acceptance or to find friendship, or to find their happy place in school," Beilfuss said. "I know that choir was always mine."