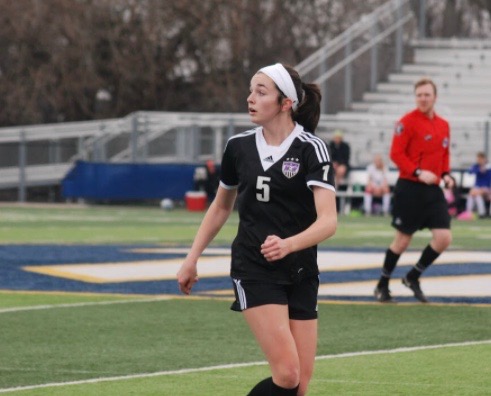 Girls Soccer
"Kansas Closes All K-12 Schools for Rest of School Year." This was the news headline that shattered my heart. I am still trying to put the pieces back together. All spring athletes had their season ripped away and as a senior, my soccer career was over. Years of work were confined to memory. There would be no more practices, there would be no games, there would be no out of town tournaments or long bus rides, there would be no team dinners and there would be no senior night. Twelve years of soccer, so that my final season could end before it even began. Everything was gone in seconds.
Soccer started as a way to meet other kids and make new friends, but turned into something much more than that. Soccer became a constant in my life from a very young age; it was a source of stability. I could always count on practices during the week and games on the weekends. Soccer always came first. The soccer complex became a second home, a place where I grew up.
The only reason that I played club soccer was so that I could play at BVNW. The 4 years of high school soccer were supposed to be the best. And they were, all 3 of them. Each year was a different experience. High school soccer was something that I looked forward to. I looked up to those leaders that were there before me. Everyone waits for their time to be that leader and senior year brought just that, as I was chosen as one of the senior captains. It was a job that I was excited to inherit. It meant having more responsibility. It meant making everyone feel like an important member of the team. I was finally the mentor that I had always admired and it was the season that I had waited 12 years for. 
After last years' loss in the regional finals we knew that this year was our chance. We had the talent. After tryouts and our first week of practices, we all knew it. This was the seniors' last hurrah and our chance to go to state.
Senior year isn't all about winning though; it's about finding closure and accepting the end. When they announced the abrupt ending to our season, I knew that it would be difficult to find closure. There are too many "what could have beens" that come along with not having your senior season. The "we could have beaten that one team" or the "we could have gone to state." These questions hurt the most. Knowing that there will never be answers to these "what ifs" is hard to accept.
I was angry when they cancelled spring sports. It is hard to admit, and almost feels selfish. But, it is difficult to accept that my school and athletic career will end without a proper send-off. 
I feel as though I took every second for granted. I assumed that I had two more months to savor all of the little moments. I took the "normal" days for granted. Even on tough days, I regret not savoring it. There were days that I complained about going to soccer; these thoughts will haunt me for a long time.
Years from now, I'll look back and smile at all the good memories that came along with my soccer and athletic career at BVNW, but for now all I see is an incomplete and heartbreaking goodbye.