The biological debate
A side-by-side look at writers Reagan Kauth and Quinn Brown's thoughts on whether or not transgender individuals pose a threat to cisgender athletes.
November 4, 2022
Is there an athletic advantage to being transgender?
President Joe Biden signed an executive order in January that will allow transgender athletes to compete based on the gender they identify as rather than their biological gender. While this is an amazing feat for the transgender community, it could be unfair to cisgender athletes.
How transgender athletes competing alongside cisgender athletes is approached varies based on the state and the athletic level. The Kansas State High School Activities Association states the school is responsible to determine the appropriate gender team for participation by the student. Once this determination is made, the school must notify KSHAA if a student is playing on a team opposite of their birth gender. Students are required to participate in the same gender category in all sports, for the remainder of their scholastic eligibility in grades 7-12.
On March 18 however, the Kansas State Senate passed a bill that will now alter how this is handled. This bill bans transgender athletes in all women's sports in the state of Kansas, although none of the five transgender athletes in Kansas have ever won a state championship, trans athletes in other states have.
The Washington Times recently published a story on two transgender girls in Connecticut who placed 1st and 2nd in an indoor track state competition. The top six competitors in this competition earned a spot in the New England regional competition. One of the cisgender athletes in this competition said she felt this was extremely unfair to her because she felt she would have made it to regionals if the trans athletes were not competing. Along with these two women, there were 15 other trans girls who have won major high school tournaments and championships in multiple sports from 2017 to 2019 reported KMBC.
Competing at the collegiate level as a trans athlete is different from high school in the sense that the decision is up to the NCAA. The NCAA said that to participate in a sport at one of their colleges, the athlete does not need legal recognition that they are transgender. This however does not consider the use of hormones in these athletes. The NCAA only requires the athlete to be on hormones for one year to be eligible for collegiate level athletics.
Letsrun.com published a story in 2019 about Cece Telfer who was the first trans NCAA athlete. She was raised as a male and competed on the Franklin Pierce University men's track and field team for her first three years of college when she was still identifying as a male. Letsrun.com said as a male, Telfer was a mediocre athlete and was never close to winning any major championships until she was able to compete with women.
According to the article, before Telfer's sex change her best time 57.34 seconds, only got her 10th place in the competition whereas her best time after the sex change, 57.53 seconds won her a national championship. Letsrun.com said although Telfer was on hormones for the required year, she still retained high levels of testosterone that allowed her to win.
Because Telfer started hormones after puberty, Letsrun.com said she still developed all the typical male characteristics which just heightened her advantage. Research by the Mayo Clinic shows this is true. They said all people born male will still develop male characteristics unless they start hormones before they undergo puberty. Most people who are transgender do not start hormone therapy this early for many different reasons such as parental consent. Because of this, I do not really see how it can be fair for them to compete against biological women.
Biological men, on average, perform ten to twelve percent better than the female equivalent in athletics, according to a study done by Duke University School of Law. Duke said this is because men generally are taller, have greater testosterone levels and higher muscle mass.
In the process of transitioning the testosterone levels are reduced which does suppress the muscle mass but a study from the University of California San Fransisco on transgender care shows these muscles are still able to grow back to the former size and one's height is not altered during the transitioning process. This means that if a transgender woman and a biological woman did the same weight routine the trans woman would gain muscle and strength much faster than the biological woman.
An example of this would be from a story published by The Washington Post in 2019. Mary Gregory, a transgender woman who had been on hormones for one year, entered a weightlifting competition as a woman and won the whole thing and set multiple world records. She was later stripped of her title due to the fact that it was unfair that she competed without the competition having any prior knowledge that she was transgender, said Paul Bossi, the president of 100% Raw Powerlifting Federation.
In the same article by The Washington Post, two former Olympic athletes agreed that while the feelings of trans athletes do matter, sports should be about the biology of a person rather than ideology.
When taking biology into consideration, having trans women compete against cisgender women is unfair and threatening to the integrity of women's sports at all levels.
About the Writer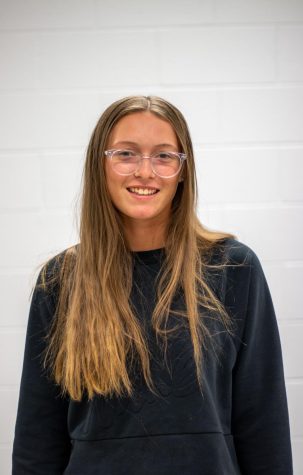 Reagan Kauth, Writer
Reagan is a senior and a third-year writer for "The Express." This year, Reagan is also the girls varsity golf captain. When she is not on the golf course, she enjoys baking and spending time with her three siblings. Reagan is excited for another great year on the newspaper staff.
Leave a Comment
…But is it fair?
Sports are not, and have never been fair. Transgender people are not making sports unfair.
As it is currently election season, political ads have been flying left and right. Just like every year prior to 2022, the season prompts attack ads, including one from the Republican Governors Association on May 14, 2022. The ad mentioned how current Kansas Governor Laura Kelly "opposed common-sense efforts to ban men from competing against girls in high school sports." 
Attack ads like this use specific word choices to manipulate an audience, like the words "men" vs. "girls, " indicating a predatory sense. When we see these ads, we need to remember: transgender people are not predators. 
In March of 2022, Director of the KU Sport & Exercise Psychology Lab Mary Fry was asked to provide an expert opinion on a West Virginia court case. The case was held to declare the possibility of allowing a transgender female to participate in a women's team sport. This person was in middle school.
"The states are making these laws that [say] you can't transition and be female, [but] we don't care about [transitioning males], which makes no sense to me." Fry said. "It just fosters a stereotype that [trans women are] going to excel and have an unfair advantage."
 Only three weeks ago, on Oct. 3, Kentucky State swimmer Riley Gains appeared in a political ad supporting Rand Paul. Gains disparaged transgender women in sports, specifically a transgender female swimmer named Lia Thomas. In the ad, Gains says, "for girls across America, [their] dream is being taken away by men competing in women's sports." Later on in the ad, Paul closes with the statement, "I'll always fight for fairness." This further perpetuates the harmful stereotype that all transgender women who are successful in sports do nothing but take away from cisgender women. 
The fact that grown adults need to resort to dehumanizing transgender students, by implying they're predators or calling transgender women "men," to make a point is not only extremely unfair, but it is also a slap in the face for every transgender person in the world. As more political ads are being spewed with hurtful lies, we are taking more steps backward. We should not allow this political pressure and antagonizing language to cloud the reality of transgender issues.
 In March of 2022,  Thomas won the NCAA women's 500-yard freestyle with a time of 4:33.24. And even though she won – she didn't break the record set in 2017 by cisgender woman Katie Ledecky, with a time of 4:26.06. 
When she competed, Thomas had been on hormone replacement therapy (HRT) for close to three years. The NCAA requires that Thomas, like any other transgender athlete, must be on HRT for at least a year to compete. 
Because Thomas surpressed her hormones, she had the same "advantage" as the women she competed against regardless of her sex, according to data from The Independent. In fact, Thomas performed worse after taking HRT. Rachel Lang for LADbible wrote, "Before transitioning, her best time in the 500-yard event was 5.6 percent slower." The commonly-used phrase that Lia was "a 400th rank swimmer and now is #1," is deceptive.  
All transgender people should be given the opportunity to compete in sports without discrimination, especially when abiding by the rules. We need to have a balance between fairness and inclusion. Thomas should be allowed to swim as a woman, against women, because she is a woman.
Every person comes with different athletic advantages and abilities, trans or not. Transgender women just like cisgender women, come in all shapes, sizes, and ages. Not every transgender woman who swims is a Lia Thomas, and not every cisgender man that swims is a Michael Phelps. Every athlete brings their own set of advantages and disadvantages. Unequal ability should not get in the way of equal inclusion.

About the Writer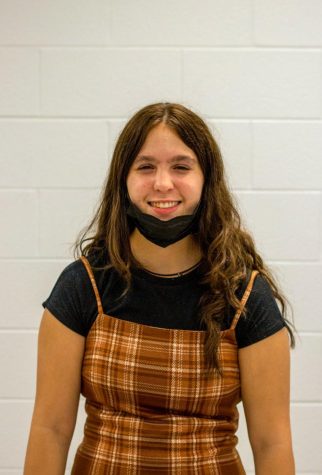 Quinn Brown, Writer
Quinn Brown is a senior and writer for "The Express." This is her second  year on staff. Outside of newspaper, she is involved in NHS, Chorale,  and a book club with her friends. She is a coffee addict. In her free time, she likes watching studio ghibli films, playing with her dog Copper, crunching fall leaves, writing stories and reading. Her favorite books include classics and Greek mythology like "The Iliad," and her favorite bands are Dayglow and Glass Animals. Quinn is overall extremely eager to write for the newspaper this year, and is ready to improve her writing skills and produce great articles!
Leave a Comment