Garth Brooks is the definition of an oldie but a goodie
Editor-In-Chief Megan Yates shares her experience at the Garth Brooks concert Aug. 7.
Garth Brooks is a name I am sure your parents have thrown around from time to time, and for good reason. My Dad would probably consider him to be the greatest performer of all time, and after attending his concert at Arrowhead Stadium this past Saturday, I can see why. 
Brooks captivated my attention from his first song, even though I didn't know the lyrics. Needless to say, I was hooked the rest of the night, and, I believe the other 70,000 people at the concert felt the same way. 
The energy he brought to the stage was unparalleled to anything I have ever seen. He was gracious and beyond thankful to perform for us. He was emotional when describing his history of performing in the Kansas City area. He was, for all intents and purposes, the definition of a class act. 
There was a feeling within the stadium that night as we all danced and sang along to songs such as "The River" and "Friends in Low Places." It was a feeling of joy and happiness; something that has been much needed given the past year and a half we have all had. 
The best part was that Brooks felt that feeling too and he quite vividly exclaimed to the crowd his thrill to discover it. 
"This is what it is all about," Brooks said. 
The setlist included all of his well-known songs, including those that make you cry and those that make you shout at the top of your lungs. I wish more than anything I could have properly line danced to "Ain't Going Down to the Sun Comes Up," but the silly do-si-do my friends and I did worked just fine.  
Brooks' caring nature and heartwarming interaction with the cro
wd was without a doubt the best part of the night. He serenaded a cancer survivor to her favorite song, "If Tomorrow Never Com
es" and he gave away his guitar to a girl who held a sign saying it was her first concert, he signed it too.  
If those actions alone don't make you want to buy all his music, write personal thank you notes for the kindness he showed to others and choose "She's Every Woman" to be the first dance song at your wedding, I do not know what will. 
His set finished and no more than five minutes later did he come back on for an encore.
During the encore, he looked for posters that suggested songs for him to sing, and he did just that.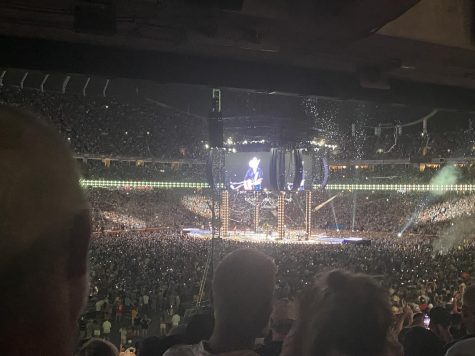 After singing "The Wolves" he busted into "Shallow" from the movie, "A Star is Born." When his wife and singer Trisha Yearwood popped out of nowhere to duet with him, everyone in the stadium lost their minds. 
Yearwood then sang one of her famous songs, "Walkaway Joe." Finally, the concert ended with "Ain't Goin Down Til the Sun Comes Up," leaving us all with fast-beating hearts and smiles on our faces from ear to ear. 
I don't mean to sound so old-fashioned when I say this, but I believe attending this concert counts as one of those once-in-a-lifetime experiences. 
So, my advice to all of you at home is simple: The next time your parents or grandparents ask you to play a Garth Brooks song, just do it. Trust me, you won't regret it. 
And, if you are really lucky, then maybe one day you will get to experience him singing it in person with 70,000 people singing along, just like I did.