Pixar's "Onward" is the perfect quarantine distraction
Released to Disney+ prior to when it was originally scheduled for release, Pixar's "Onward" tells the adventurous story of two brothers seeking the chance to see their deceased father one last time.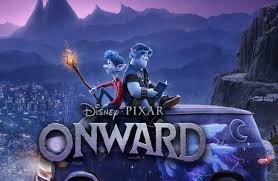 Directed by Dan Scanlon, this heartfelt and loving story takes the audience on a magical adventure during these uncertain times. Starring Tom Holland and Chris Pratt, Pixar's "Onward" was released to purchase from home on March 20th, two weeks before being released to Disney+ on April 3, after only being in theaters for less than a month due to the closing of several theaters around the world.  
In a world featuring both medieval and modern styles, "Onward" takes place in a magically realistic time. The use of magic is a thing of the past in this universe where elves, dragons and unicorns live pretty normal lives, just to name a few of the mythical creatures that are encountered in this film. The colorful animation takes the audience back to the creative and whimsical imagination of their younger selves.  
As any Pixar movie does, this high-energy film pulls on your heartstrings when the shy and timid sixteen-year-old Ian, voiced by Tom Holland, is given a gift: a chance to have one more day with his father who has passed away. Here, Ian is gifted a staff, a gem and a spell by his father. When the spell is read someone who holds the magical powers, it would bring back his father for 24 hours. Unfortunately this did not go as planned and only the bottom half of his father is brought back. With the help from Ian's older brother, the outgoing and playful Barley, voiced by Chris Pratt, the two boys set out on a quest to find another gem that will bring the rest of their dad back. Despite the boys' opposite personalities, a fiery chemistry between the brothers continues to engage the audience throughout the film. 
Working against the clock, the boys experience a number of challenges that lead to heartwarming lessons, as every predictable children's film does. Due to this basic storyline, it felt that there was a major struggle to cater to all audiences, which left the film without a signature moment that other Pixar films are known for. However, the silly and adult-like humor makes up for the forced and overused adventure storyline.  
Prior to the brothers adventure, Ian always saw his brother as a mess up and wished to have that father-son relationship he never had. Through the journey the brothers take together, Ian sees that he has always had that figure right in front of him, Barley. Once the boys get the chance to finally see their father, only one of them will have the opportunity before time runs out. Ian notices that he has all he needs from Barley and allows his big brother to say the proper goodbye to his father. This developing sibling dynamic is what will ultimately bring you to tears.    
If you're looking for the perfect escape to pass the time while stuck at home, "Onward" takes you on a lighthearted journey that unleashes the imagination in all of us. As long as you are willing to look past the familiar storyline that Pixar seems to use a bit too much, this film preaches the power of family and familial bonds, a lesson that continues to be relevant in this national crisis.