Gerwig's "Little Women" is a gift for all audiences this Holiday season
This coming-of-age drama centered around sisterhood prevails with its dazzling cast of actors: Saoirse Ronan, Florence Pugh, Laura Dern and Meryl Streep.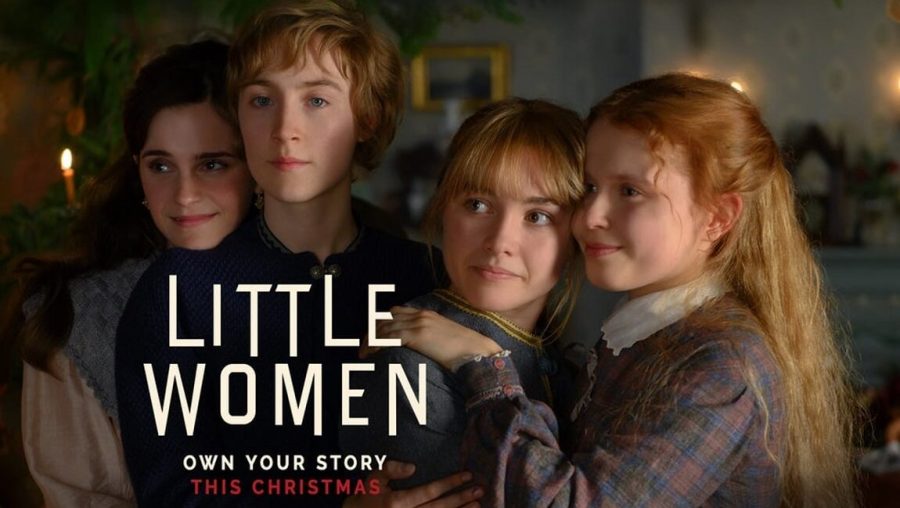 Written and directed by Greta Gerwig, this fresh take of the literary classic detailing the vivid life of the four March sisters provides movie-goers of all ages and walks of life a cinematic experience that will not be forgotten. 
From a young age, sisters Meg, Jo, Beth and Amy are uniquely bonded through their family upbringing, where they did not have much to their name, but were taught to be grateful for what they do have, each other. 
With their fair share of woes, the March sisters must maintain their strong sisterly connection, in spite of own personal, independent struggles. Meg, the oldest of the four sisters, dreams to be wealthy, which in turn pushes her to lament her simple, poor lifestyle with her two children and husband, John. While traveling through Europe with her wealthy Aunt, youngest sister Amy hopes better her artistry skills through painting classes and possibly a find wealthy love interest along the way. Gentle, kind Beth only wishes to play piano and to overcome the sickness that leaves her bedridden at home. The most ambitious March sister, Jo, dreams of becoming a successful writer and vows to never give up her freedom as an independent woman, even if society is telling her to do the opposite. 
Each of the four sisters, though drastically different, fit together to redefine the meaning of sisterhood through heartbreak, trauma and loss as they mature side-by-side through their own personal strife during the American Civil War era. 
Told through pieced-together flashbacks and present storyline parallels, the eventful plot keeps the audience on their toes with plenty of plot twists and details to ensure they will happily stick around through the two hour and fifteen minute movie. 
The intricate costumes and scene decor throughout the film creates a feeling that the audience is physically stepping foot inside the 19th century. With extravagant dresses and suits, the costumes reflect the time period perfectly and aides in the creation of the characters unique personalities.
This film adaptation of the original novel is a coming-of-age, centralized around sisterhood and contains everything that a good movie should have, from tragedy to romance, warming the hearts of all audience members during this holiday season.