Staff Editorial: The Traveling inequality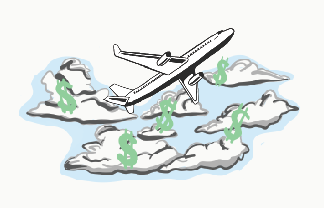 In some elective programs at BVNW, there are opportunities for students to travel abroad as a way to experience their interests in an entirely new setting and culture. Whether it's traveling to London with the band, Rome for Latin class or a trek across Europe with the art department, the programs at our school do not fall short of providing cultural enrichment for students.
However, the $4000 price tag expected to be paid out of pocket inhibits many students from participating in the trips. This financial burden should not deter students from a once-in-a-lifetime experience, and programs should be accountable for fundraising and financial aid to allow students a fair opportunity to travel.
A lack of financial aid creates a divide between those who can afford the trip and those who cannot, limiting the pool of students who can actually participate.
When a trip abroad is announced for students in these programs, only a fraction of enrolled students usually participate in the trip due to its financial burden. Orchestra director Michael Arbucci said the high cost was a limiting factor for a number of students, as less than half of the students in the two orchestras went to Germany and Switzerland for their international trip in June 2019.
Likewise, only a small group of students are going to Spain with the advanced Spanish classes; only ten people out of well over a hundred eligible students are participating, possibly due to the hefty $4,300 price. Heather Martens, Spanish teacher and coordinator of this trip, agreed that a lack of financial aid hindered a large number of students participating in this trip, despite strong interest expressed by students. Though there are limited scholarships from the private traveling company, the huge cost creates a barrier for lower-income families and limits them from the cultural experience.
For the band's trip to London in December 2018, band director Adam Lundine said many students had the opportunity to fundraise through a parent club called the Bandwagon, a group that manage finances and fundraising for the program.
The fundraising consisted of sales from coupon books, where students could raise money for their $3,400 trip. According to Lundine, some students were able to cover a significant portion of their trip based on this method. This fundraising was optional, so it allowed students and their families to determine what method of payment worked best for them. The payments were also laid out over a year, which allowed for both a lower price each deadline and more time to gather the money, rather than only having six to eight months to pay.
The key to solving this imbalance of privilege for all organizations in terms of these huge payments lies in an organized plan with opportunity for fundraising and scholarship, mimicking the band's method of payment. Providing alternative ways to pay for the trip will help students realize the daunting sticker price is not necessarily what they will actually pay, as fundraising can cover a large amount of the overall cost. Other organizations need to do the same for their students, so they will then be more inclined to participate in a potentially life-changing experience abroad.
Traveling internationally and experiencing another culture firsthand is an indispensable experience, as it allows students to better their understanding of the world. Having the opportunity to travel is beneficial to students both in and out of the classroom, but forcing them to pay huge amounts of money results in an exclusive group of travelers who have the money to afford it. We need to make traveling abroad easier for the student body to afford, and it is imperative that each elective organization adopts a more structured and aid-based plan to create equal opportunity for all students to attend.