Music album review: "What You See is What You Get"
After the announcement he was making his sophomore album, Luke Combs released "What You See Is What You Get" Nov. 8, 2019.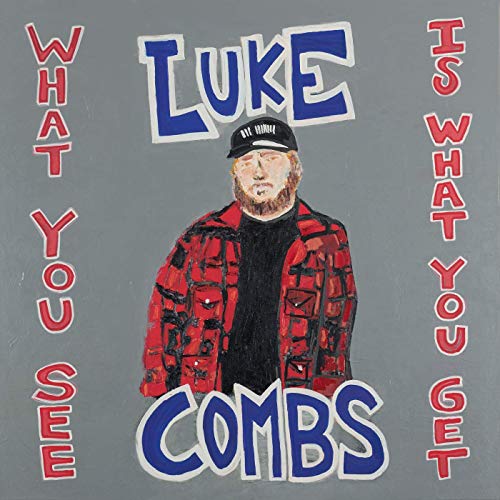 Country Singer Luke Combs rose to stardom with his single "Hurricane" in 2017, debuting No. 46 on the country charts. The release of Combs' first album, "This One's For You" detailed a roadtrip worth of songs conveying versatile topics that anyone could relate to. However, Combs' new album, "What you see is what you get" brings a new outlook to the table, showcasing Combs' maturity through country music as well as his relationships with family and friends. Since his freshman album was a big hit on the charts, there is no doubt that this album shouldn't have those expectations. 
"Lovin' On You"
5/5 Guitars
The chords of electric guitar and piano vocals shine on this track as Combs sings about his life and the things he admires. There are many references to the country persona Combs takes on such as lyrics "I like a bobber in the water" and "I like a two-door old Ford." Combs mentions his fiancee, Nicole Hocking, many times in the chorus, her being whom he loves "loving on." This song draws many connections back to nostalgic times from anyone's childhood. This track is definitely a "singing in the shower" type of song. 
"All Over Again" 
⅘ Guitars
This song begins with a simple and easy-going beat that's catchy to sing along to. In this song, Combs paints a picture of a relationship where both parties keep falling for each other multiple times, despite their past repercussions. He displays that the relationship is as good as it was in the past, but showcases that there might be constant battles in relationship, due to the first breakup. This catchy song tells a vivid story that can relate to some who listen. 
"Dear Today"
5/5 guitars
No. 11 on the album, this melodic, sleepy song is unique in terms of lyrics and overall sound. Combs is the perspective of "tomorrow" talking to "today" from the future. In terms of sound, the beginning and end of the song sound like Combs is recording in an open space; there was no enhancement to his voice or the instruments. This gives a more simple, laidback feel over the more professional-sounding, "recording booth," middle section of the song. The message of this song is to take and appreciate the little things in life because they might not be there tomorrow. 
"Moon Over Mexico" 
3/5 Guitars        
This track isn't super catchy, compared to most of Combs' songs. There are many rhythm changes that occur, which can be difficult to keep up with. Combs alters his voice during the bridge, which is unique considering Combs hasn't done that in any of the other songs on the album. Although the lyrics and mood of this song paint a picture, the voice in the bridge clashes deeply with it.  
"New Every Day" 
2/5 Guitars
Compared to the other songs, "New Every Day" doesn't have many hidden messages or connections. This song is still a song you can sing your heart out to, but it doesn't have the foundational emotions that the rest of the album conveys. 
"Better Together" 
⅖ guitars
This song, lyrically, sounds very similar to songs like "Lovin' On You" and "What You See Is What You Get," in terms of listing out actions and inanimate objects. This track is almost "too slow" and it stands as an outlier among the aesthetic or feel of the album. Although this song is somewhat animated, it doesn't go with the rest of the songs.