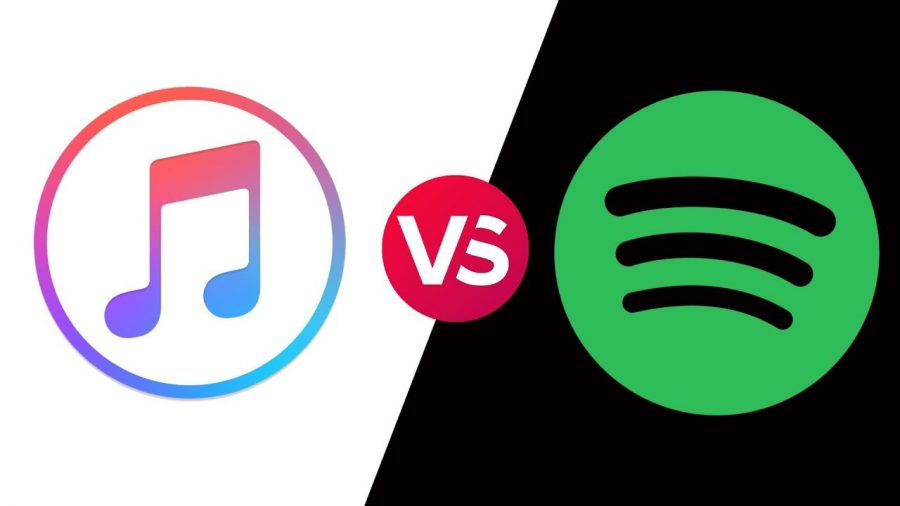 Courtesy of EDMtunes
Review: Spotify vs Apple Music
Staff Writer Kathryn Case puts an end to the debate over whether Spotify or Apple Music is better with her comparing reviews of the two music streaming services.
July 26, 2019
Spotify Review
The popular app Spotify is a Swedish audio streaming platform which provides music and podcasts from record labels and media companies. This platform currently has tens of millions more paying subscribers than Apple Music, according to Spotify's statics, not including the millions of non paying users. Spotify also has a 30 million-plus song catalog and it adds more than 20,000 new songs each day. With the surplus of music available, it might seem intimidating when deciding what to listen to. However, Spotify offers devices that help with finding new songs personalized to the user's taste. The tool called Discover Weekly provides the user with a playlist filled with new music they would typically enjoy. All these features are available to non paying users, unlike Apple Music where its similarly acting feature comes with a price. Spotify Premium is an option for consumers which eliminates advertisements, allows offline download and more, but it costs $10 a month. Spotify also allows the ability to create, share and follow playlists of any genre. It's satisfying black background and green accents is paired with album covers and playlist artwork to stand out against it's the dark and minimal background. The platform is easily accessible and allows a simple playlist management, making it overall superior to Apple Music.
Leave a Comment
Apple Music Review
The music and video streaming service, Apple Music, developed by Apple Inc, is a platform where users can select music to stream to their device on-demand, or they can listen to existing, curated playlists. The platform also includes several radio stations, which broadcasts to over 100 countries, 24 hours a day. Apple music has reached 40 million monthly subscribers since it went live in June 2015, according to Apple Music statistics. While creating an account, the user is urged to select their favorite artists so the platform can start selecting music they might like. Apple Music creates playlists based off genre, a certain artist or even specific activities like driving or working out. Apple claims the playlists are made by their "team of experts". Apple Music's platform is visually appealing with its classic pink on white background. Along with Spotify, Apple music costs $10 a month. In order to make the subscription more appealing, both companies offer family packages that allow customers to add up to six individual accounts for $15 per month. Apple Music's extensive array of music and customized playlists position them as a top competitor to Spotify.
Leave a Comment