Cage the Elephant lands another hit with Social Cues
The Kentucky based alt-rockers explore new sounds while staying true to their roots on their new record "Social Cues".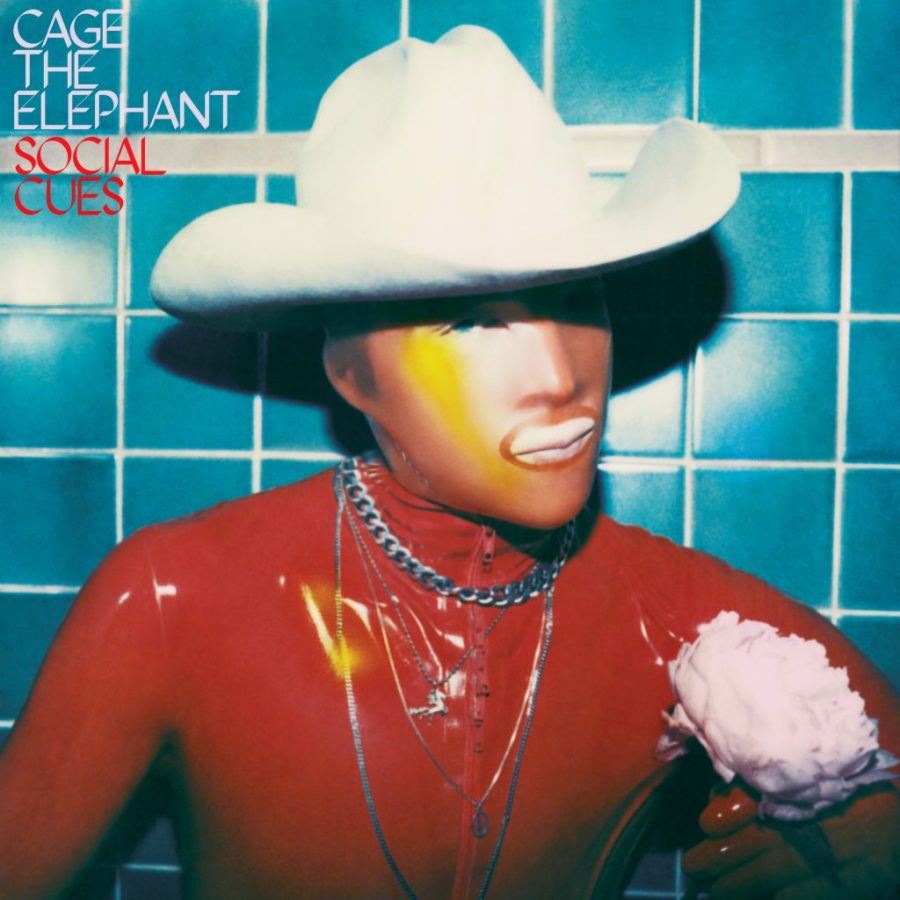 Since their breakthrough debut in 2008, Cage the Elephant has remained a staple in modern alternative rock. Radio hits such as "Ain't No Rest for the Wicked" and "Come a Little Closer," have brought them into the spotlight several times, while the rest of their discography packs just as much of a punch and has kept fans engaged. The band's sound has constantly evolved since their debut, with the gritty garage rock sound of "Cage the Elephant," to the pseudo-psychedelic glamorous sound of "Melophobia." "Social Cues," out April 19, continues this trend while still sounding like classic Cage.
Despite their fourth album "Tell Me I'm Pretty" reaching commercial success, it left fans wanting more, who claimed it felt safe and bland in comparison to their previous works. "Social Cues" delivers the fans what they want, with the same swagger from frontman Matt Shultz that has encaptivated fans for so long.
The album opens with, "Broken Boy" a hard hitting track with Shultz singing with a confident, devil may-care attitude, with punching guitars reminiscent of "Tell Me I'm Pretty's" "Portuguese Knife Fight." Right from the beginning, "Social Cues" establishes its confident presence with high energy to boot. The title track, "Social Cues," leads with an catchy riff that continues throughout the song, leading into the strong "Black Madonna"
"Social Cues," lyrically, takes a deep dive into Shultz' feelings after his recent divorce with his wife and the loss of three of his friends. In an interview with UK based paper, The Independent, he told them of his experience after these events.
"I definitely snapped…and I realized I was punishing myself. It was almost like a breath of desperation, to a certain extent," Shultz said.
"Social Cues" features many introspective lyrics that portray his situation dealing with tragedy, growing fame and his social life after feeling defeated.
The album's lead single, "Ready to Let Go," discusses Shultz finally feeling in control for once, ready to let go of his past and moving forward. The driving bass and guitars lead this song through the melody, while empowering vocals flow on top of them.
Lyrically, "Social Cues" is cohesive. Most of the songs find Shultz reflecting on new found confidence, his past and his trust in the power of love. However, many of these songs, like "Social Cues" or "The War Is Over" suffer from repetitiveness that doesn't really feel like a Cage the Elephant album. The tracklisting is sonically interesting, but not as sonically diverse as albums of Cage the Elephant past. "Social Cues" doesn't suffer because of this, but it would be nice to get more variety than the two slow songs in "Goodbye" and "Love's the only way."
A lot of songs on "Social Cues" follow the same verse-chorus-verse-chorus structure, even sounding very similar, seen in the case of "Ready to Let Go"and "The War is Over" where the instrumentation, vocals and rhythm are too similar to ignore.
Although the songs may not be as structurally interesting, "Social Cues" offers quite a lot for fans. New synth heavy songs like "Social Cues" drive the band into an even more experimental sound than ever before, continuing the evolution of the Cage sound.
All in all, "Social Cues," while not as strong as prior albums, brings a lot to the table and is definitely worth multiple listens. The goods outweigh the bads on this LP and stand out as some of Cage's best songs. Cage the Elephant has been one of the most consistent alt-rock bands of the past decades and "Social Cues" is no different, they land another hit with this one.