Swartz on sports: Why boycotting the NFL is absurd
Boycotting the NFL is ridiculous, absurd and patently stupid. This past Friday, social justice warrior Shaun King posted an article titled "Together, let's boycott the NFL." In his article, King vehemently declared that he announced this summer that he would be boycotting the NFL for "their outrageous mistreatment of Colin Kaepernick." King said he hesitated to call for this national boycott because he irrationally believed Kaepernick would be signed to an NFL roster by now.
The sad part for King- who wants you to stop watching the games, and highlights–is that this silly little boycott means nothing to the NFL and is completely ignorant of the many opportunities the NFL provides. King is arguing that the NFL, a business which consists of 70 percent black players, and has single-handedly created more black millionaires (and continues to do so) in America than any other business, is racist. 
How about we examine the NBA, apparently the significantly more inclusive, accepting and open-minded league in comparison to the NFL? Well, it turns out the NBA actually has a specific rule stating that players must stand for the national anthem. Maybe King should be boycotting the league that silences its players on this issue.
But pointing out the simple fact that the NFL has created more black millionaires than any other business would completely discredit King's entire argument, destroying his protest and with it, his credibility as a social justice warrior.
By no means am I saying that any players should stop protesting the national anthem, if that is what they believe. I believe in the First Amendment, and just because I disagree with the basis of their protest does not mean I think they should be silenced. What King, and many others fail to recognize is that every single other active player who has protested the anthem, including Kansas City Chiefs cornerback Marcus Peters on Thursday night, has a job. That's because the rest of these players aren't calling Fidel Castro a great leader, comparing modern-day cops to slave-catchers and having their girlfriend tweet pictures comparing an NFL owner to the character of Stephen in "Django Unchained."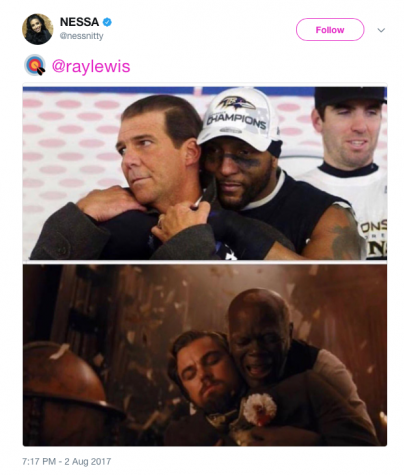 Colin Kaepernick not having a job isn't just because he's a terrible quarterback, he's average. And it's not just because he's more of a social justice warrior (he's below-average at that too) than a quarterback now. Colin Kaepernick doesn't have a job because his talent level doesn't exceed the distractions he causes off the field.
All of these instances, coupled with his mediocre quarterback play, have shown how utterly stupid Colin Kaepernick has been during his protest, and exactly why he doesn't have a job. By no means is Kaepernick, or the people who he surrounds himself with doing him any favors.
Meanwhile, King woke up Sunday morning and tweeted: "Retweet if you are boycotting the @NFL." King's tweet garnered just 10,000 retweets, or exactly 110,990,000 fewer people than who watched Super Bowl LI between the New England Patriots and Atlanta Falcons.
Until Kaepernick finds himself with an NFL job, which probably isn't happening anytime soon, King and the 10,000 "socially woke" Twitter users that are joining him in his boycott can enjoy their Sunday afternoons crying about the rest of the social injustices throughout the world. Because, as much as King and his supporters can't understand this, the NFL doesn't care about his silly protest.