Kansas City Women's March review
Senior Emma Bruce attended today's Kansas City Women's March. Read about her experience and review of the event.
A day after President Trump's inauguration, Women's Marches were held across the world. Kansas City's rally took place in a park near Union Station and was said to have around 10,000 people according to an event speaker. The rally included live music and a variety of speakers expressing their views on topics ranging from gun control to refugees and women's rights.
I arrived at the park at about noon, an hour before the event officially began, and entered a sea of signs with different phrases such as "Men of quality do not fear equality" and "I march today so my daughters don't have to march tomorrow." As a Paul Blart Mall Cop enthusiast, my favorite sign was a large poster comparing Trump's 32% approval rating to Paul Blart's 33%. While this was all going on, people danced and sang along to the music which created a very fun and lighthearted atmosphere.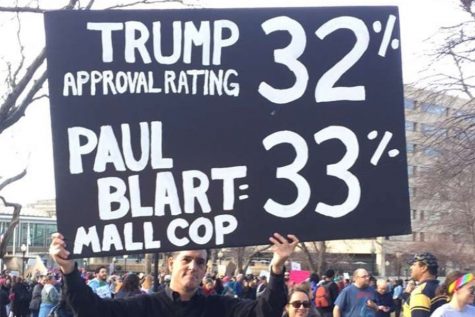 Ellen Bruce
Around an hour later, someone on stage asked the crowd to put their signs down so it would be easier to see and hear the upcoming speakers. Kansas City Mayor Sly James was the first to speak and he discussed the importance standing together. Following his speech, the crowd heard from a member of Grandparents Against Gun Violence, a blind woman discussing the importance of rights for people with disabilities, members of the LGBT community and many more.
One of my favorite speeches was from Jolie Justus. It opened up with having the crowd close their eyes and take deep breaths while she encouraged us to feel the unity of the crowd. The sense of togetherness was a large part of the rally in my opinion, so to have moments dedicated to it and to draw emphasis on it was extremely powerful for me. I was also impacted by sexual harassment victim and Planned Parenthood volunteer Taylor Hirth's speech. Hearing her first hand experience with sexual harassment brought tears to my eyes. While it was really difficult to listen to and think about, her story emphasized how important it is for America to make justice for sexual assault victims a priority.
Trump is still the president. The protest didn't change that. However, that was never the intention of the protest. I gathered in that park with all the other protesters to show my support for the people whose rights are being threatened. Whether these worldwide protests affect his plans for office or not, there is still power in standing up for your beliefs.