Curtains open on "Curtains"
Last night the BVNW theatre department had it's opening night of the hit comedy "Curtains", and according to audience members and actors, the production was a hit.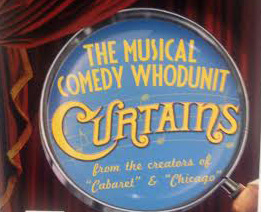 The curtains opened to the roar of applause as the BVNW production of "Curtains" premiered tonight in the performing arts center. Featuring a varied cast, the show focused on a murder mystery within a Broadway hopeful show. Detective Frank Cioffi, played by senior Samuel Long, struggled to solve the case while the cast members struggled to save the show. In the end the real show was a success and the cast members, including senior Kevin Murakami who played Bobby Pepper are looking forward to the next show.
"It was great, opening night was really fun," Murakami said.
Audience members agreed, junior Katelynn Quick said the show was very funny and entertaining. "Curtains", comes from the creators of famous musicals like "Cabaret" and "Chicago" and will be running at BVNW from February 20-22.
"I thought it was a really cute show and there's a lot of talent in the show," Quick said. "They worked really hard."
The musical has been rehearsing after school for several weeks and the numerous seniors in the case said it is all worth it. Senior Emily Fiola, who plays Bambi Bernet said the hard work culminated in a great first run with tonight's show.
"It was really good and it went well for the first show," Fiola said.
Despite having a great first run Fiola acknowledged there were things to be fixed. She said there were some technical difficulties that needed attention and some onstage mishaps, like her boot falling off.
"There's nit-picky things," Fiola said. "[We need to focus on] the little details."
Both Murakami and Fiola said their favorite parts about the show were their parts. Fiola said being able to incorporate dancing, singing, acting and hanging out with friends was the best part. Murakami agreed, saying he's glad the show turned out the way it did.
"My favorite part about the show is finishing out my senior year strong," Murakami said. "I wasn't sure if I was going to do it this year and I'm glad I got to experience the experience with my friends."