The fight for life
Cancer survivors, along with friends and family, reflect on how cancer has forever changed them and their relationships.
When math teacher Teresa Hogan first received her diagnosis of Hodgkin's lymphoma in December 2014, she felt as though it was straight out of a movie.
"They called me, and I was alone in my house, and [they] told me that it was probably cancer. Honestly, my legs fell out in front of me, and I fell to my knees on my kitchen floor," Hogan said.
Hogan described the experience of learning about her cancer diagnosis as completely unexpected. 
"I really was clueless; I did not see it coming at all, it was totally like [getting] hit by a bus," Hogan said. 
 Hodgkin's lymphoma is a type of cancer affecting the lymphatic system, which is part of the body's germ-fighting immune system.
Hogan was not the only one surprised by her diagnosis; her family members had mixed reactions to hearing she had been diagnosed with cancer.
"I have a daughter who's very compassionate and very caring, so she was a train wreck, thinking it was gonna be gloom and doom," Hogan said. "My son thinks everything's always gonna be fine, so he was like, 'she'll be fine; she'll get over it.'" 
Hogan emphasized that although her kids were grown when she received her diagnosis, she did not want to miss out on what was to come in their lives.
"I didn't want to leave my kids. I just didn't want to miss out on all the things that were happening. [My kids] asked for recipes; that night I stayed up the entire night, writing up traditional family recipes, crying in my bed as I typed them up to put them all together just because I didn't want to go," Hogan said.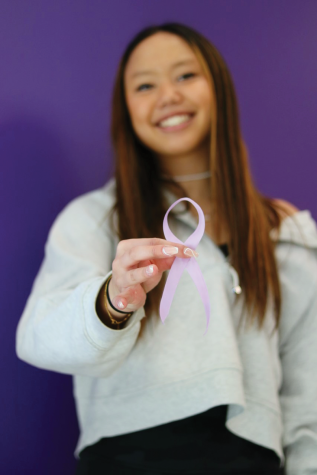 It was also an emotional time for junior Ava Smith and her family when her mom was diagnosed with colon cancer in 2016.
"It was really hard for us because it was one of the [later] stages. So, there was only one option — it was surgery — and we didn't really know how well it would work, so we just were really hopeful that it would work out," Smith said.
The most difficult part of watching her mother battle cancer, Smith said, was seeing her less often.
"Whenever we'd see her during her treatments, [she would] just have so many machines and wires connected to her," Smith said.
Richard McKittrick, an associate professor in medical oncology at KU Medical Center,  illustrated how he has witnessed families changing because of cancer diagnoses. 
"It's very scary for them and very sad, because if you find out that someone you've lived with your [entire] life, like a mother or father, [now has] cancer that's going to limit or take their life," McKittrick said. "You see anger, almost like, 'why did this happen?'"
Junior Sophie Lage said the most difficult moment she endured when her grandma was diagnosed with cancer was watching her condition worsen. 
"I remember standing, looking into the window, you could just tell that she was really sick because of how skinny she was," Lage said. "I just remember watching her look at all the pictures [of our family] since she couldn't really see us anymore, and it was so emotional for me to watch her suffer."
Lage's grandmother was not her first family member to battle cancer, but her grandmother's diagnosis was the most emotional for her because of how close they were.
"I grew up with her, and every time I saw her, it just made me happier," Lage said. "So, when I found out that she did have cancer, I was set back by it and it hurt a lot because I knew that she wasn't gonna be around much longer."
Lage said she was shocked when she received the text from her mom saying her grandma had died, and said it was hard for her to accept she was not able to say goodbye.
"I wasn't prepared; I didn't know when it was gonna happen, [and] I didn't know how soon it was gonna happen," Lage said.
Like Lage, Assistant Principal Kelsey Bakalar was not given the chance to say goodbye to her sorority sister, Julie Zittergruen, before she died from colorectal cancer. 
"Julie was the first person my age that I lost, and that was a very different experience to see someone my age [die] and to see someone with young children lose their mom," Bakalar said.
Zittergruen is not the only loved one Bakalar has watched battle cancer, as her close friend Kathryn Sanfle, was diagnosed with stage four breast cancer in 2018. Bakalar said Sanfle has made it her priority to make memories with her loved ones.
"[Sanfle] lives for experiences and is trying to create a lot of videos, pictures and written memories for the boys because she worries about whether or not they will remember her," Bakalar said. 
Bakalar's mother was diagnosed with breast cancer when Bakalar was a teenager. She said this made it extremely heartbreaking to see her friend go through a similar experience. 
"I remember [finding] out about my friend Kathryn's diagnosis, and having to close the door and take a moment to myself…I remember having a kind of a breakdown," Bakalar said. "I got some help [from the school psychologist], someone to help me calm down and get through it." 
At McKittrick's practice, the Kansas City Cancer Center, they not only help patients' physical state but their emotional state as well. They offer free counseling for families and patients. 
The hardest part of seeing Sanfle battle cancer, Bakalar said, was not knowing how to help her emotionally or physically while knowing she was in pain.
"To look at someone you love, you think, 'just give [your sickness] to me because I don't know what I can do unless I take it on for you,'" Bakalar said.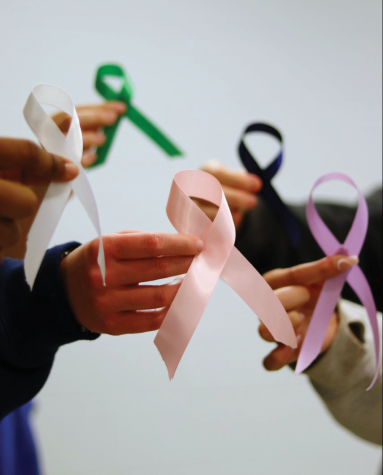 While Bakalar did not fully process her mom's diagnosis when she was a teenager, looking back, she has realized how fragile mortality is. 
"When my mom was diagnosed, I think I was so selfish. You know, as a young teen, you're focused on your social life, and your activities, and your grades, and I definitely didn't process it the way I processed it as an adult," Bakalar said. "I think again, as you get older, you see that people are not invincible. None of us are invincible." 
Bakalar said while she was wrapped up in her own world as a teenager, the busyness of her schedule never clouded her constant worry for her mom's health.
  "I was very active in school, and I remember [my mom] couldn't come to a lot of my events. I was worried about her and worried about disappointing her in any way, [and] when you have a parent who has cancer, I think your worry kind of is amplified," Bakalar said. 
Senior and cancer survivor Anna Shaughnessy explained when she was getting her treatment, it was hard on her siblings because of the massive adjustment her family had to make. 
"My parents had to devote a lot of time towards me getting my treatment, so we had my aunt come stay with [my siblings] or they would come stay with me for a little bit in the hospital," Shaughnessy said. "They were stressed out, so school was kind of hard for them to focus on."
Shaughnessy was diagnosed with dysgerminoma, a type of ovarian cancer, at the age of eight. Shaughnessy said something people should consider more often is supporting the families of cancer patients.
"We really need to support [the] people who are going through this tough time [and] not just the people who have cancer, but their families," Shaughnessy said. "It's really hard on families, and especially kids who have siblings, I think that it should be focused on supporting the whole family." 
Shaughnessy said because she received her cancer diagnosis at such a young age, she did not process it as well as she does now, almost a decade later.
"I don't think I fully understood it at first, but I could see the people around me crying. One of my friends also had cancer at the time, so I just didn't fully understand…how bad [cancer] is, really," Shaughnessy said. 
Despite Shaughnessy's frequent trips to the doctor, she said that there is still the lingering fear her ovarian cancer will come back.
"Up until like two years ago, I had to get scans every year to make sure [my cancer] wasn't coming back. But now that it's been almost 10 years, they're pretty certain it won't come back, or that specific cancer won't come back, but it'll always be a fear in my mind," Shaughnessy said.
The fear of cancer returning is a shared experience, as Ava Smith still worries about her mother's cancer history.
"I was really worried that she wasn't going to make it, and it was gonna be too hard on her, or the treatments would get too hard," Smith said. "I'd say now [I'm] just worried that [the cancer] could come back."
For Hogan, no symptom is too small, and she advises people to always go to the doctor even when they feel slightly off. 
"If you don't feel well for whatever reason, keep fighting it, keep going to the doctor, keep having people check it out," Hogan said. "Try different things because had I just dealt with the fact that they thought it was a respiratory infection and I was gonna be fine, I wouldn't have been fine."
While undergoing her cancer treatment, Hogan found a quote that monumentally changed her outlook on her diagnosis and experience. 
"'I'm not a princess [needing] rescuing; I'm a queen, I've got this handled,'" Hogan said. "So I just [took] it as positively as I could." 
Hogan advised everyone to value every moment with loved ones and said to reach out to friends and family as often as possible.
"You got to make every moment count," Hogan said.
Leave a Comment
About the Contributors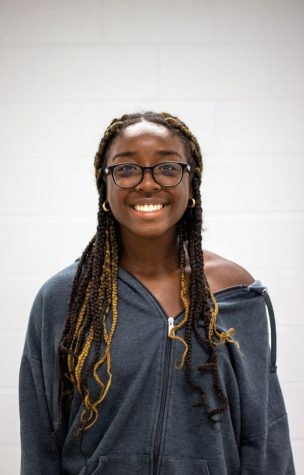 Saraphina Wambi, Writer
Saraphina Wambi is a writer for "The Express."  She is s a junior and this is her first year on staff. Outside of newspaper, Saraphina is Class President, BSU President, Model UN Co-President, a HOSA Executive Board member, a Mental Health Board member, a BVNW Ambassador, and a member of BVNW's Medical Club. In her free time she likes to read, hang out with friends, volunteer at the library and play tennis. She is extremely grateful  for the opportunity to write for "The Express" and cannot wait to see what is in store for the year.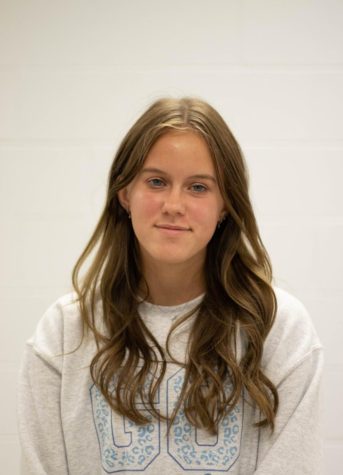 Bridget Hamlin, Writer
Bridget Hamlin is a sophomore and a first-year writer for "The Express." She also plans to become involved in NEHS. Outside of school, she enjoys hanging out with friends, playing with her dog and watching TV. Bridget is excited about learning life lessons through newspaper.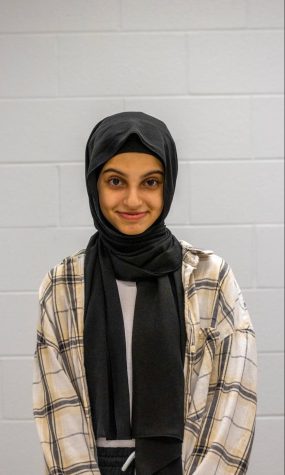 Shahd Abdeljalil, Photographer
Shahd Abdeljalil is a photographer for "The Express." She is a sophomore and this is her first year on staff. Outside of newspaper, Shahd is a member of multiple clubs including MSA and Diversity Club. In her free time, she enjoys reading, hanging out with friends, binge-watching shows and traveling. Overall, Shahd is very excited to finally join newspaper and to grow her photography skills!