Preview of 6A football state championship
Blue Valley Northwest and Derby are squaring off in the 2021 KSHSAA 6A football state championship, Nov. 27.
The Matchup: 
No. 1 in 6A East Blue Valley Northwest (11-1) vs. No. 1 in 6A West Derby (11-0), Saturday, Nov. 27, 1:00 p.m., Welch Stadium, Emporia, Kan.
"Derby is the class of Kansas. It will be a big test for us, but we're going to be ready for them. I've got the utmost respect for Derby and coach [Brandon] Clark," BVNW head coach Clint Rider said after the substate win Friday night.
What's at Stake:
The Huskies advanced to their first-ever state championship appearance after a dominant, 35-7, win over Blue Valley West in substate. Northwest football is in the midst of a program turnaround under Rider. Finishing 0-9 three seasons ago and 2-7 two seasons ago, the Huskies are looking to complete the rebuild with a state championship this year. Derby, on the other hand, is no stranger to the state championship game. The Panthers are playing in their seventh straight 6A state title game and have won five of the past six. Derby extended their winning streak across the past two seasons to 17 games as they defeated Lawrence High, 62-28, in the semifinals last Friday.
What To Watch For: Blue Valley Northwest
The Huskies showcase an offense that has averaged 44 points per game throughout the entire season and 55.25 PPG this postseason. Northwest features a strong running game that is led by a two-man juggernaut in senior quarterback Mikey Pauley and junior running back Grant Stubblefield. Pauley has rushed for 1057 yards on 153 carries this season. On top of that, he has scored 18 rushing touchdowns, with 10 of those coming in the past three games. Stubblefield broke the BVNW record for rushing yards and rushing touchdowns in a season last week as he reached 1513 yards and 23 touchdowns on the ground. He has had seven games of over 100 rushing yards this year. Throughout the playoffs, the Huskies have utilized the running game heavily as they have ran the ball 142 times compared to just 46 pass attempts over the four contests. However, don't count out Northwest's passing offense. Pauley has completed 68% of passes for 1759 yards and has added 22 TDs through the air while only throwing 6 interceptions. When the Huskies pass the ball, Pauley frequently targets a trio of seniors including Max Muehlberger, Nick Cusick, who leads Northwest receivers with 9 TDs, and Steven Whitter who leads the group with 607 receiving yards.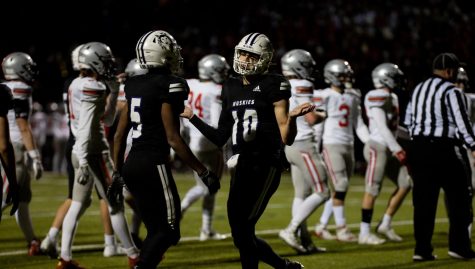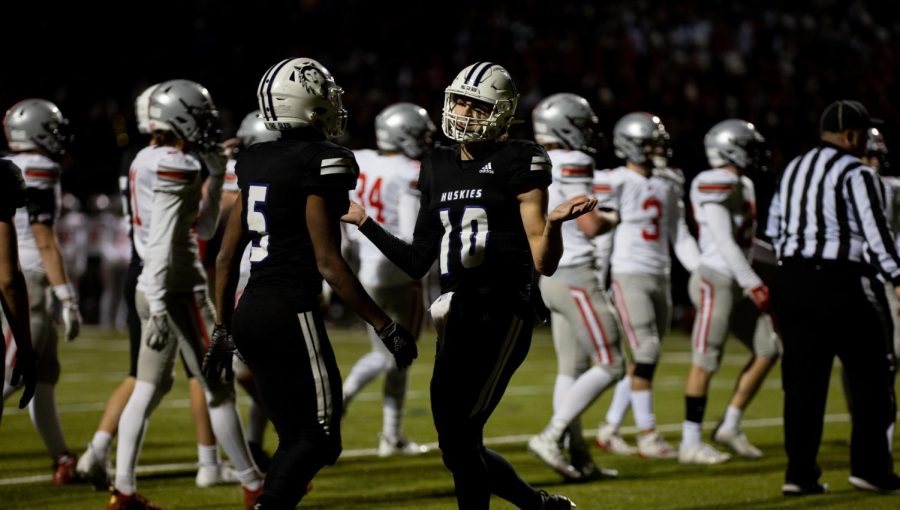 Due to the high-powered offense, the Huskies' defense has flown under-the-radar, having a quietly good season up to this point. The Huskies finished the regular season with the second best run defense in 6A allowing just over 100 yards per game on the ground. Northwest has forced two shutouts this season and has held their opponents to ten points or less six times. The one flaw of the defense could be the lack of forced turnovers as they have recorded just five interceptions and four fumble recoveries this year. However, Northwest makes up for this with the pressure provided by the defensive line and outside linebackers. Seniors Drew Kaufman, Payton Ruby, Joe Samyn and Gabe Peterson have combined for 15 of the Huskies' 19 sacks this season. Kaufman and Samyn along with fellow seniors Drew Ranallo, Gavin Biancalana and Zach Yates make up the top five leaders in tackles for Northwest. It will be important for this defense to continue flying to the football if they want to keep Derby's dangerous offense in check. 
What To Watch For: Derby
Derby features a very strong offense that has averaged 55 points per game on the year. The Panthers and Huskies offenses are extremely similar. The Panthers rely heavily on the running game and like the Huskies, their two leading rushers are a junior running back and senior quarterback. However, the Panthers duo doesn't have quite the same 50/50 split that Stubblefield and Pauley do. The junior running back, Dylan Edwards, is a smaller, but speedy back who has received 12 division one offers according to 247sports. Edwards leads 6A in rushing yards with 2431 on 182 carries and has added 36 touchdowns on the ground. He has rushed for over 100 yards every game this season and has had some impressive performances including last week's 302 yard and four touchdown game against Lawrence. Derby quarterback Mercer Thatcher has rushed for 769 yards this season on 109 carries. While he might not have the same explosiveness as Edwards, his size has helped him to 16 rushing touchdowns on the year. Thatcher has thrown for 839 yards with a 57% completion rate, while adding 12 touchdowns and only one interception. The Panthers don't utilize the passing game very frequently, but when they do it can be a game changer. Last week against Lawrence, Derby connected on just 6 passes, but four of them were for over 20 yards. Derby's leading receiver is senior Drake Thatcher who has totaled 15 receptions for 276 yards and five touchdowns. 
The Panthers' defense is exceptional as well, allowing an average of less than 20 points per game this season. Junior linebacker Miles Wash leads the Panthers with 113 tackles. Senior defensive tackle Andon Carpenter has totaled 76 tackles on the year with 22 of those being tackles for loss. As a team, the Panthers have recorded 22 sacks on the season. Wash along with junior Samuel Same and sophomore Mason Hopper are tied for the lead in sacks with five apiece. Derby has totaled 11 interceptions, led by senior defensive back Brian Murph with 4, and 14 fumble recoveries. 
Bottom Line:
It is going to be a hard fought game, as both teams have a lot on the line. The Huskies and Panthers both have excellent offenses and it would be no surprise if the two teams combine for 400 rushing yards. Whichever team does a better job stopping the opposing team's running attack will likely come out victorious. Fans should look forward to seeing the best two teams in Kansas 6A battling it out for a state championship this Saturday in Emporia.