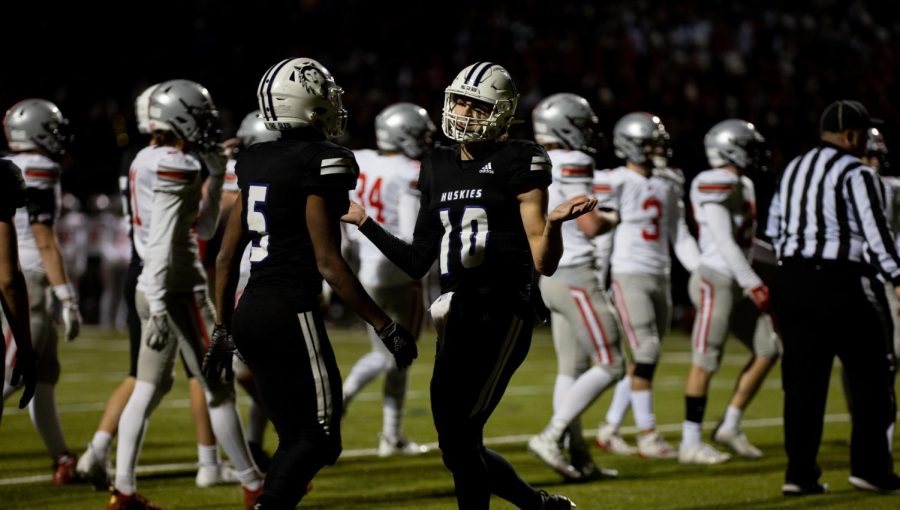 Huskies defeats Blue Valley West, 35-7, to advance to first state title game in school history
The varsity football team defeated the Blue Valley West Jaguars, 35-7, in the substate championship, Nov. 19. Senior quarterback Mikey Pauley rushed for four of the Huskies' five touchdowns.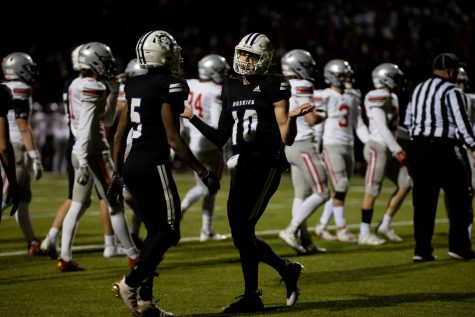 Three years ago, the varsity football team finished the season with an 0-9 record. At the time, Clint Rider was in his second year as head coach and the current group of seniors were freshmen. After the final loss of the season that year, Rider delivered a speech which he said has had a lasting impact on the seniors over the last three years.
"We sat on this field, seniors. We came together after the game and we said if we stick together we're going to do something really special. Now, you've brought this program back, you've lifted an entire community and now, you get to start lifting [trophies]," Rider said in the postgame huddle after defeating Blue Valley West.
Senior defensive back Sebastian Meriano said the team took Rider's speech to heart and over the past three years they have worked hard to get to where they are now.
"I think the main thing is that we stuck together. Coach told us from the beginning that if we stuck together, we'd do special things. We convinced everybody to stay together and we worked hard every single year. All the work we put in over summer, in the weight room, and at practices, we gave 100 percent effort, and it's starting to pay off now," Meriano said.
The Huskies got off to a 14-0 lead behind rushing touchdowns of one and two yards from senior quarterback Mikey Pauley. The Jaguars responded with a long touchdown pass with two minutes remaining in the first half, making the score 14-7 going into halftime. 
"Our offense started out hot, made a bunch of great plays and stayed very physical," Pauley said. "Our defense really helped us out getting some big stops. We really just played off each other offensively and defensively."
The third quarter was all in favor of the Huskies. Pauley started it off as he broke multiple tackles on the way to his third rushing touchdown of the game, a 39-yard rush to extend the Huskies lead, 21-7. Meriano intercepted a Jaguar pass, giving the ball back to the offense with 4:04 remaining in the third quarter.
"I haven't got an interception this year, so it was a big weight off my shoulders. All the film I've been watching and all the hard work is paying off and my first interception of the season couldn't have come at a better time," Meriano said.
In West's two prior playoff games, they entered halftime behind, but rallied in the third quarter to comeback and knock off Blue Valley and Shawnee Mission Northwest.
"They've had so many good third quarters. The last two games they've come out of the half really strong and we had been struggling a bit there in the second quarter, so we knew we had to get it together going into the second half," Rider said. "Offensively, we connected on a couple of big play action passes and our defense was just unbelievable, they don't get enough credit for our team. The big pick by [Meriano] was a huge lift and the turnovers played a huge part in the momentum and building that lead."
Junior Grant Stubblefield found the end zone on a rush from 16 yards out 3:00 remaining in the third quarter. Senior Joe Samyn got another interception for the Huskies and they took over at the Jaguars' 29-yard line. Pauley punched it in on a rush of four yards to give the Huskies a 35-7 lead, which would be the final score of the game.  
The Huskies found success in the running game yet again, as Pauley and Stubblefield combined for 256 yards and five touchdowns on 46 carries. Pauley praised the offensive line for their hard work in preparation for the game and for how well they set up him and Stubblefield to have a successful game.
"The offensive line did their work early in the week, watching film, looking at the scouting report and having good practices. We really just followed their lead tonight and they helped us out majorly. It's one of the best groups of guys you can find and they're playing well and they're playing hard," Pauley said.
The 35-7 victory over the Jaguars marks the first time for the Northwest football team to play in the state championship. The Huskies will travel to Emporia State University's Welch Stadium where they will take on Derby for the 6A state championship, Saturday Nov. 27. 
"It's going to be our school's first state title game, so I'm looking forward to the challenge of it. I know they have a really great running back, but I hope our defense will hold them and our offense will just keep doing what they've been doing," Meriano said.
With a week to prepare for the biggest game of the season, Pauley said the team is going to give maximum effort and come into the game ready to go with high intensity.
"We're going to play with no regrets. It's going to be our first time playing for a state title, so we've got nothing to lose and we're going to play freely. We're going to be loose and ready to go and Derby's not going to know what hit them," Pauley said.