Varsity volleyball team falls short in Sub-State Championship
After defeating Olathe West, 2-0 (25-21, 25-18), the varsity volleyball team advanced to the Sub-State Championship where they were defeated by Olathe Northwest, 2-1 (20-25, 25-18, 23-25).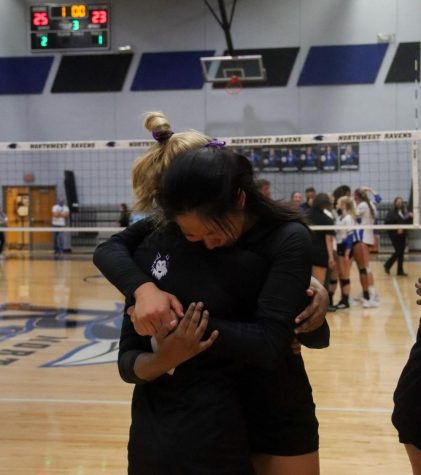 Coming into the playoffs with a 20-14 record, the fifth-seeded Huskies took on the 12-seeded Olathe West Owls in the Sub-State semifinals. Northwest defeated West, 2-0 (25-21, 25-18), advancing to the Sub-State championship. Junior Alayna Pearson said the match against the Owls was one of the team's best across the entire season.
"That was probably one of the best games we've played. Everything connected because we played as a team not individuals," Pearson said.
Improvements in communication and energy, senior Renee Liou said, were two of the most important factors that helped the Huskies in the first match.
"Our energy was amazing and we communicated with each other so well. Even when things weren't going the best they could, we were holding it together and it was really stable," Liou said. 
After defeating the Owls, Pearson said the team was confident and ready to battle with Olathe Northwest. 
"We knew we could step it up a notch and we knew we could do everything just a little bit better. We had been studying Olathe Northwest so we knew what we needed to do, so it brought a lot of energy and momentum to that second game," Pearson said. 
The Huskies lost the first set to Olathe Northwest, 20-25, but bounced back in the second set, defeating the Ravens, 25-18. Head coach Molly Haggerty said a minor lineup change helped the Huskies come back and take the second set.
"We made a quick little lineup change. We were having some trouble with having more options with our middles, so we changed one of our right sides to middle and a middle to right side which helped us a ton," Haggerty said. 
The third set remained tight throughout, however the Ravens developed a small lead towards the end and the Huskies were not able to catch up, losing the third set, 25-23. Haggerty said the match against Olathe Northwest was exciting, but the outcome was disappointing. 
"It was super fun. Those things are going to happen and we talk a lot about how we are going to win and lose a lot of matches by two, so the little things and discipline things are going to matter in the end," Haggerty said. "They knew they could do it and they knew it was going to be a hard fought battle, which it was, Olathe Northwest played amazing. But, they wanted it. They're hurting right now because they did everything we asked them to do."
Liou said it was an emotional way for the season to end, especially because of how close the players were. 
"This year's team was the best team I've ever been on. We connected with each other so well. The effort we put in for each other and how much we love each other and our coaches really showed. I'll remember this for the rest of my life," Liou said.
Haggerty agreed with Liou, saying how much this year's team cared for each other. 
"I love them. They're such an amazing group of kids so I'm sad for them. Time and time again we were reminded of who they were playing for, which was each other. They weren't playing for parents, they weren't playing for us coaches, they were playing for each other. I haven't seen a team have this type of chemistry and care about each other as much as this team did," Haggerty said.