Aaron Ihm named new boys basketball coach
Aaron Ihm will be the boys basketball coach at Blue Valley Northwest beginning in the 2021-2022 school year. Ihm previously served as the head coach of Raytown South where the team won a state championship in 2020.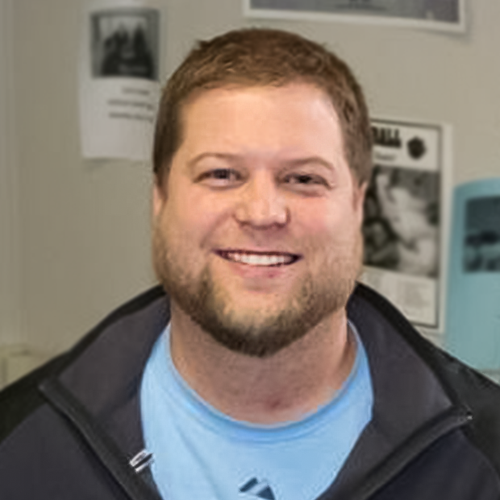 Aaron Ihm has been named the next boys basketball coach for the Huskies. Ihm served as the boys basketball coach at Raytown South (Mo.) for six years, winning five district championships, three conference championships, and one state championship. Prior to his time at Raytown South, Ihm had assistant coaching roles at Bethany College, Sonoma State University and the University of Nevada-Reno. 
After having the chance to tour Northwest and meet with administrators, other coaches, players and their families, Ihm said his first impression of the school was great and he felt very welcomed to Northwest.
"I had the chance to meet with Dr. Pressly, Mr. Hilton, Mr. Addington and Coach Rider and Coach Shulman early on in the process and I immediately noticed the family atmosphere. On top of that I was able to meet with some of the guys on the team and their families and they were all very welcoming," Ihm said.
When looking for a new coach, athletic director John Hilton said the most important things he considers are their ability to be a role model and proven success at another program. Hilton said he believes that Ihm exemplified these qualities the best of all of the candidates he was looking at.
"The first thing I look for when I hire any coach is somebody that is going to put our kids first, is going to build relationships and is going to be a role model. In this position, we had to find somebody that would be able to carry on the legacies and traditions that Coach Fritz has built and Coach Ihm stood out due to his success at Raytown South and the fact that he is a big time family man and will be a great role model for our athletes," Hilton said.
Succeeding former head coach Ed Fritz, who had an illustrious coaching career at Northwest, will be difficult Ihm said, but he has experience doing so as he took over at Raytown South after the retirement of Bud Lathrop, who had over 1,000 career wins as a coach. 
"I was only the third basketball coach in Raytown South's history. They had one of the most famous high school basketball coaches in America there before me named Bud Lathrop, and I was compared in some way, shape or form every day and we were still able to have a lot of success. Coming over to Blue Valley Northwest is pretty cool because I am only the fourth coach in school history and I am following another legend in Coach Fritz. It's going to be a great challenge which I'm excited about but I'm used to walking in the shadows of some of these big coaching legends," Ihm said.
Incoming senior Joey Robinson said he was hoping for a coach that would instill the same culture that Northwest had in the past. After meeting with Ihm, Robinson said he feels like Ihm is the right fit for Northwest and is someone who will help the team towards a state championship.
"With the new coach I was hoping for someone that could keep the same winning culture that we've had in the past," Robinson said. "My first impression of Coach Ihm is that he is a winner and a players' coach who wants to keep the Northwest tradition alive."
Hilton said he is looking forward to seeing Ihm continue the success of the boys basketball program and become a part of the Northwest community.
"I believe he's going to do a great job communicating with the players to find out what they want to continue doing from the past, but he's also going to leave his own stamp on the program and be himself," Hilton said. "I'm also really excited to see him working with our other coaches because he's a big culture guy and I think he'll work well with all of our other coaches who value culture very highly."