Senior Alston Mason commits to Oklahoma
Senior point guard Alston Mason announced his decision to continue his basketball career at Oklahoma.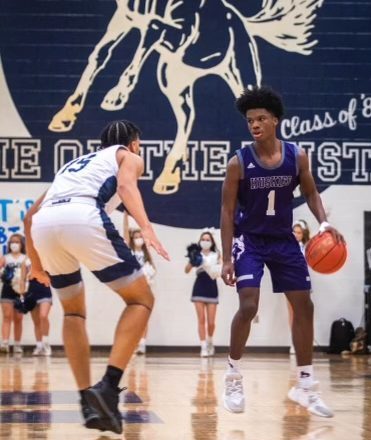 After finishing his season with averages of 23 points, four rebounds and four assists, senior point guard Alston Mason made the decision to commit to the University of Oklahoma. Mason said there were multiple factors that helped him decide the next step in his career is.
"OU is a great school in general and it's not too far from home. Also, I feel like playing in the Big 12 will be a good situation for me," Mason said.
Blue Valley Northwest head coach Ed Fritz said Mason's hard work and great attitude helped him to develop his game to where he could play in college.
"He worked every day, had a great attitude and focused on the team over himself and I think that helped him become a better player. He can do a lot of things. He can pass it, he can shoot it and he has the speed and quickness to play at the next level," Mason said. 
One of the biggest reasons for Mason's commitment was the recent signing of former Loyola Chicago head coach Porter Moser. Moser has already coached previous BVNW alumni in Clayton Custer and Ben Richardson, both of whom reached out to Mason.
"[Coach Moser's signing] had a big impact on my commitment. I know he really wanted me to play for him and I thought he was a good coach when he first started recruiting me," Mason said. "Clayton Custer and Ben Richardson reached out and told me about what Coach Moser does and how good of a coach he is."
With Mason being another player to commit to a division one school out of BVNW and the third to go to a Big 12 school, Fritz said it shows a lot of great things about the basketball program at Northwest. 
"We've been fortunate to have good players, but we've also been fortunate that during their time here they have been able to develop and get better," Fritz said. "I think the thing that Alston has going for him is that a lot of the guys that ended up leaving here and going to college have not only played, but they have helped their team win a lot of games."
Feeling relieved to be done with the recruiting process, Mason said he feels like he found his home in Norman.
"It's a joy and a relief [to commit] with the recruiting process being stressful and since I've picked a place that feels like home, I'm comfortable and I am excited to get out there."