Big first half pushes No. 2 Huskies past No. 5 Mustangs, 71-56
The boys varsity basketball team defeated the Blue Valley North Mustangs, 71-56, Dec. 18. Senior Alston Mason led the Huskies with 28 points.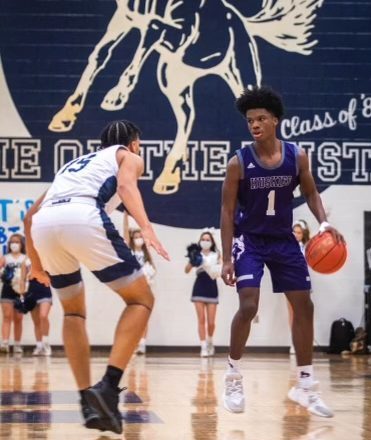 The last time Blue Valley Northwest played the Mustangs, the Huskies narrowly won by three points. The Huskies came out determined to win by a larger margin this time around. Closing the first quarter up nine and the half up 16, the Huskies had a comfortable lead to take into halftime.
One main reason for the lead was the play of the duo of seniors Alston Mason and Jack Chapman, who would finish the first half with a combined 28 points. Mason who had 16 in the first half said he was just focused on putting pressure on their defense by attacking.
"[My mindset] was to just be aggressive, just attack and win," Mason said.
Chapman attributed the hot start to the work the coaches were able to do in getting the team ready to play.
"It was our coaches, they had us ready to play, gave us a really good scouting report so we were able to go out there and get an early lead," Chapman said.
Coming out of the break, the Huskies would allow the Mustangs to go on a 13-5 run which made it a single digit game for much of the third quarter. Head coach Ed Fritz said his team didn't come out determined.
"We just weren't focused to start the third quarter, they are a really good team, well coached," Fritz said.
Only leading by 11 after a slow third quarter, Fritz said his team was able to execute their gameplan well as they opened the fourth on a 9-0 run to essentially put the game away.
"We just kept executing, kept getting good shots," Fritz said. "We just needed to regroup, get going and we did a pretty good job of closing it out."
Despite the Mustangs being the fifth ranked team in the state, Fritz said he didn't think his team made a statement with their 71-56 win.
"I don't think we made much of a statement, we've beaten them 12 or 13 times in a row so I'm not thinking it's that big a deal," Fritz said.
With both Chapman and Mason averaging over 20 points per game, both players said they were confident they will be able to keep their hot scoring stretches going.
"I feel like I am a complete scorer, a complete point guard so I feel like I can keep this up," Mason said.
With the win, the Huskies improve to 2-0. They will be back in action to take on the No. 4 Staley Falcons Dec. 19 at Avila University.