Huskies advance to Substate Championship, defeat Jaguars, 80-56
The boys varsity basketball team defeated the Mill Valley Jaguars, 80-56 in the substate semifinal. Juniors Jack Chapman and Alston Mason led the Huskies with 45 points.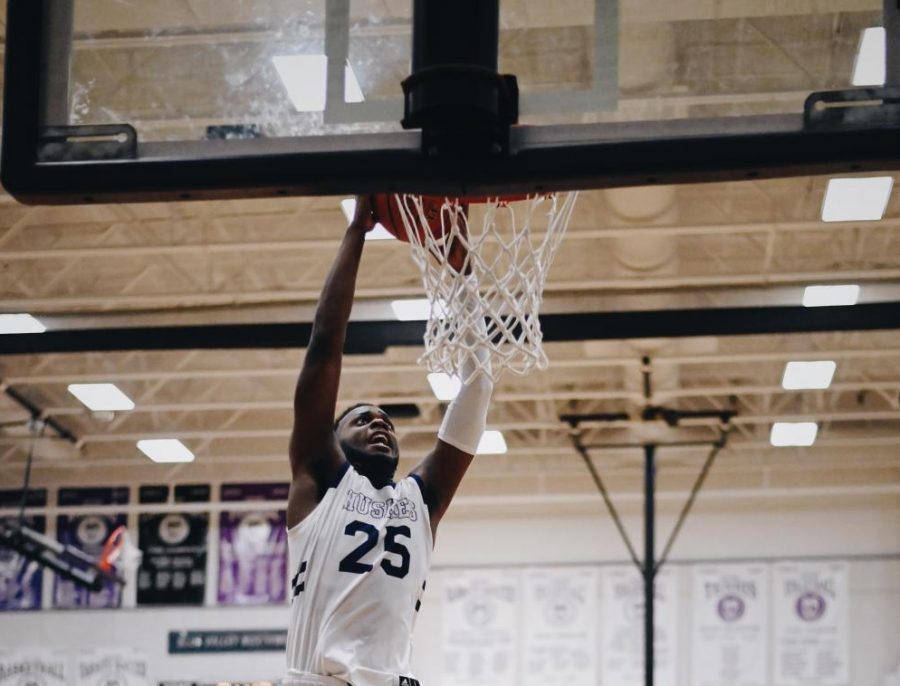 The last time the Huskies and Jaguars met, the Huskies dominated the entire way through ending up on top by 47 points. This time around, the Jaguars found a way to keep it close early. Junior guard Jack Chapman said the team wasn't locked in like they should have been on defense.
"This time we weren't locked in on the defensive end, which is really what helped us blow them out last time. We came together defensively and had our defense lead to offense and we didn't do that as much tonight," Chapman said.
A big reason the Huskies were able to withstand the Jaguars early push was the play of junior Alston Mason who would finish the first quarter with 11 points. Mason said he was focused on bringing the energy for his team.
"I was trying to bring energy, be aggressive and rally my troops," Mason said.
Despite a cold start to the first half only scoring six points, Chapman would come out hot and finish the game with 20 points. Chapman said he was just looking to do his role and let the game come to him.
"[I] just played my role and I let the game come to me," Chapman said. "I got open shots in the second half and I hit them."
With a trip to the 6A state tournament on the line, junior Alston Mason said he'll be ready to perform like this for the team's next game too.
"[I'm always trying to play aggressive] and trying to lead my team to a championship," Mason said.
Preparing for the substate championship game, Chapman who finished the game with 20 points said his team has to work on their defense.
"Lock in as a team, I feel like we can play a lot better together as a team than we did tonight," Chapman said. "We have to use everybody on our team and get our defense and team chemistry down to get ready."
The boys varsity basketball team will take on Shawnee Mission South in the substate championship game looking to punch their ticket to state, Saturday Mar. 7 at 6:00 p.m. at Blue Valley Northwest.