Girls basketball to not have substate game
Going into their last game of the season, the Huskies record stands at 3-16, not enough to qualify for a substate game.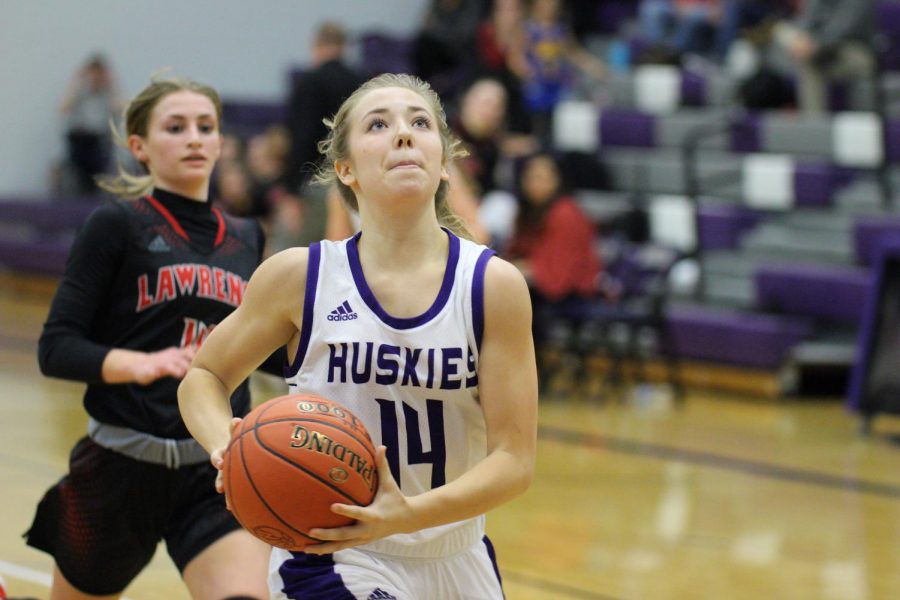 Heading into their senior night game, the girls' varsity basketball team holds a record of 3-16; not good enough to qualify them for a substate game due to a new KSHSAA rule. Head coach Matthew Shulman said they would've needed a top 16 seed to qualify.
"It's a new rule through KSHSAA, so how it works is seeds 1-16 get a substate game and they changed it from last year so there is no play-in game," Shulman said. 
Despite not qualifying for a substate game, Shulman said while it is disappointing, his team has done a good job of getting better as the season has gone on.
"It's a little disappointing with the record the way it is, if you look at the numbers, look at how our play has been against some of the same opponents we had last year, we've improved quite a bit," Shulman said. "We have started to get a little bit tougher as the season's went along and we've started doing a good job of making the right decision towards the end of the season, so we are definitely in my mind hitting it at the right time, it just hasn't gone the right way."
Serving as the team's starting guard, junior Megan Edwards deemed the lack of team chemistry a big factor in the team's losing record.
"It's been a little rough this season, I think we were expecting to do a little better. Our team chemistry was not really there just cause we lost so many seniors last year," Edwards said. "We were trying to compensate for not having a lot of big parts on our team, we definitely had a lot of learning to do this season."
With their season coming to a close on senior night, Edwards said the team was disappointed to learn its season would be ending soon.
"We were disappointed I guess because you do expect to be able to play a little longer so it's definitely sad to know our season will end a little earlier than expected," Edwards said.
Playing in her last game of high school basketball, senior Emily Farthing said the team has been looking forward to substate the whole season and it hurts to not have it.
"It's tough to know that we don't have that to look forward too, our whole season has been a series of 'oh wait until substate, we can make a run,'" Farthing said. "Now that we know we won't be going, it's tough to hear that."