BVNW senior tackle Danny Robinson commits to the University of Kansas
Signing to play college football at the University of Kansas as a preferred walk-on, senior tackle Danny Robinson will take the next step of his career in Lawrence.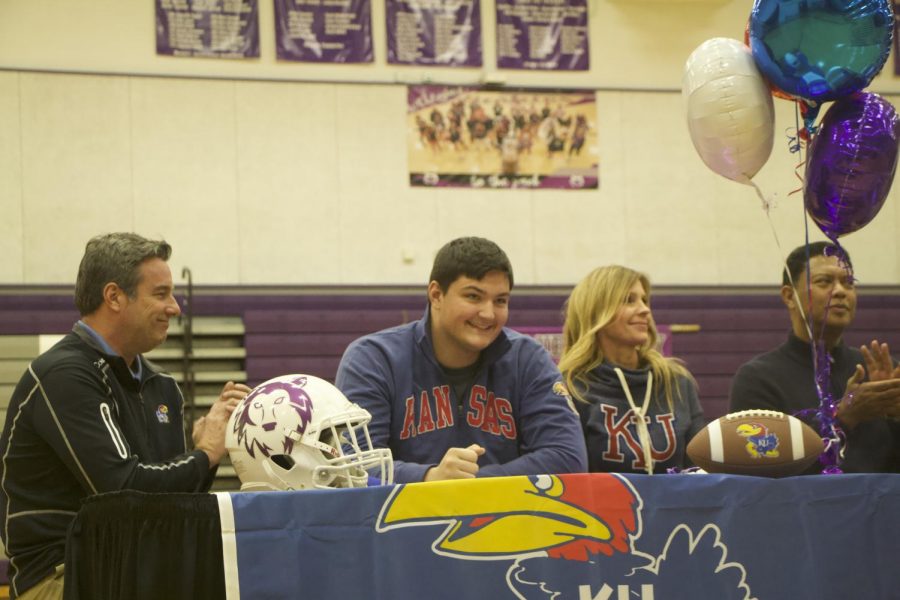 With senior Danny Robinson signing to play football at the University of Kansas, Blue Valley Northwest has its first power-5 football commit under head coach Clint Rider. Robinson said he hopes he serves as an role model for the younger athletes, showing hard work pays off.
"It's just really exciting to be an example for the younger kids," Robinson said. "I'm pretty well connected with a lot of sophomores and it's just good that they get to look up to me and see that I worked hard and get to play at KU."
For Rider, Robinson will be his first player from Blue Valley Northwest to go to a power-5 college. While the competition might be a step up for Robinson, Rider believes he is more than capable of handling it.
"It's pretty incredible for Danny to be able to play at such a high level and get to go play against the talent that he's going to see," Rider said. "What Danny has shown over the course of his career is that he rises up to the level of the competition that he sees."
Watching many players rake in offer after offer, Robinson said his recruiting process was slower than most, but that he knew KU was the right place for him.
"It was a lot slower paced than a lot of prospects and people you see on Twitter," Robinson said. "I didn't really know what to do because I'm the oldest in my family and my parents didn't know what to do. I just talked to people and sent my film to a couple of coaches around and a lot of people I've worked out. Coach Dearmon came in one day while I was in class and he took me outside he was like 'We're pretty interested in you and we'll give you a call tonight' and he offered me a preferred walk-on."
When talking about the improvement he's seen out of Robinson since initially trying out, Rider said nothing has grown more than his leadership ability.
"Since he tried out, his feet have gotten quicker, he's done a much better job developing his hip strength and just his overall power output," Rider said. "I think a lot of it is just leadership, showing the other guys how to work and this is the way to do things and this is what we want from a Husky."
Being the first player in the Rider Era to go to a power-5 college, Robinson said he's expecting many more, sooner rather than later.
"Currently, the sophomore class, they're full of stud athletes and are much better than I was as a sophomore," Robinson said. "I started at the bottom like physically and athletically and I just slowly worked up to be able to play at KU and if those kids have the same mentality and work ethic, [Northwest] will see plenty [power-5] athletes in the coming years."