Big second quarter fuels Huskies big win over Cardinals, 67-40
Returning from winter break, the Blue Valley Northwest varsity basketball team defeated Treynor high school, 67-40. Junior Jack Chapman led the Huskies with 25 points.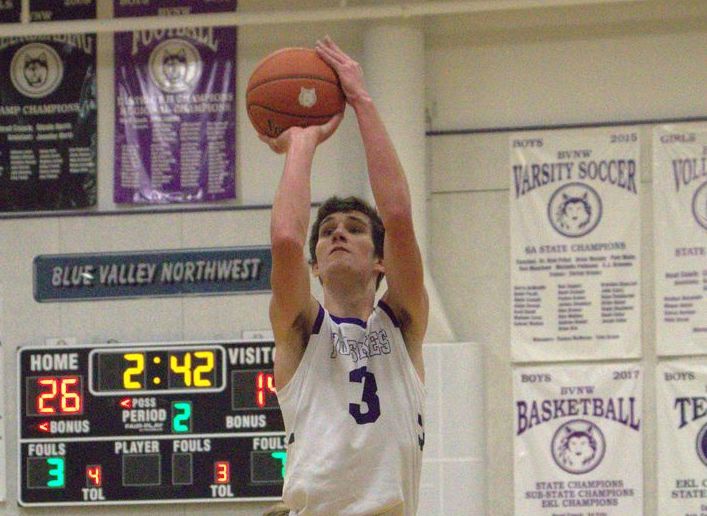 Starting the second quarter, the Huskies found themselves trailing 10-12 after a weak offensive showing in the first quarter. The Huskies would not follow the same trend, however, jumping out to a 27-14 lead after beginning the quarter with a 17-2 run. The Huskies would continue the run and take a 32-18 lead into halftime.
A big part of the momentum switch was Junior Jack Chapman who finished the first half with 13 points. Chapman attributed the team's run to their effort on the defensive end.
"The whole team just locked in," Chapman said. "We started playing together instead of individually and we got together on the defensive end and that's what really started our run."
The Huskies would take the momentum from the first half and carry it through the rest of the game as they would defeat the Cardinals, 67-40. Finishing the game with 25 points, Chapman said he was focused on staying aggressive.
"I was just trying to be aggressive and I always try to take what the defense is giving us," Chapman said.
Another big impact in the game was the interior presence of junior Ben Fritz. He would finish the game with 10 points, 10 rebounds and a few blocks. Fritz said he was locked in on grabbing rebounds.
"Yeah the main thing that I wanted to do today was to keep #16 off the board and get all the rebounds," Fritz said.
Commenting on his performance, Fritz said he hopes to control the paint like this throughout the season.
"I think I have a good chance to dominate the paint with my size and ability to rebound the ball, so we'll see how I do the rest of the year," Fritz said.