Huskies end season in substate championship with 0-2 (13-25, 15-25) loss to Tigers
The varsity volleyball team ended their season with a 19-16 record after a 0-2 (13-25, 15-25) loss to Blue Valley High Saturday Oct. 26.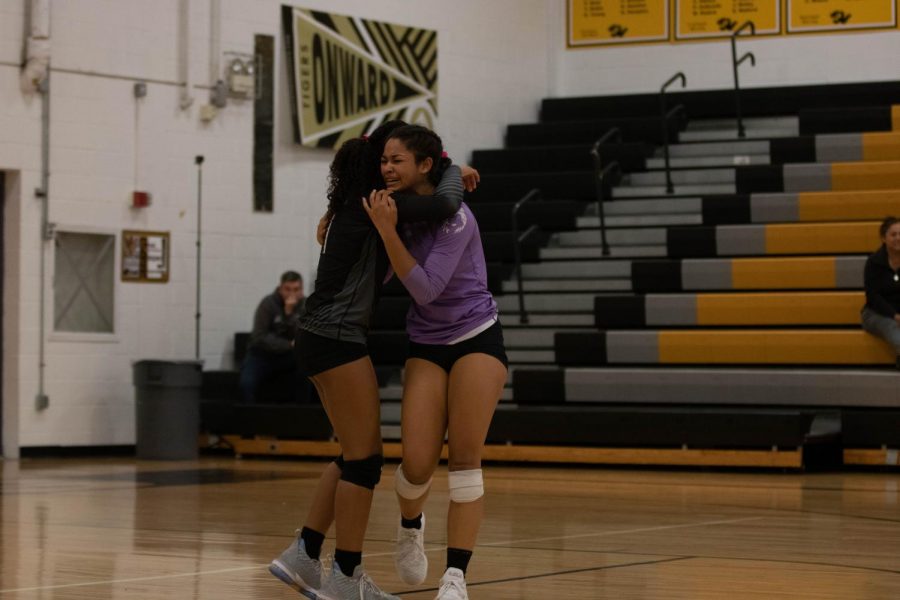 Coming off a dominant 2-0 (25-6, 25-3) win over Wyandotte High School in the substate semifinals, the varsity volleyball team was looking to keep the momentum going heading into the championship game. That would not be the case as the Huskies would be forced to take a timeout trailing, 16-8 in the first set. Head coach Molly Haggerty attributed the early deficit to the team's lack of physicality.
"They were more physical than us and they out hit us," Haggerty said. "We made a lot of unforced errors, I know the girls are disappointed, and we would've liked to have a little better showing."
The momentum the Tigers would gain would go on to last the entire game as they would take care of the Huskies and win the game 2-0 (13-25, 15-25). Playing in her last game, senior captain Meiko Pearson said while the loss hurts she's proud to have been apart of the program.
"It hurts. All the effort that goes into it, all the work the last four years since I started my freshman year," Pearson said. "But I'm proud to be able to call this my team, proud to be able to call Haggerty my coach, it hurts but there is pride with it too, that makes me feel like I have made a mark on this program."
After making her impact felt in both games, junior Maddie Clark said she was motivated by Haggerty to perform well.
"All week Haggerty just told me to swing away and hit the ball as hard as I can knowing we aren't going to beat them off tips," Clark said.
Knowing this was her last game playing alongside the team's four seniors, Clark said she'll miss their leadership more than anything else.
"It's really sad, because they are really good leaders and it's sad to know we'll never get leaders like that again on a team that fights as hard as they do," Clark said.