Shniderson qualifies for 6A state tournament for third year in a row
Senior Beth Shniderson qualified for the 6A state tournament with a score of 87 in the regional tournament. This will be her third straight year competing in the tournament.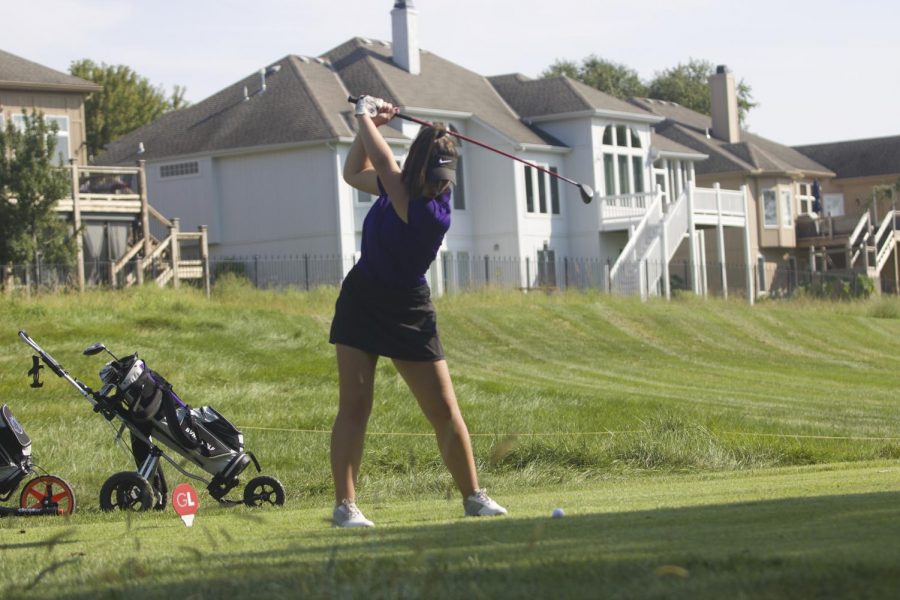 For the third straight year, senior Beth Shniderson will be making an appearance at the girl's golf 6A state tournament. After qualifying the past two years, head coach Kathleen Gilbreath said she wasn't surprised when learning Shniderson qualified.
"I was very excited, but I do have to admit that I wasn't shocked," Gilbreath said. "I did expect her to make it to state again just because she made it last year and has been playing clearly well this year."
Since making the tournament her sophomore year, Shniderson said she has become more focused and has improved as a result.
"I've improved a lot. I've gotten more focused, because when I first started playing it was just for fun, hanging out with friends, joking around, but when I realized I had more potential than I thought I definitely focused more," Shniderson said. "I'm still there to have a good time, but I'm also there to do my best."
Throughout the year, Shniderson has not only improved in golf, but also her leadership skills. Whether it be practicing by herself for a couple hours after practice or getting the lowest score at a tournament, Gilbreath said she does a good job of setting high standards for the team.
"I think she's improved quite a bit in both golf and leadership," Gilbreath said. "She's one of our seniors and definitely portrays great leadership skills, she's very outgoing and really helps bring the whole team together."
Being one of the senior leaders on the golf team, Shniderson said golf has had a huge impact on her academic life, spending 15-25 hours a week on golf.
"It's impacted my school life quite a bit, I haven't been to a full week of school yet," Shniderson said. "I'm missing like two to three days a week for golf and my teachers are very understanding, the biggest thing is just communication between us."
Being a first-year head coach, Gilbreath came to Northwest knowing about Shniderson's talent and passion for golf. Shniderson was also very accepting of Gilbreath, helping to ease her transition to Northwest. 
"I had heard from a few people that she was definitely a go-getter and very hard working and cares a lot about golf and the team and improving herself," Gilbreath said. "When I met her, she instantly accepted me as the coach and respected me right off the bat, so she was one of the key factors that made this transition easier for me."
Despite competing in the state tournament three years in a row, Shniderson does not plan to compete at the collegiate level. Shniderson said playing golf has helped her become a stronger individual.
"Golf taught me how to be more of an individual," Shniderson said. "I play two other sports as well and they are both team sports, but with golf I'm more counting on myself. I don't have anyone to rely on except for myself, so it's taught me to be a stronger individual."
Sophomore Yeanna Moon also qualified with a score of 103. The 6A state girls golf tournament starts on Monday, Oct. 21. Shniderson tees off at 9:20 a.m.