Why the Blue Valley Northwest football team will win again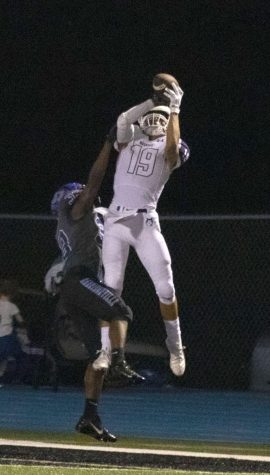 For 714 days the varsity football team went winless. A couple of close bouts against Lawrence in 2017 and Harrisonville in 2018 threatened to end the losing streak, but neither prevailed. Yet, in the second game of the 2019 season the Huskies put an end to their misery, defeating Harrisonville, 34-28, to move to 1-1 on the season. Now 1-2 after a loss to St. Thomas Aquinas last week, BVNW is looking to build on their win total. And mark my words, the Blue Valley Northwest football team will win again in 2019 season. 
Playing while in a losing streak might be one of the most difficult situations an athlete endures, head coach Clint Rider said following his team's first victory in 13 games. With pressure that comes with breaking a losing streak, the Huskies broke their curse and got their win, and Rider said he was proud of his team for finding a way out. 
"There is a lot of joy [and] relief," Rider said after the win against Harrisonville. "Just thinking about how hard it's been on the team and the program and the seniors who've been toiling for two years without a win, [I'm happy they] finally got the thrill of victory tonight."
The Huskies have already shown positive signs this season, hinting that more wins could be on their way. Of course the Harrisonville game stands out, but take the recent game against St. Thomas Aquinas for example. Despite giving up 60-plus points, BVNW, who scored 16 points against the Saints, produced only three less points than Blue Valley (19), the team totaling the most points against the 3-0 Saints this season. Not to mention that Blue Valley already has double digit wins over Blue Valley North and Blue Valley Southwest, BVNW's opponent today, Sept. 27. 
That brings me to my next point. If any game remaining on the schedule is considered the most winnable by the Huskies, that would be Friday night's matchup against the Timberwolves. So far 0-3 on the season, Blue Valley Southwest also lost to St. Thomas Aquinas, much to the same scoreline as Blue Valley Northwest. Having already seen the Timberwolves in a pre-season jamboree, senior captain Nick Schwarz said he believes the Huskies are the better team. 
"There's highs and lows of both teams, but I think we can come out on top," Schwarz said. "We've been working all off season and we've seen them for however many years, [so] I think we'll be ready to play."
Regardless of this early impression, Schwarz said BVNW will not underestimate Southwest. 
Due to possible inclement weather, the game between Blue Valley Northwest and Blue Valley Southwest has been moved up to begin at 4 p.m. today, Sept. 27 at the DAC.