Big third quarter propels No. 2 Huskies over No. 7 Eagles, 75-70
The boys varsity basketball team defeated Olathe North 75-70 in the quarterfinals of the state tournament Wednesday March 6 at Charles Koch Arena. Senior Christian Braun finished with a game-high 33 points.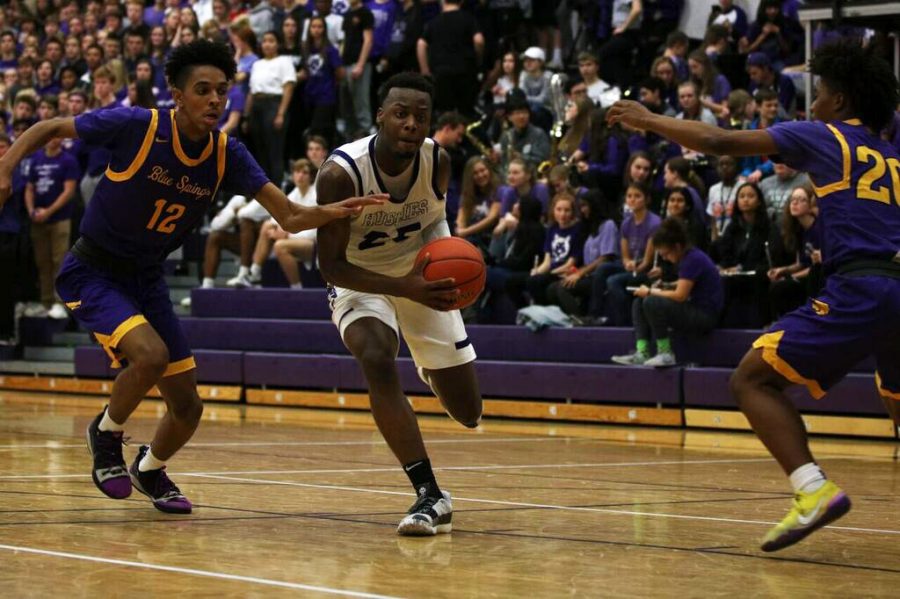 Going into the locker room having been outscored in the preceding half, the Huskies found themselves looking at a nine point deficit, down 37-28. BVNW made a few adjustments in the second half, which helped to win them the game. Head coach Ed Fritz said the Huskies' adjustments on defense helped them get back in the game, as Katrell Raimey and Tymer Jackson on the Eagles combined to score 32 of the teams 37 points in the first half.
"We made a few switches on defense and that helped us," Fritz said. "We put Hungerford on [Raimey] and Braun on [Jackson] and that kind of helped."
With the adjustments made, they were able to open the second half on a 19-4 run. A big part of the run was sophomore Jack Chapman and his ability to score in the third quarter. Chapman said he was determined to not go home.
"Honestly at halftime, I decided there was no way I wanted to lose," Chapman said. "We don't wanna go home [and] we want to be here until Saturday, so I decided to go play my hardest and it turned out well."
Chapman would go on to finish with 11 points in the third quarter alone. Another factor of the team's big second half was senior Christian Braun's ability to get to the free throw line. Braun went 13-13 at the foul line, including two free throws that iced the game and put the Huskies up, 75-70, with 14 seconds left in the game.
"Those free throws were big," Braun said. "I've struggled with free throws all year long, so it was big to make those. I knew my teammates were doing a good job making their free throws and doing a good job playing defense, so I had to back them up on offense. It was either make those, or our season could have ended."
Down two and needing a stop late in the game, the Eagles were able to get one, when Braun attacked the basket and missed a layup. There for the putback, however, was senior Mike Peake who gave the Huskies a two possession lead. Peake would go on to finish with 17 points and 12 rebounds. Peake attributed his ability to control the paint to having a smaller man on him.
As a team, Northwest was able to win the battle inside, out rebounding Olathe North, 26-18 and outscoring them in the paint, 38-30. Chapman attributed this to their ability to stick to the team's gameplan.
"Honestly we just stuck with the gameplan that coach Fritz gave us," Chapman said. "You know that eventually they were gonna stop hitting shots so we played how we have been coached. We were able to take the lead and get a run going, [so] we just went from there."
The trio of Braun, Peake and Chapman combined to score 70 of BVNW's 75 points, while shooting 24-38. Peake said the team will have to utilize their time in practice in order to win their third straight 6A state championship.
"We have to have a good practice," Peake said. "Our mentality has to be straight, we all have to think as one."
The No. 2 Huskies will take on No. 6 Shawnee Mission South in the 6A state semifinals on Friday March 8 at 4:45 p.m. at Charles Koch Arena.