Jade Samborski named new head varsity baseball coach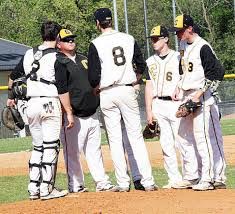 After a recent second place finish at state and the announcement that then head varsity coach, Corby Lange, would resign his coaching responsibilities, Athletic Director Kevin Gerke announced Jade Samborski will be the new head coach. Gerke said Samborski will also be joining BVNW's social studies department when school resumes this fall.
Over the past two years, Samborski has been the hitting coach at Arizona's Mesa High School, a Class 5A school (the second largest classification) in that state's system. Although, this will become the 40-year old coach's eighth year as a head coach, as Samborski has held head coaching jobs at Harrisonville High School and Cassville High School, each located in Missouri, for six years and one year respectively. In total, Samborski has totalled 21 years as a coach.
Samborski, a Kansas City-area native, was eager to move back closer to family and said he jumped at the opportunity when Gerke contacted him. Citing another reason on why he chose to come to BVNW, Samborski said the culture of the program was also a major motivation.  
"It was a great opportunity to come to a great school with a great tradition, so we took the opportunity," Samborski said.
Gerke continued the trend of hiring younger coaches with the hire of Samborski, a 40-year old. Over the course of the past year, Gerke has hired 28-year old Matt Shulman as the head girls basketball coach, and Clint Rider, a 30-year old, as head coach of the football program.
"We have a very veteran coaching staff when you look across our athletic department and have a lot of coaches that have been doing this for a very long time," Gerke said. "Ultimately, I think [hiring younger coaches] will serve us well in terms of continuity. Some of the coaches that have been here awhile have had success, and they tend to go hand-in-hand."
With the recent successes at state, Gerke also had the task of finding someone who could not only offer stability in the program for years to come, but also someone who could continue to achieve. Gerke said that although the program was dealt a blow with the recent loss of  seniors in the 2018 graduating class, he believes Samborski can continue the recent run of success.
The successes BVNW has had in baseball in recent years has elevated the program's status, but BVNW baseball is still seeking it's first state championship. Samborski said he plans to end the title search.
"There has been a lot of success in the program," Samborski said. "The expectations are to work hard every day and every game, and hopefully by the end of the year we will be playing for championships."
Sean Roseborough, an incoming senior and designated hitter on the varsity team during the 2018 season, told BVNWnews via text that he expects a few things out of the new coach.
"I expect him to hold us accountable and to be open to learning and working with the players," Roseborough said. "The biggest thing for him this year is to help us find our groove as a team."  
Gerke agreed with Roseborough's expectations of the new coach and said he believes Samborski aligns with the players desires.
"Knowing that he is going to bring a passion for baseball that is going to be contagious and one that we know our kids already have, they will find a kindred spirit in him," Gerke said. "I know that coach Samborski fits that bill."