Ten reasons why Blue Valley Northwest can win the 2018 state championship
After a program-best third place finish at the 2017 state tournament, the Blue Valley Northwest Huskies are back in the state semifinals for the second consecutive year after a 9-3 win over Washburn Rural on Thursday afternoon. An extremely successful regular season set the Huskies up with a 15-5 record and earned them the No. 2 seed in the state tournament. If this 2018 version of Blue Valley Northwest baseball becomes the first group in the 25 year history of the school to win a state baseball championship, it will be due largely because of these 10 reasons.
1.They've got the winningest pitcher in school history
The winningest pitcher in Blue Valley Northwest baseball history isn't Kansas City Royals reliever and 2010 BVNW graduate Jason Adam. It also isn't Los Angeles Angels 2016 sixth round draft pick Cole Duensing. It's senior Max Abramovich, who earned his seventh victory of the season during last week's regional final against Olathe East.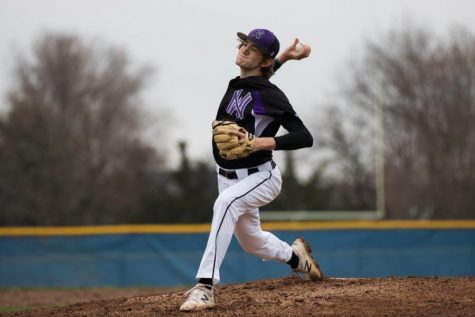 When Abramovich defeated the Hawks, he not only tied his single season wins record of 7 set during his junior season, he also broke the all-time wins record in school history with 15 total. For a kid who won only one game as a sophomore, the complete domination of opponents over the course of the past two seasons has been a sight to behold. Abramovich takes the mound for the last start of his high school career Friday afternoon in the semifinals against Derby at 3:30 p.m., looking to break his single season wins record and move the Huskies to the state championship game.
2. They're confident and borderline cocky
Throughout the season, this group of Huskies confidence has bordered on overbearing cockiness. Here are just a few examples of that confidence:
"This is no surprise," sophomore center fielder Matt Miller said after the Huskies defeated No. 1 ranked Blue Valley High on the road. "We're first and we're going to stay here."
"I didn't start out well, but I trusted the guys because our bats are insane," Abramovich said after the Huskies win over Shawnee Mission Northwest.
It's also a matter of how this BVNW team carries themselves. With the entire starting infield standing at 6-foot-plus, they conduct themselves in a manner of almost daring opponents to challenge them to a fight. While that mentality might put a target on their back, it seems to be a strategy that has worked for the first 23 games this season.  
3. Experience, experience, experience
This Northwest team has a good blend of talented youth and veteran experience. With nine seniors on the roster, the Huskies have each been through their fair share of big-time games. With eight of the nine seniors having also played on the 2017 team that finished third in the state, the moment shouldn't be too large for this group.  
4. Everybody knows their roles
With the point being made about experience, it has also been important to see the development and acceptance of roles on this team. Whether it be junior Tyler McQuinn's time spent filling in for injured left fielder Ryan Freiermuth, senior Jack MacGee's acceptance of the lead pinch-runner role, or senior Jack Beckley advancing runners in the nine hole, each and every player on the roster understands their role and job within the team.
5. The (arguably) third best pitcher on the staff is an All-State First Team selection
The Huskies pitching staff this season stacks up better than anyone else in the state. Between seniors Max Abramovich, Will Dennis and Scott Duensing, the Huskies have three pitchers who would be the respective aces on most teams in the state. For this team, Abramovich is the ace and the most accomplished pitcher on the staff. Dennis- the Oklahoma University commit- is the most physically gifted of the three Northwest pitchers. But, despite Duensing serving as the "No. 3 guy" for the Huskies, he still was named to the All-State First Team by the Kansas Association of Baseball Coaches.
Over the two years he's spent on the varsity squad, we've seen Duensing be used effectively whether it be as a starter or in relief. He's gone 5-1 with a 2.06 ERA this season, and has earned the save in both of the past two regional finals for BVNW, drawing these interesting comments from head coach Corby Lange after the Huskies' win over Olathe East last week.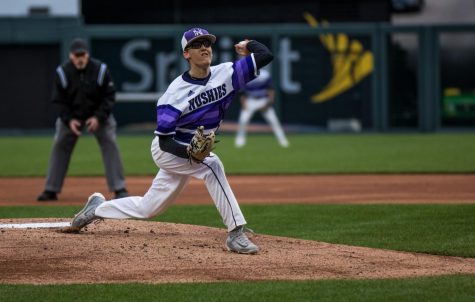 "He's an incredible pitcher. He really is because he can perform in the clutch and make big pitches when he needs to. He always throws our most important pitches and I think you can make a really good argument that he's maybe the best pitcher in the state of Kansas and most important, certainly in a lot of ways."
If he throws a gem in the state championship game Saturday morning, the case for him being the best and most important pitcher in the state of Kansas will be that much stronger. 
6. They've got a high-scoring offense
Coming into this season, we knew the big three on the mound would show up. Questions persisted about how the Huskies offense would perform with so many new contributors. Those questions have been answered as BVNW is averaging an absurd 7 runs per game over the 23 games played to this point. Which leads us to reason No. 7 which is…
7. Anyone can be the man
It says a lot about the Huskies that their star third baseman and KABC Player of the Year, Josh Fiene, did not lead the team in RBI's and home runs this season. That honor would go to junior Sean Roseborough, who was named to the All-State Second Team. Through state quarterfinal play, the BVNW junior designated hitter had 5 HR's and 28 RBI. He's not the only one who produces. Matt Miller's gets on base at a .444 clip at the leadoff spot, senior first baseman Holden Missey has a .380 batting average and that's just a start. From one through nine in the lineup, anyone can hurt opposing pitching and big innings happen frequently.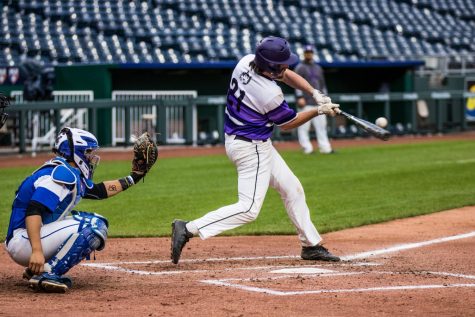 8. Team chemistry

Just watching a couple of games of this squad and seeing how vocal they are in support of one another throughout the game, it's clear that a special bond has been formed in this group.  When the Huskies won the regional final, you can see Clayton Leathers say "I love you," to someone at the bottom of the dog pile  in this video. There aren't any analytics or stats to prove this, but spending time around the team makes it clear.

@skiesbaseball/ Twitter

9. They're extremely poised

In both their regional semifinal against Blue Valley West and their state quarterfinal against Washburn Rural, the Huskies surrendered a couple early runs and were put in an early hole. Still, no matter the situation, this team seems to answer the call. That ability to respond at crucial points is something that instills belief in their pitching staff, too.

"I feel like just having that damage control and not letting it get too far out of our hands and allowing us to stay in it [was important]," Dennis said after the Huskies' quarterfinal win, "because we were going to score runs."

That mentality comes from the confidence that I spoke of earlier. Roseborough exemplified the teams' mindset when they were trailing early in Thursday's contest.  

"That's just what we do," Roseborough said. "We try to get on and as soon as possible, and they just happened to score before us. That's not a problem because we have enough hitting to back ourselves up."

10. The emergence of Clayton Leathers and Ryan Callahan

In a list of impressive things about this Northwest squad, the emergence of senior catcher Clayton Leathers and sophomore shortstop Ryan Callahan are right up there at the top. Leathers played three years of jv as he sat behind 2017 graduate Connor Ellefson, and proved that the time spent waiting was worth it with his performance this season. Through the first 23 games of this season, Leathers is hitting .308 and reaching base at a .360 clip. An important key for the Huskies is Leathers reaching base, as it sets head coach Corby Lange up for a position to use his speedy pinch runner, senior Jack MacGee as often as possible.

During last season's run to the state tournament, Callahan was a wide-eyed freshman hitting in the ninth spot of the lineup and carrying very little of the load offensively. This year, a jump to the three-hole in the lineup has seen him step up his game and become more heavily relied upon. The sophomore shortstop is batting .329 on the season and has 15 RBI's, proving he's more than capable of his offensive role.

Between Leathers and Callahan, the Huskies have a solid two and three spot in their order, solidifying their lineup and making them much more dangerous offensively.