Soccer season ends after coming up short at regionals against SMW, 2-1
In the first round of regionals, the Huskies traveled to play Shawnee Mission West, but were unable to fend off SMW. Senior Jacob Hall had the lone goal for the Huskies which was assisted by senior Mitch Brill.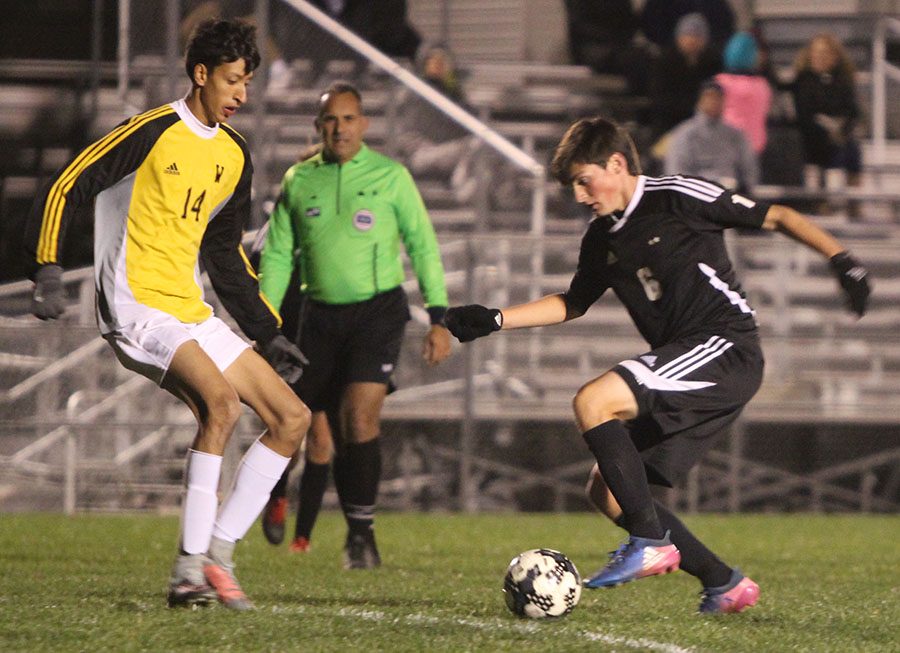 On a chilly evening of 50 degrees Fahrenheit with gusts of wind at the Shawnee Mission Soccer Complex, the Huskies came out firing, but ultimately the offense from the Shawnee Mission West Vikings resulted in loss for BVNW in the first round of regionals and ended the boys soccer season.
After multiple offensive attacks early in the game by BVNW, senior Jacob Hall was able to capitalize quickly for the Huskies. Senior Mitch Brill dribbled up the left side of the field and successfully passed the ball to Hall as he buried the ball in the back of the net from the top of the box to give the Huskies a 1-0 lead with 35:27 remaining in the first half.
As the half progressed, the Vikings started to retain more possession and create offensive opportunities. With only minutes remaining in the first half, SMW converted by scoring their first goal of the night to tie the game at 1-1
With the momentum on their side, the Vikings looked strong coming out of the half. The Huskies had close calls defensively in the second half on corners by SMW. On one corner, Brill helped save a goal by narrowly getting his foot on the ball and clearing it. However on the ensuing corner by the Vikings, the Huskies had no such luck as a SMW player was able to score from the top of the box which gave SMW a 2-1 lead over the Huskies.
Throughout the night, senior goalie Neil Schell made saves to keep the Huskies within striking distance of the Vikings. Specifically, Schell made a save in the box with 11:41 left in the first half as a SMW player headed the ball near the post. Schell successfully tipped the ball and gained control on a play that could have easily resulted in a goal for the Vikings. For the season, head coach Rick Pribyl said Schell's performance in the net has been exceptional.
"Neil has saved so many goals this year, it's amazing," Pribyl said.
While the Huskies attempted to create offensive opportunities late in the game, the Vikings defense was able to fend off the attacks before time expired on the Huskies 2017 season. Ending the year with a 9-8 record, Pribyl said the team was eliminated after not playing at their best, which stung.
"Well it's too bad that the last game of the season they had to play their worst game," Pribyl said. "It's kind of a shame because if we had to go out, I wanted to go out on a high note."