Freshman phenom
Freshman J. Michael Sturdivant was invited to a selective, national football camp that occurs once a year, where he competes against other elite players from across the country.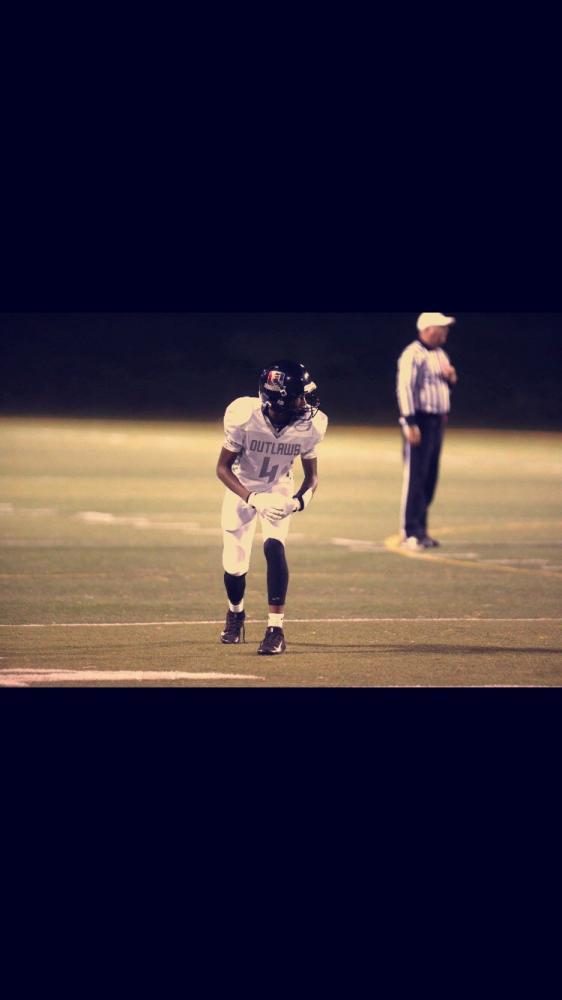 Football runs in the family for freshman J. Michael Sturdivant. Coming from a family of multiple former professional players, Sturdivant was encouraged to begin football at five years old. Sturdivant, who plays wide receiver, said he continues to be passionate about the sport because of his father and great uncle's previous professional football experience.
"My dad played football and my uncle is a Hall of Famer so I'm trying to be like them," Sturdivant said.
Sturdivant's dad, Mike Sturdivant, said he tries to introduce multiple sports to all of his kids.
"He's played basketball, he's played football, he's played soccer, he's played baseball, he's taken gymnastics," Mike said. "He has continued to gravitate toward football."
Over the years, Sturdivant said he focused on football and now spends six to seven months of the year and up to 12 hours per week playing. In each of the last three years, Sturdivant has been invited to the Top Gun camp, an invite-only, position specific camp attended by the top student athletes from sixth grade to 12th grade.
Sturdivant's 7-on-7 football coach, Samie Parker, who also played professionally, said it is his work ethic that has allowed Sturdivant to improve.
"He's a hard worker," Parker said. "He accepts criticism and feedback and he goes out there and tries to take that criticism that we give him and [tries] to propel his game to the next level."
In order to be invited to the Top Gun camp, a player must be selected by the coaches of regional camps around the country. Sturdivant traveled to Rock Hill, S.C., for the national camp on July 12.
Parker, who was a coach at the regional camp in Kansas City, said the Top Gun camp is for some of the highest quality players in each position.
"If you're one of the more elite guys in your group at the camp that day, you get invited to the Top Gun camp, and that is pretty much the best of the best," Parker said.
At this year's regional camp, Parker saw Sturdivant train with other student athletes from the Kansas City area.
"He was better than everyone else at the [regional] camp… I feel like he should dominate the sport in every single way," Parker said.
Mike said that he wants his son to learn the principles and values from the sport as well as the technical aspects.
"The Top Gun camps increase skill," Mike said. "[Sturdivant] also gets to play against some top kids around the country…he's got the chance to see some kids that will, no question, be… potential professional players, if they choose to continue the sport."
Parker said the camps are attended by kids from all over the country, who are all competing against each other.
"You get a chance to see the group of guys you will be competing with for scholarships or just competing with in general in your class from all across the country," Parker said. "It's a great chance to see where you stack up against other competition."
As a wide receiver, Sturdivant does multiple catching and footwork drills to improve his game.
"It's really fun, very competitive, coaches are really into it and you get a lot of good reps," Sturdivant said. "I think I got a lot better as a receiver and I can bring my talent back to my team and make them better."
Due to his performance at the camp, Sturdivant was invited to the Football University All-American Bowl later this year.
BVNW head football coach Clint Rider said he also wants to help develop Sturdivant for college football. Rider added that Sturdivant may have the opportunity to play varsity his freshman year, but he does not want to put too much pressure on him.
"If he can contribute to us at the varsity level then that's an opportunity he'll have if we feel like he's ready," Rider said. "[The other coaches and I] want to make sure it's a good situation for him. Playing varsity football with 17 and 18-year-olds is just a little bit of a different game; it's very physical and obviously he's just going to be a ninth-grader so his body is a little different."
Although he may not be a varsity starter for BVNW this year, Rider said he believes Sturdivant has the ability to become a Division 1 college football player and wants what is best for Sturdivant as well as the BVNW football program.
"We just want him to continue to develop as a player and be a good leader for younger kids," Rider said. "I feel like over the course of his high school career he can be one of those types of players that helps turn a program around, we are just really excited that he's going to be a Husky and be a part of our team."
Playing in college has always been a goal for Sturdivant, but his father wants to take it a step at a time.
"At this point, I really want him to enjoy the sport, and learn all of the principles and values that you can from the sport," Mike said. "[Such as] hard work, being a great teammate, learning how to set goals and work toward achieving those goals."