Fighting for the Olympics
Freshman Olivia Baxter hopes to compete in the 2024 Olympic Games for taekwondo.
Hang on for a minute...we're trying to find some more stories you might like.
Freshman Olivia Baxter said she has been practicing taekwondo, a Korean martial art, at Ko's Black Belt Academy since she was seven years old. Baxter said she started the sport for fun in the first grade, influenced by a friend's attendance in taekwondo classes.
Head coach and Owner of Ko's Black Belt Academy Seth Wilson said he has been Olivia's coach for six years, ever since she began taekwondo.
"I remember her first time competing at the national championships," Wilson said. "She couldn't win a match, she struggled to score points, she was more timid than she is now. She's developed into a very strong athlete. In the beginning, just like any other nine-year-old girl, she probably didn't know what she was getting herself into, but now, all of a sudden, we're at the top of our game."
"
Lots of people search their whole life for something that they love, and I think that I've found it."
— Olivia Baxter
Baxter said that while she has practiced taekwondo for many years, she started to become very serious about taekwondo in the past two years. She said this change occurred because she moved up into the Cadet category for twelve to fourteen-year-old fighters.
Baxter said she attributes her change in mentality to the fact that Cadets have the opportunity to compete for a position on a national team. However, Cadets are still not ranked, as rankings begin with those in the Junior division for fifteen to seventeen-year-old fighters. She said she will move into this category starting Jan. 1.
"In the beginning, it was just a thing that I did twice a week," Baxter said. "I didn't think I would get serious about it. In the past two years, I just keep getting more and more serious about it as I win medal places."
Wilson said Baxter has developed more confidence while fighting, and has become a stronger and faster athlete.
"Over the course of her short career so far, probably the place where she's seen the most improvement is just going from a place where she was doing it to where she was confident doing it, and then now where she's starting to actualize what she's trying to achieve," Wilson said.
Wilson said Ko's Black Belt Academy's competition program has produced a national team member or a national team alternate every year over the past six years. He said having a strong group of peers has also influenced Baxter's improvement.
"We have had an entire group of girls who have gone through Blue Valley Northwest High School that have been national team members or national team medalists, and she's just following right up the ranks," Wilson said. "Olivia will be one of the latest and greatest of our kids to be able to make it to the elite level."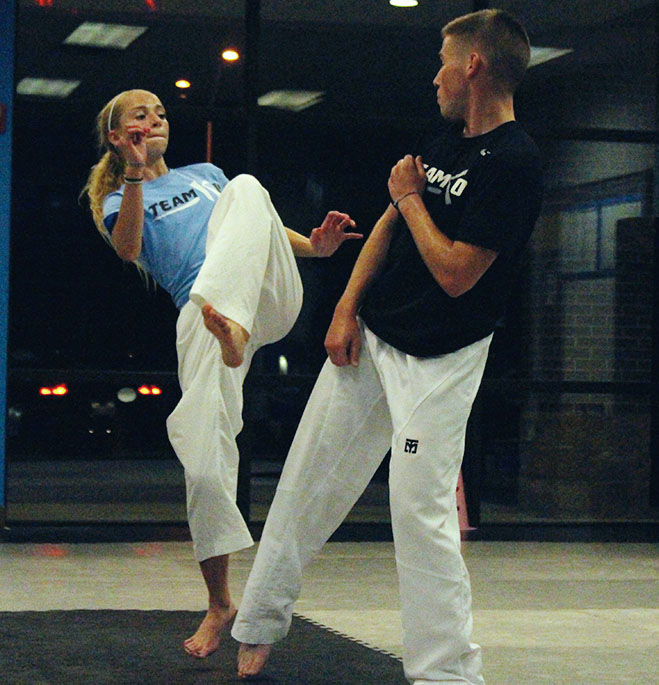 Jordan Devorak
Baxter said she practices ten to fifteen hours every week and competes one to three times a month during the taekwondo season from January to July. Wilson said Baxter attends one major event per quarter that requires travelling internationally. Outside of the season, Baxter said she trains the same amount but only attends competitions once a month. She said she has had to makes sacrifices in order to continue training in taekwondo.
"(For taekwondo, I've had to sacrifice) friends, like hanging out outside of school, doing some school things, food, because you have to be like an athlete, and lots of staying up late to do homework because I have practice for a long time," Baxter said.
Baxter said she fought at the USAT National Team Trials and made the alternate national team this past July. Wilson said Baxter narrowly missed making the national team, but was still able to go to the Olympic training center as an alternate. She said she is planning on competing at the AAU National Team Trials in a couple weeks.
Baxter said her ultimate goal for taekwondo is to attend the Olympic Games in 2024, though she is far from reaching her goal. Currently, she said she is taking small steps leading up to her goal of reaching the Olympics.
"Making alternate national team was a really small baby step, but I've come a long way in the past year, even, so I really feel like I'm progressing," Baxter said.
Wilson said the road to the Olympic Games begins with achieving a world ranking in the top thirty-two. Once athletes reach that level, he said they start to receive a lot of funding from the International Olympic Committee. Wilson said afterward, there is a process of competitions that the athlete needs to attend to battle other ranked athletes and win to be be able to go to an Olympic Qualifier to be selected for the Olympic Games.
Baxter said the rankings used for Olympic purposes are based on the accumulation of world ranking points from attending international opens and earning medals in the four years leading up to an Olympic Games.
Wilson said while trying to reach the Olympic Games is a long and difficult process, Baxter has greatly improved both her athleticism and mental toughness to be able to weather tough losses and also rise to the occasion and win tournaments.
"Olivia has a great attitude toward being able to achieve it," Wilson said. "Being very headstrong and wanting to achieve her goals is definitely an important characteristic in order to be able to be successful. At this point in time, she definitely has a great chance to be in the mix for the Olympic Games…if 2020 wasn't in the equation, then 2024 is definitely a great shot."
He said Baxter needs to understand that trying to become an Olympian is a time-consuming and life-altering experience,and being an Olympian is even more difficult. In order for Baxter to achieve her goal of reaching the Olympic Games, he said her school and life schedule will be affected greatly and she will no longer be a normal, everyday high school student.
Jordan Devorak
"I think she definitely has the ability to (balance taekwondo and school), but she's going to have to make choices as far as school things go," Wilson said. "Do you want to go to prom or do you want to go to competition? Do you want to go to football games or do you want to go to practice? All of those things are laid out in front of her now that she's a high school student, and she's going to have to figure out what she wants to do and how much it means to her. She has the ability, though. She is one of the sharpest athletes we've ever had, and I definitely look forward to hopefully seeing her achieve her goals."
Baxter said she watched taekwondo in the Rio Olympic Games this past summer and that they made her goal seem more realistic to her.
"I've talked to one of the guys that was on the Olympic team and watched him fight." Baxter said. "It was just a really cool experience, how you sometimes see people on T.V. and you think they're totally different from you, but knowing someone that's made it that far, it seems real."
Baxter said she wants to make the national team in the Junior Fin weight division next year. She said she does not have a singular reason why she aims to become an Olympian, but hopes to continually progress her skills to achieve her goals.
"It's just like what any Olympian wants to go to the Olympics for," Baxter said. "Just to compete…lots of people search their whole life for something that they love, and I think that I've found it."

Print Friendly