Girls soccer defeats Maize in state semifinals
The girls varsity soccer team will advance to the state championship game after winning against Maize High School Friday.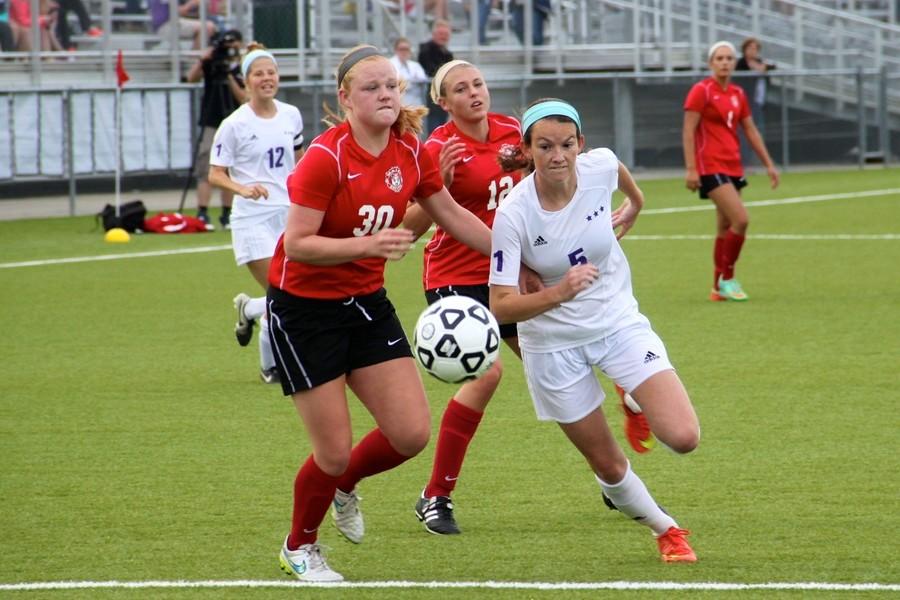 The BVNW girls varsity soccer team defeated Maize High School Friday night in the state semifinal game with a final score of 4-2.
After what head coach Rick Pribyl described as a slow start to the game, with no scores made by either team for the first half, incoming senior Lauren Beischel scored for BVNW four minutes into the second half.
BVNW player and recent graduate Cece Kizer said the team's slow start was only a minor setback. She said one of the best aspects of the team's performance during the game was the team's ability to fight and come out successful.
"In the second half, once we scored, we definitely [had] our confidence boosted," Kizer said. "Then when we got down we just fought, because that's what you do when you're down."
Maize High School caught up quickly with two goals in the second half, setting BVNW back with a score of 1-2.
In the middle of the second half, the game was briefly delayed when Kizer collided with the team's goalie and injured her knee. After stepping off the field to get checked, Kizer returned to the field.
"I heard a pop (after the collision), so I kind of panicked that something really bad happened, but then [Christy Grimes, BVNW athletic trainer] said that nothing bad happened, so I got it wrapped," Kizer said. "I wanted to go back in the game, because this is my final season, and it couldn't have ended that way."
Upon returning to the field, Kizer scored all three of the rest of the team's goals in the last 15 minutes of the game. She said she thinks the team connected well and stayed calm despite the initial worries and doubts.
Pribyl said he does not anticipate any changes in tactics or improvements for the next game. He said, despite being faced with a slow start and some minor setbacks, the team played strong.
"I think we played a very, very strong [semifinal game]…there were valleys and mountains, but once we got the momentum going we were back in the groove, Pribyl said. "It took us a while – it took us about three-fourths of the game."
BVNW will continue to the state championship game against Topeka Washburn Rural Saturday at 2 p.m. at the Olathe-College Boulevard Activity Center.