Varsity softball wins and loses in double header against BVW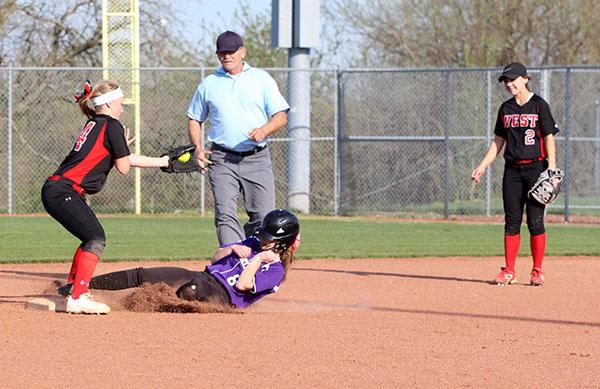 The BVNW varsity softball team added one win and one loss to their record after a double header against BVW Tuesday night. After losing 1-9 the first game, the team bounced back and came out on top 8-4 the second game, defeating a team who had since been undefeated this season.
Head coach Kim White said the team responded well to adversity between the first and second game, which ultimately lead them to success.
"We did not play a good game the first game," White said. "We didn't hit the ball well, we made some unforced errors, and the girls responded- they bounced back. Blue Valley West hadn't lost a game all season, and for us to bounce back after getting blown out the first game and win this game is awesome."
White said one of the ways the team responded to the adversity, and one of the biggest fuels for the team, was through the excitement they brought in the dugout.
"In the second game in here, we had a lot of energy and a lot of enthusiasm, and this team feeds on that," White said. "We've talked a lot about the need to do more of that, and they did that tonight."
Senior Alyvia Simmons said the biggest challenge she faced individually this game was her batting in the first game, as well as the disadvantage of having previously practiced with the BVW coach.
"She knows where to pitch me, and I think that was my biggest challenge and working around how she was pitching me," Simmons said.
For future games, Simmons aims to stay more constant and work on getting back the batting she displayed at the beginning of the season.
The team will play two more games on Friday against SMN and Olathe NW located at each respective school. White said the team's goal will be to build on the success they had last night.
"This is a big win in the EKL for us, and we need to build on that and continue to do the things that are making us successful, and not regress but continue to progress," White said.