Girls varsity basketball wins substate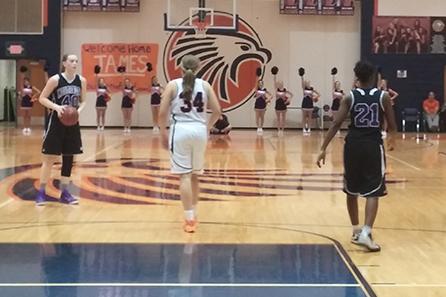 The girls varsity basketball team defeated Olathe East last night in the second and final round of substate with a final score of 29-26. The team will advance to the first part of the state competition Thursday at Wichita State University. If BVNW wins the game Thursday, they will continue to compete for the state title in games Friday and Saturday.
Olathe East started out in the lead, ahead by one point at the end of the first quarter. After the second quarter, BVNW remained behind with a score of 11-17, however the two teams were tied by the end of the third quarter, each with 21 points.
The team's win puts their record at 13-9 for the season. Head coach Brian Bubalo said he attributes the team's comeback and final win to a strong defense.
"Once again, we had another great comeback," Bubalo said. "Fantastic defense, especially there in the second half — we held them to nine points in the second half. Just amazing…I'd have to say defense and rebounding won the day."
At the end of the fourth quarter, with BVNW in the lead with a score of 29-26, BVNW received a foul and a one-and-one free throw was called. Many BVNW fans erupted in anger at this call because it appeared to be an unfair. Bubalo said the initial confusion was because the clock stated BVNW had committed their sixth foul, when it turns out the clock was wrong and the call was actually made because BVNW had committed their seventh foul.
"[With five fouls], we could foul without any penalty except [Olathe East gets] the ball back, but once it gets to sixth and we foul, they shoot a one-and-one," Bubalo said. "We didn't want to get that seventh foul — well, we did."
Junior Mya Mertz said she is excited to see the team advancing to state for the first time since her sister Lauren Mertz was a freshman on the team.
"It feels amazing," Mertz said. "We haven't gone to state since [2011], so that's a long time ago, and it feels good."
Tonight, BVNW held Olathe East under 30 points in the end, and Bubalo said the team's goal for state is to hold the opposing team under 40 points and hopefully win. However, he said if the girls employ teamwork and the skills they have practiced, they will be content with any outcome.
"Our goals are to play hard, play smart (and) play together," Bubalo said. "That's kind of our theme, and if we play, give one hundred percent effort and play intelligently, according to what we practiced and according to our game plan, and then if we play together, we'll be happy with the results. We're winners if we do that, regardless of the score."